Vibrant Veggies Win Common Ground Fair Art Contest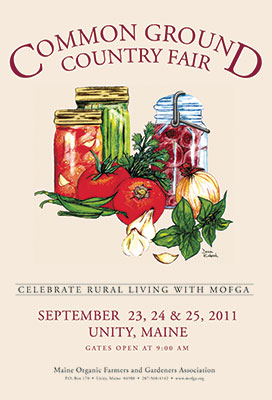 The vibrant veggies – some fresh, some freshly canned, all deeply colorful – on the 2011 Common Ground Country Fair poster will have your mouth watering. Artist Dacia Klinkerch of Raymond, Maine, not only grew and canned the produce depicted; she also used the crops for a still life oil painting and later translated that design to create the more graphic style that MOFGA's poster contest requires.
"I had done an oil painting of Mason jars and vegetables we had been canning," says Klinkerch. "I thought it was an appropriate design for the Fair poster, so I translated it a bit for the MOFGA contest, following the guidelines (posted at www.mofga.org). With the oil painting, there were a lot of subtle shadows and grading of colors. I had to make it much more graphic – nothing too blended. I had to separate out colors. I used colored pencils for the contest, because oils would blend."
Klinkerch grew up in Baileyville, Maine, and then attended UMaine Orono, where she received her degree in art history. She then moved to the Portland area, studied at the Maine College of Art, and has lived in Raymond for the past 23 years. Her husband, Ed Klinkerch, teaches chemistry at Colby College – and raises vegetables with Dacia in their home garden. They have a 19-year-old daughter and a 15-year-old son.
These MOFGA members "consistently put up tomatoes every year," says Dacia. "And we do garlic and basil – all the things that are on the poster. We try to do something new every year, and we try to can or preserve whatever the bugs don't get."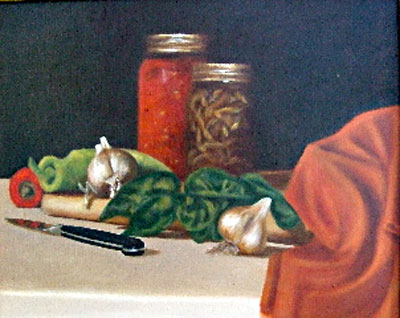 Now that her children are older, Klinkerch has had time to put her portfolio online (at Daciaklinkerch.tumbler.com) and has an art studio located at the Raymond Village Florest on Route 302, where visitors can see her traditional still lifes and landscapes. And her vibrant veggie still life will soon be spotted all over the state as posters go up announcing the Fair; and all around Maine and beyond when Fair visitors and others sport the T-shirts and other goods adorned by Klinkerch's art.