Lively Rooster Art by Holly Meade Animates 2010 Common Ground Country Fair Poster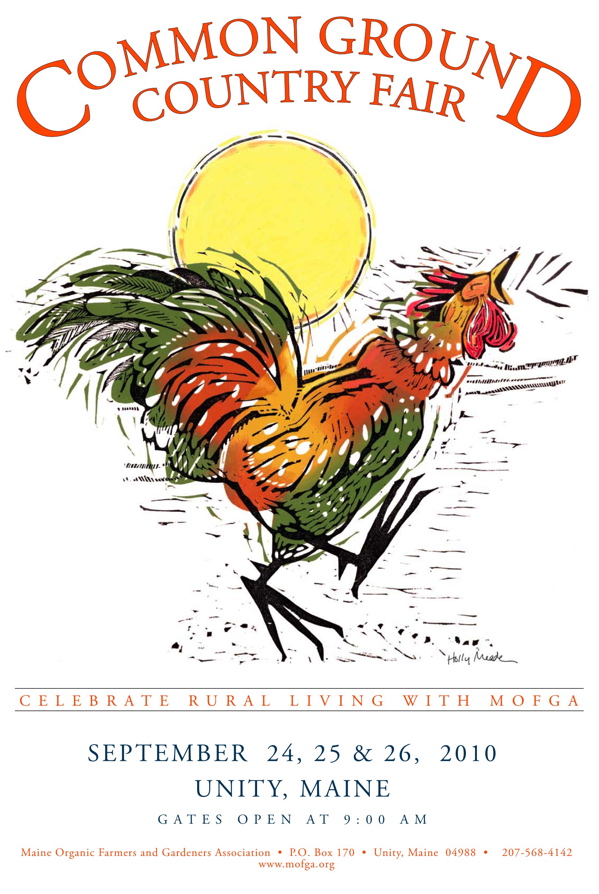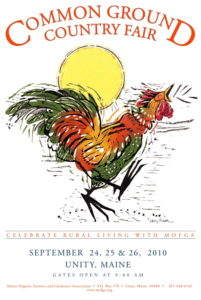 The 2010 Common Ground Country Fair poster art contest winner is Holly Meade of Sedgwick, Maine. An accomplished artist, Meade is well known for her children's book work – the first in 1992 and almost 30 since then. A number of these books have won awards, the two most notable being a Caldecott Honor for HUSH! A Thai Lullaby, written by Minfong Ho, and the Charlotte Zolotow Award for Creative Writing for John Willy and Freddy McGee. Other books with Meade's art include Cocoa Ice by Diana Applebaum, And Then Comes Halloween by Tom Brenner, and On the Farm by David Elliot. In fact, Meade introduced the lively rooster featured on this year's poster from her body of work created while illustrating On the Farm.

Meade, originally from Massachusetts, earned a BFA in painting from the Rhode Island School of Design and later attended workshops at the Haystack Mountain School on Deer Isle. "That exposure to the area is what brought me to this part of Maine," she says. Since attending a Haystack workshop with printmaker Hester Stinnett in 2002, she has been printing from wood blocks, linoleum blocks and sometimes the two combined. She also makes prints on Japanese papers; does illustrations; and has done cut paper collage for most of her children's book work. Her art has been shown in galleries throughout Maine and is displayed at her Reach Road Gallery (62 Reach Road, Sedgwick, Maine; www.reachroadgallery.com).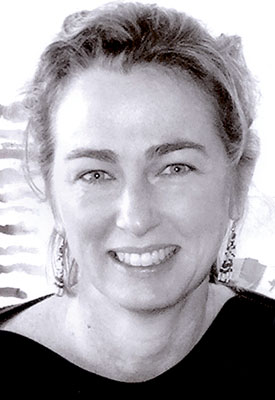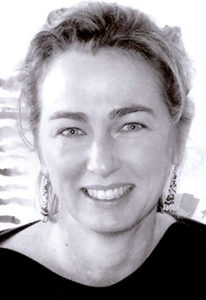 Much of Meade's work has a great sense of movement and vitality to it – gained, in part, from observing animals at Carding Brook Farm in Brooklin, which is owned by her second cousin Jonathan Ellsworth, and his wife, Jennifer Schroth. "They have sheep, horses, chickens… That's where I go to sketch the animals," says Meade – and where she got the idea for the rooster. Meade recalls "the last rooster they called Pecky, for reasons you can guess. In fact, he was aggressive enough to, unprovoked, attack their youngest son, Walker," to whom On the Farm is dedicated. "So, too bad for Pecky," says Meade; "he ended up in the cookpot."
Meade also gets certified organic produce and other foods from Carding Brook, now that her children are grown and she no longer gardens.