Common Ground Fair Poster Is a Glimpse Into an Artist's Life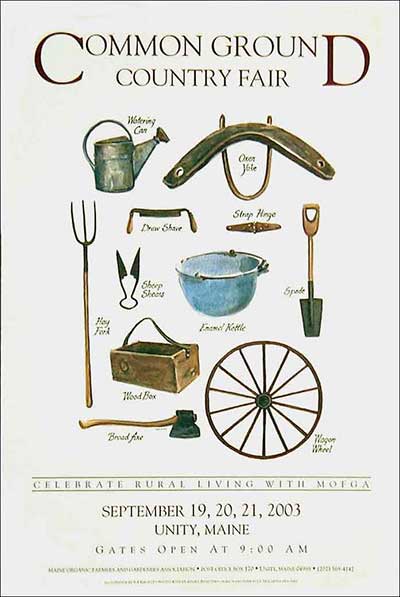 Susan Kischitz's background is as diverse as the tools on the poster she designed for the 2003 Common Ground Country Fair. Born in Niagara Falls, N.Y., Susan is the product of a chemist-father who worked for Hooker Chemical Corp., and an old-fashioned Yankee home-maker mother with a unique sense of humor and a fierce pride in her four children. Sue remembers family outings in the car, when her father would quiz the kids on the different types of plastics.
The family moved to Connecticut, and after graduating from Staples High School, Sue majored in painting at Boston University School of Fine and Applied Arts. That training was classical and structured. Students worked from models and casts, the theory being that if you can't draw what your subject looks like, you are limited. Sue was chosen top freshman and graduated summa cum laude in '73. She began exhibiting her art work that summer, winning an award for best traditional painting at the Silvermine College of Art Show in New Canaan, Connecticut.
At the same time, she bought a horse, which was something she'd always dreamed about, then earned a B.S. degree in Animal Science-Livestock Management from the University of Connecticut, and worked on a horse farm the summer after graduation.
The Peace Corps in Swaziland benefited from Sue's expertise in 1975 and 1977, where she worked for the Ministry of Agriculture as Visual Aids Officer and worked part time on a government ranch assisting with the stock horse program. That resulted in "Swaziland Horse Sense," a manual of horse care that she wrote and illustrated.
The Peace Corps was a broadening experience and a great opportunity to travel. During Sue's "live-in," she stayed with a typical Swazi family for 10 days. Nine people lived in a two-room house. Her Swazi father was a subsistence farmer and a kind of medicine man. "He had a large pot of what looked like clam chowder, and there was one girl staying with them so that he could help cure her." Sue still keeps in touch with her Swazi family and continues to help them financially. She really appreciates how much we have, compared with the rest of the world.
After the Peace Corps, Sue worked for the University of Connecticut Cooperative Extension Service for one year. She continued painting, focusing her subject matter on race horses. For many years, she exhibited at Saratoga Springs, N.Y., during August. She has also exhibited at the Kentucky Derby Museum in Louisville, Ky., and was a member of the American Academy of Equine Art.
In 1980, she located to South Carolina, where she worked with race horses, painted and taught drawing. She had a one-person show in '82 at the Kershaw County Fine Arts Center and developed a following of patrons and friends in Camden, South Carolina. She has done numerous animal portraits in which she captured not only the beauty but the personality of the animals as well.
For the past 14 years, Sue has made a living in the trade show exhibit industry, creating and producing graphics. "It's something I'm well suited for: visualizing, planning, organizing, breaking things down into parts and putting them together." She worked for Robbins Tesar in Connecticut and now works for Moss, Inc., in Belfast, Maine, where she does layout, manipulates graphics, and so on for the exhibits that company makes.
Seven years ago, Sue and her sister bought a farm in Troy, where Sue now lives with her boyfriend, Sam, a nurse by profession, a naturalist and an outdoorsman. She enjoys living in a rural environment and is especially concerned about the demise of the family dairy farms. A MOFGA member, she enjoys raising some herbs and a "basic home garden."
Last spring Sue opened an antique shop in her barn in Troy, at the intersection of Routes 202 and 220 (1077 Bangor Rd.). She sells furniture, art, farm tools and architectural items. "The Barn Window" is a labor of love. Some of the items from her shop inspired her winning illustration for the 2003 Common Ground Fair poster. Sue had been hoping to enter the poster competition for five years. "This year I had the time and an idea to do something that was different than the animals and plants. Rural tools just seemed perfect."