Bee Poster Hums with Harmony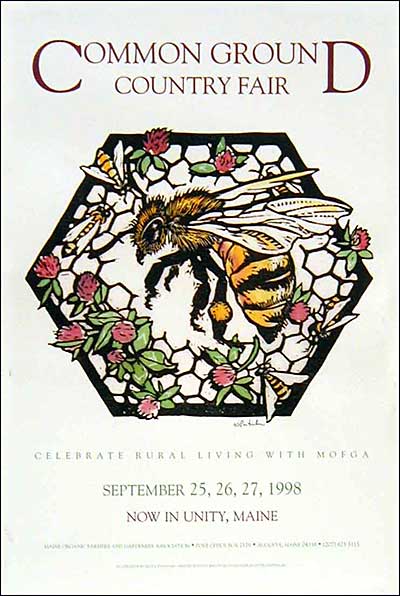 Research and timing – and considerable talent – were on Olga Pastuchiv's side when she submitted the winning poster idea of a bee with honeycomb and clover for this year's Fair design. Before submitting her idea to MOFGA, she had visited the MOFGA office, looked at past winning designs, and asked several people about those designs and the selection process. She sent in her bee design partly because the posters generally alternate between animals one year and plants the next, and partly because she knew many beekeepers and "that seemed like one of those industries that hadn't been touched."
She advises artists to "keep trying" to win the poster contest. "Once you do it one year, you pay more attention" to what wins and what doesn't. You "learn by experience. You can rethink why one poster won and yours didn't." Pastuchiv had entered the contest before, and this attitude eventually paid off.
Pastuchiv, who now lives in Richmond, has been an artist since she was four or five years old, when she wrote and illustrated stories for her siblings and for neighborhood children on Long Island, New York. Growing up with a father who was an artist encouraged her to pursue her talent. She later moved to upstate New York and got a degree in Russian, traveled and worked in such places as Boston, Greece and Berlin, and eventually settled in Maine, where she is now a professional artist.
In addition to painting landscapes, still life subjects in oils and watercolors, she does woodcuts (the bee poster is a hand-colored woodcut), has illustrated botanical texts, recently published a children's book (Minas and the Fish, Houghton Mifflin, 1997) and has taught college-level and younger students the art of woodcuts. She continues to "have various writing projects going on."
Pastuchiv lives in an apartment now, but when she has lived where she could garden, she did. "I'm a staunch supporter of heavy mulching," she says. She attends the Common Ground Country Fair every year.
To see more of Pastuchiv's work, visit O'Farrell's Gallery in Brunswick, which has displayed her art for some 10 years. The original woodcut of the bee poster is there, as well.