Fair Director's Message
Remembering Forrest Hooper
Keynote Speakers:
Jason Kafka
Lynn Miller
Percy Schmeiser2004 Planning Team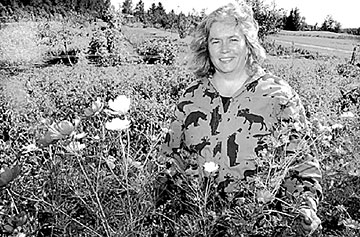 Barbara Luce, Fair Director. English photo.
Message from 2004 Fair Director Barbara Luce – Hey, "Who Moved My Cheese?"
We are creatures of habit; most people like predictability. Like the title to a self-help book on the dynamics of change, we tend to resist changes and automatically think negatively when faced with the prospects of change.
Well, one of the few constants in the world is change. This is good: Change keeps us on our toes and keeps our lives dynamic!
Change happens continually in the Fair office. We acknowledge that for everyone – fairgoers, exhibitors, coordinators, vendors, even the Fair office – life happens between whenever and the Fair, so we have to stay flexible as we accommodate both expected and unexpected changes. Did I say we appreciate change? We have too!
We have a number of changes to look forward to for this year's Common Ground Country Fair, including new area coordinators, newly revamped areas, and new staff at MOFGA. As with all new things, a few "bugs" may need to be worked out, and my job is to anticipate these as much as possible and act as the sounding board for the coordinators, vendors and fairgoers who come together in the three days of community called the Common Ground Country Fair.
I'd like to highlight some of these changes so that you know where to look and for whom. One is a total revamping of the Agricultural Equipment Area, which we now call the Farm and Homesteading Area. Here you will find some of the same vendors as before plus a compendium of products and equipment for the farm and homestead, including everything from finely made hand gardening tools to a solar tractor or even fishing nets. Check out this area by the Pine Gate.
Then head to Animal Products by the Livestock Area. This area has grown again, so you'll have more opportunities to talk to llama, alpaca, goat, sheep and rabbit farmers, and purchase their exceptional products.
Back by popular demand is the Livestock Speaker's Tent, where you can learn about the animals that add true dimension to any Agricultural Fair.
The Sheep Dog Demo has a new twist this year, so expect more laughter than ever (but I won't give it away)!
We've filled some ditches to create more space and better access to the Fleece Tent and the Wednesday Spinner's Tent.
If you've ever wondered about stories about Maine Native American Indians, visit the Native American Area, which seeks to provide a true view of Maine Indians and their heritage. This year the area will feature some new, modern, Native American businesses that are based on cultural values.
In our Food Area we have heard the plea and will be adding some tables to our Spotlight Stage Area where you may sit, eat and listen to the tunes. These tables and chairs are in high demand, so when you are done, please let another foot-weary fairgoer enjoy the luxury.
Last year I pleaded that area coordinators draw in some of their volunteers to co-coordinate areas, and many volunteers made the leap. We have also added new area coordinators throughout the Fair as others have left. They are labeled "New" in the list below. When you meet them, please tell them what you think of their areas, what new things you like and what problems you may have encountered. They are the eyes and ears of the Fair community, and the Fair does not get off the ground without them.
---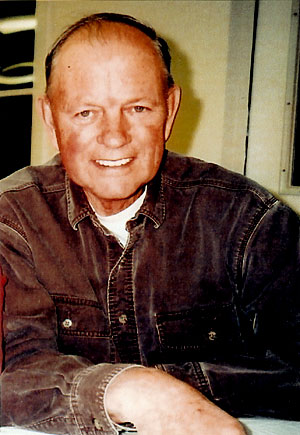 Forrest L. Hooper, Jr.
The Quiet Man with the Heart of Gold
Forrest L. Hooper Jr. meant something different to all of us. Forrest was a husband, father, brother, uncle, grandfather, friend, business owner, licensed poultry judge, Poultry Superintendent for the Union and Common Ground Country Fairs, a State of Maine Poultry Pullorum-Typhoid tester, one of the founding members and secretary of the Central Maine Bird Fancier's poultry club for 19 years, and a member of several other clubs and organizations. No matter what connection you had with him, one thing always rang out – Forrest was a quiet man with a heart of gold. He was a wonderful person, good friend and a devoted poultry man. He would talk to anyone about poultry, the weather or whatever else may be going on. He always had time for a cup of coffee and conversation. He never had anything bad to say about anyone. He seemed to like everyone, but, most of all, everyone loved him.
I first met Forrest at his house where he tested my birds for the Union Fair. Forrest showed me what a great activity poultry showing can be, and that it's one in which the whole family can participate. That was a start to some wonderful times for me. Since that experience, my family and I have traveled all over New England showing our poultry.
Forrest talked to me a lot about poultry showing. He found the breed of chicken that I wanted to show and that I still keep. Forrest was my friend and mentor. I really enjoyed stewarding for him at the poultry shows. He was never in a rush and would always tell me what he was looking for – good and bad. I will never forget the kindness he gave me and my family and will always remember the quiet man with a heart of gold. Forrest will be missed by all.
Respectfully submitted,
Richard Royer Jr., President, Central Maine Bird Fanciers, Inc.
---
Keynote Speeches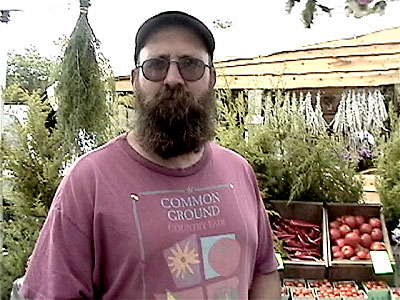 Jason Kafka
Friday's keynote speaker
Meet Your Local Farmer,
Jason Kafka
He's On a Kohlrabi Mission
He could be known as Jason 'Ailsa Craig' Kafka, after the mammoth 'Ailsa Craig' onions he grows. These are the same onions you see sliced into rosettes and onion rings served at the Common Ground Country Fair by 4M Productions.
Kafka would be a great asset to Wall Street: He has calculated that he can grow 8,000 pounds of onions from 31/2 ounces of seed on 0.4 acres – a yield of 36,000 to 1 in about six months, probably surpassing even Cisco stock at its height in value! These yields are due in part to this great onion cultivar, but are achieved also through Kafka's careful attention to cultural details (planting, spacing, superb soil fertility, irrigation). In fact, he's grown onions so large that they didn't fit through a vendor's rosette-making machine, according to the Fedco Seeds catalog.
Kafka is known for his straightforward talk and great sense of humor as much as for his 3-pound onions and other bountiful, beautiful produce, and he'll share his farming experiences and expertise during his keynote speech at Common Ground on Friday, September 24, in the Sunflower Common.
He says he'll talk about "why we're doing this" organic farming, adding in his usual joking manner, "I often wonder … " Then he starts talking about his giant kohlrabi plants (maybe you've seen them at his booth in the Farmers' Market at Common Ground), and you know that Kafka couldn't not farm. Kohlrabi, says Kafka, "is on my mission list. For organic production, it's a great crop to grow. Using the concessions we make to efficiency – raised beds with plastic mulch and drip irrigation – kohlrabi does so well. The bugs are not interested in it. Cauliflower is a real struggle, but with kohlrabi, you don't need to do anything about the insects. It likes it here! It's not like eggplant, that really doesn't belong here" (although Kafka grows about 500 of these plants, too). He grows the storage variety of kohlrabi, 'Gigante,' from Fedco Seeds, and tries to limit himself to a 300-foot bed. In his own kitchen, he adds the vegetable to stews, salads and soups, grills it, or bakes it (chopped) with beets. One year when he really had too many kohlrabi plants, even for his taste, a friend loaded them in his pickup and trucked them home to his cattle. "He hacked them one time each with his axe. Once the cows figured it out, they ate them."
Kafka and his wife, Barbara, moved to their Checkerberry Farm in Parkman, Maine, in 1981. "The farm was a fixer upper at best," he says. Barbara is an elementary school teacher; Jason worked full time for a fuel company until 12 years ago, and the couple "did homesteading stuff" from the start, as well, graduating from goats to cattle, then buying a baler … Barbara, an avid gardener who had the idea of moving to rural Maine, now jokes about "the monster she created" in Jason. While Barbara still gardens, Jason is "noted as being a gadgeteer, a metal head." He likes good machines that help him farm at his current level and says that if he hadn't become a farmer, he probably would have "gone into widget manufacturing." He has a basic shop with welding torches and a drill press. He has built cultivators, pieced together transplanters and enjoys fabricating an idea in his mind, then on scrap paper, refining his drawings, pulling out hydraulics catalogs, and creating the final product.
Checkerberry Farm now consists of 15 cultivated acres, 7 in cover crops this year and the rest in mixed vegetables (as well as some 400 Sweet Annie artemisia plants to sell at Common Ground). "I want to keep the energy of productive ground as high as it can be, with microbes and nutrients," says Kafka. "That positive energy – we interpret it as good taste." Some of that energy comes from a local dairy's manure, for which Kafka trades storage crops.
His 2 acres of onions demand Kafka's expertise with machinery. "I like onions," says Kafka. "I spent quite a bit of money to deal with them on this level" – on cultivators, harvesting, storage bins. He was so thrilled with the one-row Reigi weeder that he bought from Univerco ("the cleanest shop I've ever seen," says Kafka) in Napierville, Quebec (www.univerco.net/en/frame.html), that he sold it to friends and bought himself a two-row weeder from the same company. Univerco also made a special, eight-roller onion-topping table for Kafka, rather than its normal, 16-roller one, and the manufacturer called Kafka "a pioneer" based on his insight into scale-appropriate machinery. "That's part of this whole organic thing," says Kafka. "We're not inheriting a farm" from a farm family, but buying farms anew and coming up with new ways because "we don't know any better."
Kafka has been promoting organic agriculture through his long-term service as a MOFGA board member. He's delighted with the growth of MOFGA's Common Ground Education Center in Unity, calling the board's vote to buy the grounds "the best thing we could have done. To fulfill our mission, we needed our own home." He likens the development of the property with that of his own, which had no plantings around the house when he and Barbara bought it, but now "people come and comment on how beautiful it is. When you plant a tree, you don't get a payback the next year. That's the optimism we have to carry."
Kafka's enthusiasm for organic agriculture and for MOFGA is contagious. "Everyone should have enthusiasm for whatever they do, instead of living lives of quiet desperation, as Thoreau said. Most of the time I thrill at this. There's a breath of sensibility to what we're doing. It's real. I can understand a piece of metal sliding through the ground, whereas electrons flowing through wires, I don't relate to so well."
Come to his keynote speech at Common Ground on Friday. You're bound to be entertained, educated and inspired.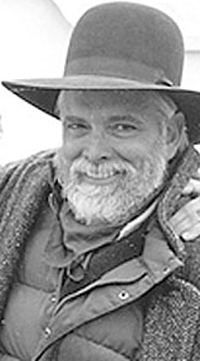 Lynn Miller
Saturday Keynote Speech
Lynn Miller
"Farmer Pirates and Dancing Cows"
For everyone who has ever dreamed of starting a farm, Lynn Miller has some solid advice: Start where you are. Even if you're living in a city apartment, you have a place, somewhere, to grow a plant for food or for beauty. And one plant can become two, or more.
For over 25 years, Miller has published the Small Farmer's Journal, a magazine that provides practical advice, ideas and inspiration for practical horse farmers and small farmers everywhere. We are excited that he will join us as our Saturday keynote speaker, talking on "Farmer Pirates and Dancing Cows: a look at what it means to be a conscientious, profitable, organic farmer in the twenty-first century."
This will be Miller's first visit to Common Ground in nearly 20 years, and he and Kristi Gilman will be here all weekend, getting a picture of small farm agriculture in Maine. Stop by their table in the Media tent, look for him by the livestock barns, or visit www.smallfarmersjournal.com and see just why we are so excited, but whatever you do make sure to join us on Saturday for an inspirational talk about what's happening and what's possible.
A Brief Biography
Lynn Ralph Miller was born in 1947 in Kansas City, Kansas, the youngest of five children. As an infant he moved with his parents to Rio Pederast, Puerto Rico, where he learned his first language, Spanish. He later attended school in California, then earned degrees in art and special education from the San Francisco Art Institute and the University of Oregon. He has been farming since 1970 and using draft horses since 1973. He is a certified equine and bovine artificial insemination technician. Through his own work and many workshops, writings, lectures, presentations and cooperative efforts, he has earned a reputation as a leading authority on animal-powered agriculture, relic farming technologies, organic farming and agrarian humor. In 1976 he started the Small Farmer's Journal, an international quarterly that he still edits and publishes and that has readers in 71 countries.
Miller maintains a painting studio, and his paintings are in private collections throughout North America and in France. His artwork is represented by Avenida Gallery in Bend, Oregon.
He has authored (and sometimes illustrated) several books of nonfiction, fiction, essays and poetry, including The Small Farm Dream is Possible, Why Farm, The Workhorse Handbook, Buying a Farm, Work Horses Today, Training Workhorses, Horsedrawn Plows and Plowing, Haying with Horses, Horsedrawn Tillage Tools, The Children of Hermits (a novel), The Glass Horse (a novel), Thought Small (poetry and drawings) and more.
In addition to conducting workshops and lecturing throughout North America, Miller has produced and managed a large, vibrant, annual auction and swap meet market for small farms and horse farmers for 26 years. He lives, and farms part time, with his wife, Kristi, on their high desert, horsepowered, organic ranch. The environmental issues he is most concerned with are related: poverty and the decay of community. "Addressing these two issues goes to the core of small farm, organic, land reform and ecology concerns," says Miller.
– – – –
"We have arrived and we don't have a clue. The world is hungry for food of good health, the produce of land of good heart. Our enemies are in forfeiture. Government has become a public relations firm for big business. And we have the corporate dragons of agri-business battling amongst themselves for sole survivorship. With the last surviving dragon, will evaporate the professional politician. We have arrived and we should know what to do. Time is past to verify dreams. Our dreams won out. Time is now to grab our hand tools with poignant assumption and get the stuff to the tables. It's time to eat, it's time to give thanks, it's time to spread dung, it's time to open the garden gates and let the children in. We've arrived. The community of small farms has arrived and the water is beginning to clear." — L.R. Miller
– – – –
Top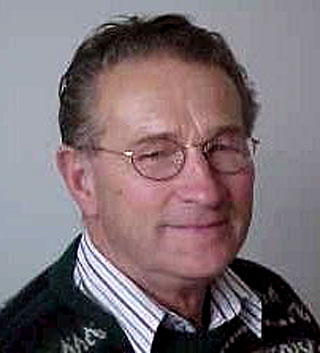 Percy Schmeiser is a Canadian farmer whose field was accidentally contaminated with genetically engineered canola seed. Monsanto sued him for "growing" its patented seed – and won, to a certain extent.
Saturday Public Policy Teach-In, 1PM, YEZ Tent
and
Sunday Keynote Speech
Percy Schmeiser
vs. Monsanto:
A Story of David and Goliath
MOFGA and GE Free Maine are pleased to welcome Percy Schmeiser to the 2004 Common Ground Country Fair, where he will participate in the Public Policy Teach-In on Saturday from 1 to 2:30 p.m. in the YEZ Tent and will give the keynote address on Sunday at 11 a.m. at the Sunflower Common. A conventional canola farmer for over 40 years, Schmeiser was sued by Monsanto when it found that his Saskatchewan farm was contaminated with its genetically engineered (GE) Round-up Ready canola.
Even though Monsanto has an entire office and a $10 million annual budget devoted to pursuing and suing farmers, Schmeiser took his fight against Monsanto all the way to the Canadian Supreme Court and has inspired farmers around the world who are fighting Monsanto's attempt to extort money from those whose fields have been contaminated by its GE seed. Schmeiser has spoken to farmers in the United States, India, Pakistan, Bangladesh, New Zealand and Africa. He has become an expert on legal issues that are cropping up as GMOs (genetically modified organisms) invade our food supply. Schmeiser will discuss his own experience with genetic contamination and its devastating effects on his farm and his livelihood as a family farmer.
Schmeiser's Story
In March 2001, Schmeiser was found guilty of having plants of Monsanto-patented, GE, Roundup Ready canola on his land. He was not found guilty of obtaining the seed fraudulently and insists that he never purchased seed from Monsanto or used Roundup herbicide on his crops. The judge specified that whether Monsanto's proprietary genetics came in via wind, water, birds, bees, animals, fell off farmers' trucks or migrated from a neighbor's field did not matter: Schmeiser infringed on Monsanto's patent. The judge also ruled that when any fields are contaminated with GE seed, the crop would become the property of the patent owner — in this case Monsanto. Rather than being compensated for the loss of his special variety of canola, Schmeiser's crop was confiscated.
In May of 2004, the Supreme Court of Canada ruled in Schmeiser's appeal case that although Monsanto's patent is valid, Schmeiser would not be forced to pay Monsanto's fines or legal fees, since he did not profit from the contamination. Nevertheless, the impact of the Canadian Court decision, and current rules governing the intellectual property rights related to GE seed, place all farmers at risk. Around the world, farmers are being visited by Monsanto's private investigators. They come to the door, advise you that you're suspected of illegally planting its GE seeds, and offer you a letter stipulating what you must pay to avoid being formally prosecuted and probably losing your entire farm. Should you choose to pay the fee, you are also obliged to sign a letter saying that you will remain silent about the incident or face further prosecution. Schmeiser was one of the few farmers with the ability fight this attempt at extortion, even if the fight had the potential to cost him everything. For more information see www.percyschmeiser.com.
Take Action
Following the Public Policy Teach-In, Schmeiser will meet with those interested in organizing a GE Free Maine. The GE Free Maine Coalition will collect pledges from farmers who will not grow GE crops and will support efforts to protect everyone from the legal risks resulting from cross contamination. See www.gefreemaine.org [Food for Maine's Future] for more information.
A new statewide coalition will launch at this year's Common Ground Fair. GE Free Maine will be a statewide coalition of farmers, public interest groups, businesses and concerned citizens who believe that GE-free agriculture sustains us all while genetic engineering sustains only corporate control of seeds while risking the family farms that support Maine's economy. GE Free Maine seeks to create GE Free Zones in Maine through voluntary pledges from farmers and through town resolutions, and to help protect conventional and organic farmers and farmers now growing GE crops from liability in cases of genetic cross contamination.
Maine is at a crucial juncture in the debate over GE crops. While GE corn and other crops are currently planted only on several thousand of Maine's 1.25 million acres of farmland, biotech companies are pushing for increases in the amount of GE corn and soybeans grown in the state. They are also planning to introduce GE trees, salmon, seaweed and many other plants and animals over the next few years. This may be Maine's last chance to say "time out on GMOs" – our last chance to address concerns over the environmental and health implications of GE crops, to assess realistically their effects on farmers' livelihoods, and to create a legal framework to protect farmers whose crops are contaminated by GMOs. With consumers around the world demanding products free of GE organisms and Maine farmers currently taking advantage of these new markets, taking a time out on GMO's is the only way to protect all Maine farmers. A GE Free Maine is the way life should be!
All are invited to an informational meeting following Percy Schmeiser's talk at the Public Policy Teach-In on Saturday from 1 to 2:30 p.m. in the YEZ Tent.
---
Planning Team Volunteer Coordinators for the 2004 Common Ground Country Fair
Agricultural Booths Area – Betz Golon
Agricultural Demonstrations – Paul Birdsall, Jack Kertesz, Chris Cavendish
Animal Products – MaryLynn FitzSimons
Antique Tractors – Glen Dewitt
Bicycle Parking – Jeff Miller, Fred Robie, David Wood, Maggie Wood
Camping – Mary Chamberlin, Peggy Connell, Chris Fabian, Don Baldridge
Children's Area – Alex Bradstreet, Amy Bradstreet, Genny Keller
Common Kitchen – Kim Bolshaw, Madeline Cantwell, Barbara MacLennan, Bill Whitman, Patti Hamilton
Country Kitchen Demos – Wendy Karush
Country Store – Dennis Merrill, Nancy Merrill, Lisa Miller, Roy Miller
Crafts – Leslie Burhoe, Peggy Strong
Draft Horses – Darcy and Bill Winslow
Electricity – Jim Buckle, Noel Dechar, Paul Murray, Jim Peary, Steve Plumb
Energy and Shelter – Lisa Hawkins
Entertainment – Robin Fowler, Nat Peirce, Ellen Tipper, Tim Forsman
Environmental Concerns – Matt Scease
Exhibition Hall – Martha Gottlieb, Valerie Jackson, Amy LeBlanc, Adam Tomash
Fair Manual Project – Jeannette Baldridge
Farm and Homestead Products and Equipment (formerly Agricultural Equipment) – Wendall Blodgette, Dale Thomas
Farmers' Market – John Belding, Mary Burke
First Aid – Ham Robbins, Kevin McGinnis
Fiddlers' Showcase – John McIntire
Fleece Show – Claudia Raessler. Daphne Marinopolous, Jenni Johnson
Folk Arts – Anu Dudley, Vicky Burrell
Food Committee – Shlomit Auciello, Marada Cook, David Gardner, Kristen Gardner, Betsy Hart, Martha Putnam, Eric Rector, Francis Walker
Foot Race – Christopher Bovie, Skip Howard
Garden Parade – Genny Keller
Health and Healing – Mary Chamberlin, Peggy Connell
Herb Tent – Joanna Linden, Elizabeth Radliff
Horseshoes and Manure Pitch – Mike Tansey
Information Booth – Sue Buck, David Hilton, Philip Norris
Livestock – Cathy Reynolds
Low Impact Forestry – Mark Albee, Sam Brown, Peter Hagerty
Maine Businesses – Patti Dowse, Ellis Percy
Media – Jim Grant
MOFGA Board Members – Tom Opper, Nancy Rosalie
MOFGA Booth – Donna Bradstreet, John Bradstreet, Bob Martin, Mort Mather, Judi Gardner
Native American Arts – Theresa Hoffman, Jennifer Neptune, Richard Silliboy
Oxen – Wes Daniel, Steve Norton
Parking and Traffic – Jim Bowers, Joseph Charnley, Dave Colson, Dawna Doyon, Bill MacDonald, Matthew Strong, Paul Volckhausen
Parking Lot Clean-Up – Fred Pinette
Poultry Exhibit – Forrest Hooper, Scott Monroe
Public Policy Teach-In – Beedy Parker, Sharon Tisher
Rabbit Exhibit – Perley Emery
Recycling – Obie Buell, Flo Wilder
Safety – Lucy Behnke, David Blocher, Andy Bray, Mike Burns, Mary Ellen Cooper, Richard Dickey, Barry Magda, David Olarsch, Robert Weyer
School Gardens Project – Mary Bird
Signs – Wendy DeCroteau, Faye Krause
Social and Political Action – Dan Hamilton, Gary Lawless, Beth Leonard
Sound Systems – Stuart Reynolds
Standardbred Pleasure Horse Show – Ansley ton
Stoorkers – Joe Auciello
Ticket Sales – Lisa Lebel, Skip Green
Utilities – Steve Plumb
Volunteers – Sari Lindauer, Mary Weyer, June Zellars
Wednesday Spinners – Donna Kausen, Cynthia Thayer
Whole Life – Crystal Ashland, Barbara Balkin, Herbie Brewer, Jack Cole
Wise Woman of the Fair – Susan Pierce
Youth Enterprise Zone – Bob Egan, Patricia Logan