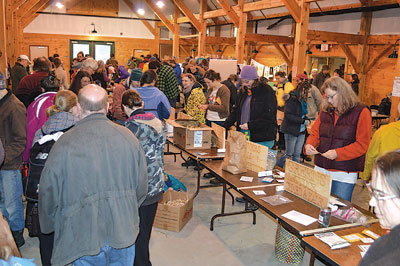 The Seed Swap and Scion Exchange drew almost 300 people to MOFGA this spring. English photos.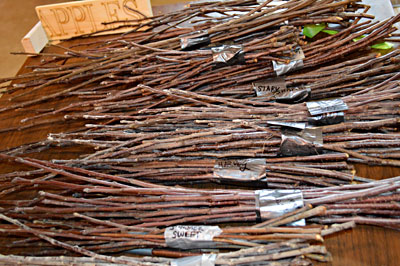 A small sampling of the scionwood available – free!
By CR Lawn
On a bleak late-March Sunday morning,  MOFGA Executive Director Ted Quaday counted more than 250 folks who braved the torrents of spring to attend the 15th Annual Seed Swap and 32nd Annual Scion Exchange, that event on the MOFGA calendar that promotes graft (but not corruption).
Inside MOFGA's Exhibition Hall there was no sense of gloom. On the contrary the atmosphere was part medieval fair, part bazaar (a tiny bit bizarre), part festival and part classroom of the horticultural arts, with some modest commerce, yes, but mostly a giant exchange of free treasures and information.
Spread on the tables were the stars of the show, an estimated 10,000 scions from perhaps 300 varieties of apples, pears, plums, cherries, peaches (maybe) and some small fruits. John Bunker, a fixture at the event for all 32 years, cut probably 80 to 90 percent of the scionwood, but a lot of folks kept bringing in more in waves during the morning. By day's end, the thickly-laden stocks had been seriously depleted by orchardists carrying home their prizes. Carol Doyle of Fedco Trees waited in the wings with her 140 bundles of rootstock from Fedco Trees on which to graft the scions, while upstairs in the library, master orchardist Mark Fulford, a key participant in all but the one year his brother Jonathan took his place, held forth to a standing-room-only audience of at least 50 on how to perform those grafts and passed around examples of the art. Doyle was excited by how many young couples were starting orchards, and John Bunker commented on the huge revival in cider-making.
Fulford gave way to the venerable Will Bonsall, who took time out from writing his new book, resurrecting his Scatterseed Project and helping initiate the Grassroots Seed Network to drive through snow, sleet, rain and "30 inches of slush" from Industry (near Farmington) to deliver his talk on propagating woody plants other than by grafting: cuttings, runners, layering, divisions, willow water, etc., to his usual raptly attentive large turnout. "Whatcha gonna do? CAN'T miss Scion/Seed Swap … I've been to nearly every one since creation day," he said.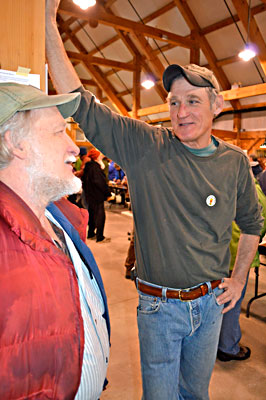 Jack Kertesz (right), one of the prime movers and organizers behind the Seed Swap and Scion Exchange, talks with Mark Fulford, a perennial favorite speaker at the event.
In the hallway was a collage of posters from seed swaps from around the world, from Seedy Sunday in Edmonton, B.C., and Seedy Saturday in Vancouver, to Seed Swaps & Silly Socks by Mrs. Hug-a-Bug, to the inviting tableaux from the event at the University of Arkansas Global Campus in Fayetteville featuring four succulent pea pods. Here in Unity, the seed swap that occupied tables on one end of the hall was organized by crops and had a great deal of diversity. By the end of the day, the two dozen packets I had brought of three rare varieties of sugar snaps, bottle onions and romano pole beans were all snapped up, and so were most of Eli Rogosa's packets of the heritage wheat 'Canaan Rouge'. I came away with an open-pollinated variety of sweet corn named 'Dorinny' in a Wood Prairie Farm seed packet, while Eli carried off 'Concord' and 'St. Croix' grape cuttings.
A display of pruning tools with hints for use adorned the back wall. Here was the familiar Felco pruning saw, the less well-known Florian ratchet lopper, an old-fashioned cleft grafting tool, and an ingenious nut wizard that one rolls along the ground to collect acorns, nuts and golf balls. A handout from Jack Kertesz elaborated on uses and sources.
Tables presented an assortment of books for sale, from The Grafter's Handbook by J. Garner, to Deb Soule's new classic, How to Move Like a Gardener. Caterers offered delectable quiches, venison soup and desserts. In one corner an impromptu group of musicians harmonized. Nearby, Denis Culley offered to custom-graft your fruit tree for a donation to the Maine Tree Crop Alliance. A 1988 newsletter from that same organization enabled me to verify the date of the first Scion Exchange. Close by was a photograph of an untended crabapple tree heavily laden with quality fruit growing in the unlikely location of a parking lot perimeter of the Waterville post office.
Periodically, Kertesz temporarily interrupted the festivities to announce the next workshop by blowing on a noisemaker he could not identify. Maybe, but probably not, a deer call, it looked like a short section of an exhaust pipe. It worked. Kertesz is by all accounts the originator of this event. Bunker called it "Kertesz's gig" and "Jack's vision," but during some years when Kertesz could not be present, Bunker kept it going. "Fedco has been able to sit on the sidelines and help make it happen," he said. "Although three or four people may do most of the work, without the 280 people who get involved, it wouldn't occur."
Perhaps 20 or 25 attended the first event in 1983, at the Forest Entomology Lab in Augusta, in a room no bigger than the living room in my house. From there it moved to a church in Augusta, henceforth to Unity College, finding its present home in 1999 after MOFGA moved to the Unity site. Now it has become an institution. The seed swap, started as a separate event by Nicolas Lindholm, Keith Goldfarb and Roberta Bailey of the now-defunct Maine Seed Savers Network, merged with the exchange some years back.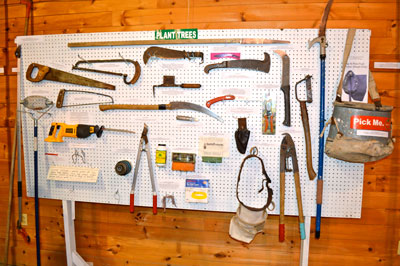 A display of tools used historically and currently for tree crops.
Bunker emphasized the importance of the free exchange. "It is so good that it is free. You come and you realize that someone is doing this for nothing. Then you are inspired to come back and bring something the next year." As far as cutting into Fedco Trees' scionwood business, just the opposite. It has instead encouraged people to get into grafting, and Trees has sold more scionwood in the last two years than ever before.
But more than sticks and seeds are being exchanged here. It is as much about the information being shared, both in the presentations and in the casual encounters in the Hall. Tom Vigue, who attended the first event and most or all since, described how gratifying it was for him to sit in on Lauren and Bill Errickson's excellent Integrated Permaculture Orcharding workshop. Years ago Lauren and Bill had attended one of Vigue's workshops at the same event. Vigue described their talk as "inspiring." "This generation has some people really skilled at what they are doing."
CR Lawn is president of Fedco Seeds, Inc.