MOFGA's vision for an organic future is to create a healthy and fair food system for all. Over the past 50 years, MOFGA has built a thriving organic farming community and changed the food landscape of Maine. Today, Maine is home to more than 500 certified organic producers and thousands more farmers, homesteaders and gardeners who grow organically.
As we continue to highlight the amazing teams at MOFGA and the impact of our members' support, no picture of MOFGA would be complete without lifting up the leading work of our farmer programs team. This team of seven provides an incredible range of programs for aspiring, beginning and established farmers. They specialize in resource access, professional development, research, livestock management, crop production, organic marketing and community building.
MOFGA's farmer programs are built on the principle that hands-on and peer-to-peer learning are the most effective ways to develop expertise and share innovation to help build a sustainable food and farm system in Maine. We recognize that community and social connection play a central role in farm resilience and viability. Our programs are designed to help farmers overcome barriers such as access to education, capital and a support network. We work to ensure that access to our programs is available to farmers of all races, ethnicities, backgrounds and gender identities.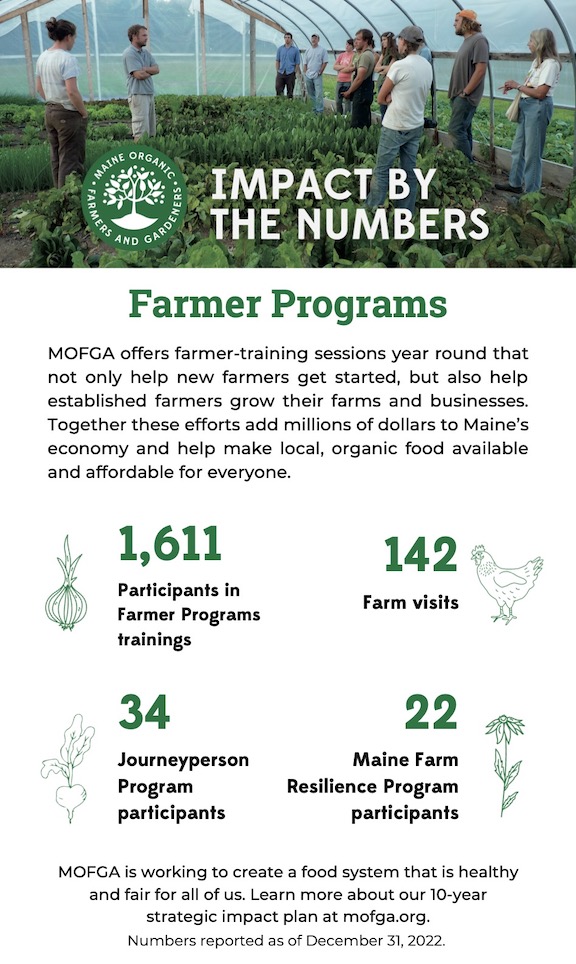 Training Maine's Next Generation of Farmers
MOFGA's programs for beginning farmers attract new farmers to Maine and help build a supportive agricultural community in our state. The apprenticeship program, started in 1975, matches apprentices with host farms for an immersive work and mentorship experience. Thousands of participants have received their first farming experience as a MOFGA apprentice.
Our two-year Journeyperson Program helps beginning farmers with business planning, mentorship, classroom training and financial support. MOFGA has helped more than 380 farmers start their businesses since the program began in 1999. MOFGA also offers Farm Beginnings as part of the national Farm Beginnings Collaborative, a series of intensive workshops that helps farmers with at least one year of experience develop a whole farm plan.
The Maine Farm Resilience Program (MFRP) provides individualized support to advanced-beginning farmers, in years 5-10 of farming, grappling with critical questions of scaling up, managing risk, innovation and diversification, and re-strategizing business plans to achieve long-term farm viability.
Providing Technical Assistance
Farmer programs staff offer technical assistance focused on crop and livestock production, processing, business, marketing and organic certification. On-farm consultations and individual support are available year-round. In 2022, MOFGA staff conducted 142 farm visits, providing assistance on a wide range of topics including pest management, soil health, financial planning, record keeping and transitioning to organic management.
As part of Maine's collaborative community of agricultural service providers, staff also connect farms with additional resources offered by state agencies and other organizations. Members of the farmer programs team are also coordinating racial equity and justice training for over 100 agriculture service providers through a three-year project funded by the Northeast SARE Professional Development Program.
Publishing Farm Resources
Farmer programs staff create ongoing reports to give farmers information to help them make business decisions. Regular pest reports during the growing season provide a compilation of short discussions of timely pests and diseases. MOFGA and Maine Farmland Trust collaboratively produce the Maine Produce Market Report, which offers a platform for sharing data between Maine farmers and buyers. MOFGA also contributes to statewide crop price reports.
Offering Farms Funding Opportunities
MOFGA's farmer programs also provide financial resources to farmers. Funding opportunities include:
The Organic Farmer Loan Fund ($2,000-$25,000) helps organic farmers and processors, particularly new and young farms and businesses, to build credit and relationships with a local bank.
Technical Assistance Grants (up to $2,000) help farmers, processors and food entrepreneurs access technical assistance such as professional services for business planning, financial analysis, market research, legal consultation or branding.
Maine Produce Safety Improvement Grants (up to $10,000) help farms implement on-farm food safety practices.
The Maine Soil Health Project (up to $5,000) provides technical assistance and reimburses expenses for developing soil health improvement plans.
Hosting Conferences and Educational Events
The farmer programs team has cultivated tremendous growth in farmer programming geared towards both beginning and established farmers. Offerings have expanded from primarily hosting two major farming conferences, the Spring Growth Conference and Farmer to Farmer Conference, and holding the Farm Beginnings series over the winter, to hosting multiple financial series and two branches of summer farm tours to engage farmers at whatever stage of business they are at. The team also hosts a variety of online workshops, producer meetings and educational series touching on topics such as climate change, soil health and food safety. In 2022, 1,616 farmers participated in 57 farmer programs events!
Responding to Urgent Challenges
In addition to providing extensive year-round programming, the farmer programs team is committed to addressing the urgent challenges facing farms. Climate change is creating extreme weather patterns, requiring farms to develop resilient systems that can withstand heavy rain events as well as drought conditions. MOFGA is a partner organization on a U.S. Department of Agriculture Partnerships for Climate-Smart Commodities $55 million grant project, led by Pasa Sustainable Agriculture, to bring together 20 organizations serving farmers who are uniquely impacted by climate change. The project will include soil health and financial benchmark projects, peer-to-peer learning and support, and adopting climate-smart practices.
Organic dairy farms face uncertainty in their markets as well as radical cost increases for organic grain. MOFGA farmer programs staff have provided direct assistance to organic dairy farms that lost their Horizon contracts in 2021 and continue to work with farms facing organic feed shortages while advocating for federal relief for dairy farms.
Last year, we also learned about the presence of PFAS chemical contamination on Maine farmland. Farmer programs staff offer one-on-one support for farmers impacted by PFAS, collaborate with partners to conduct research and advance our understanding of the issue, and provide direct financial support to affected farms through the PFAS Emergency Relief Fund administered jointly with Maine Farmland Trust.
The farmer programs team continues to respond to critical issues as they arise to create new resources, collaborate with other service providers and provide the support farmers need to navigate difficult situations.
Connect With Farmer Programs Staff
You can learn more about all of our programs and resources at mofga.org or by calling 207-568-4142. On our website, you can also subscribe to the biweekly farmer programs email newsletter and seasonal pest report.
Together We Grow: 50th Anniversary Campaign
Through training, education and advocacy, MOFGA helps farmers thrive, makes more local, organic food available and builds sustainable communities. One of our goals as part of our 10-year strategic impact plan is to support a 50% increase of MOFGA-certified organic producers to 750 operations and have 10% of the state's agricultural lands managed organically by 2030. MOFGA's farmer programs team works to ensure existing and new farmers and producers have the support, training and resources to sustain and grow the number of farms in Maine. Nearly 9 out of 10 farmers who have participated in MOFGA's beginning farmer programming are still farming today.
Financial contributions from MOFGA members and donors will help us continue to support farms and achieve all of our ambitious goals for a food system that is healthy and fair for all of us. MOFGA's 50th Anniversary Campaign builds on past success and sets a bold path forward for our region, raising $12 million for MOFGA's sustainable future and celebrating 200,000 volunteer hours over three years. This work is critical for the future of Maine and New England, our people, communities and environment, and we hope you will join us in support of our mission.
To learn more about the Together We Grow campaign, visit mofga.org/together-we-grow, email me at [email protected] or call 207-568-6013.
– Meghan Metzger, MOFGA Director of Development and Membership
This article originally appeared in the spring 2023 issue of The Maine Organic Farmer & Gardener.