Thanks for signing up for our emails.
Learn more about how we're promoting organic agriculture through education, advocacy, and community
The Maine Organic Farmers and Gardeners Association is working for a healthier environment and a healthier society, but we can't do it alone
Read the latest news from MOFGA
Take action to encourage your legislators to support this legislation. LD 437 – An Act To Establish the Maine Healthy Soils ProgramSponsored by Senator Stacy BrennerSummary: This is MOFGA's top legislative priority and we're working closely with Maine Farmland Trust and the Maine Chapter of the Sierra Club to advance this important bill. Maintaining soil organic
Read More »
We're excited to share our new public policy platform, which prioritizes six policy areas: Climate & Energy Farm Viability Human Health & Environment Organic Integrity Organic Research & Education; and Social Justice & Equity. We're developing legislative campaigns around specific bills focusing on: healthy soils and farmland protection; farm markets; per- and polyfluoroalkyl substances (PFAS) on
Read More »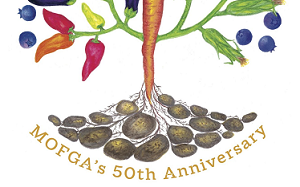 On January 14, 2021, at the annual meeting of the Maine Organic Farmers and Gardeners Association (MOFGA), the organization kicked off a year-long celebration of MOFGA's 50th anniversary by unveiling the 2021 Common Ground Country Fair poster. The design, featuring a bountiful tree, showcases fruits and vegetables that are available at the height of Maine's
Read More »
The Maine Organic Farmers and Gardeners Association is a broad-based community that educates about and advocates for organic agriculture, illuminating its inter­dependence with a healthy environment, local food production, and thriving communities.
Learn more about the resources, education, and community we provide for Maine's organic enthusiasts!
Want to support MOFGA's mission for a healthier, more sustainable Maine?
Volunteer
Donate your time and earn valuable experience by helping with MOFGA events, programs, or-day-to-day work
The Common Ground Country Fair
Every year, MOFGA holds a three-day celebration of organic culture with events, keynote speakers, family fun, and much, much more!