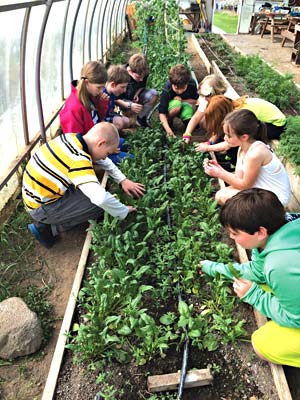 Walker School fifth graders weed spinach – just one aspect of a model school garden program.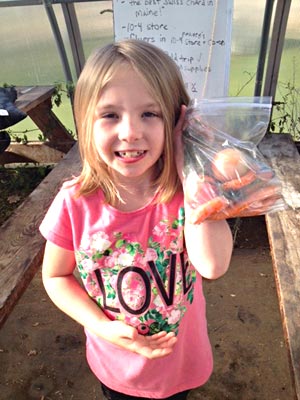 Abby, one of the most eager garden helpers, with a bag of garden produce to take home.
By Jean English
Photos by Carolyn Wason
"Fun! Friends! Games! And don't forget planting!"

Those are a few benefits of the garden program at the pre-K-through-5 Walker School in Liberty, Maine, according to fifth graders there. They also cite "cool science experiments," food for school lunches, and adapting games such as Four Square and Capture the Flag to gardening.
The Walker School garden program began several years ago when the now-defunct MBNA credit card company donated a greenhouse, which provided an opportunity for hands-on student learning and food for daily snacks and school lunches. The program grew when FoodCorps service member Katie Morabito worked with students, teachers and volunteers during the 2012-2013 academic year.
FoodCorps is a nationwide team of AmeriCorps leaders who connect kids to real food and help them grow up healthy. Working under the direction of local partner organizations, FoodCorps implements a three-ingredient recipe for healthy kids. Service members teach hands-on lessons about food and nutrition; build and tend school gardens and teach cooking lessons so that kids can taste the fresh food they've grown; and they change what's on children's lunch trays, giving them healthy food from local farms. Part of Walker School's commitment to the program was a $5,000 per academic year contribution toward Morabito's stipend. (That rose to $6,250 in 2015-2016 and to $7,500 in 2016-2017.)
Based on pre- and post-tests administered nationally, says Vina Lindley, food systems and youth development professional/FoodCorps coordinator with Waldo County Cooperative Extension, FoodCorps reports that over 50 percent of students involved in FoodCorps programming say they tried a new vegetable or improved their preference for vegetables because of the program.
Ever-Growing Gardens
At the Walker School, Morabito expanded the program to include outdoor raised beds, which are tied to a summer program that allows students to continue tending and managing the gardens and deciding how best to use the produce.
Christine Gall, the next FoodCorps service member at the Walker School, spent her two terms (2013-2015) strengthening connections between the garden and greenhouse and the school curriculum.
Carolyn Wason took over as the FoodCorps service member for the 2015-2017 academic years, working with Liberty, Troy, Monroe and Brooks schools.
"The garden is an integral part of Walker School's vision for education and community," says Wason. Students participate in weekly greenhouse classes (a "special" similar to art or music), using the garden for education in all subject areas, meeting district and state-wide learning standards in an interactive style, and addressing unique learning styles and student needs. Largely student-initiated and led, the garden, says Wason, fosters citizenship, responsibility and pride in the students, "the best greenhouse stewards we could hope for," and it will help the students "as they become garden-based scientists, poets, mathematicians, artists and world changers."
Under Wason's guidance, students are adding more raised beds and fruit trees, and they are working toward finding a way to heat the greenhouse sustainably (and learning about solar energy in the process). All produce not eaten by the enthusiastic gardeners goes to the school kitchen, which provides free breakfast, lunch and snacks to all students. In addition, students were given the task of enhancing the health of the communities of Montville and Liberty through a service learning project. A couple of students planned a farm stand, which is open throughout the growing season, to offer "pay what you can" veggies to the community.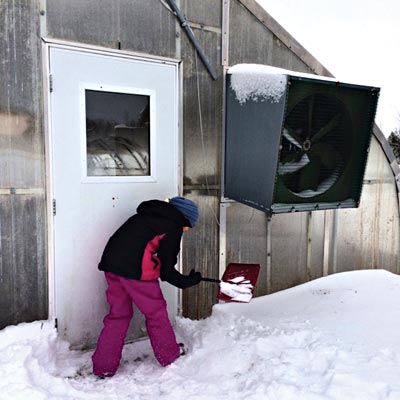 Cici shoveled a path to the greenhouse so that students could check on the overwintered chard.
Ever-Growing Tastes
This spring Wason and the fifth graders conducted a taste test in grades 2 through 5, cooking spinach and Swiss chard from the greenhouse with olive oil, garlic, salt and pepper (see recipe in sidebar). "The students are all familiar with spinach," says Wason, "but for many of them it was the first time tasting chard. We compared raw to cooked, and voted on our preferences." For spinach, 30 out of 33 students liked or loved it raw; three didn't like it. About 75 percent preferred spinach raw to cooked. For chard, numbers were lower – possibly because most had been eating spinach regularly for a few years but had never had chard. For raw chard, 18 liked or loved it, 11 thought it was OK, 4 didn't like it. About half liked cooked chard better than raw. The students have asked if the cafeteria can serve chard, and several have asked to bring chard home to cook with their families. The pay-what-you-can garden stand now sells out of chard whenever it's available.
Growing Community
"The garden has also become a community focal point, especially during the summer, when families manage the garden," says Wason. That was evident during a community dinner that fifth graders put on last spring to convey their enthusiasm for the program. Family members and residents of all ages showed up to enjoy the meal the students cooked and to hear essays they wrote about the program. One community member, Paige Zeigler of Montville, noted the importance of the horticulture program in an area with few other local economic opportunities. The skills the students are learning, said Zeigler, may eventually enable them to remain in the community and not have to drive to Augusta or elsewhere to work.
The Walker School program ties in with MOFGA, as students study qualities of prize-winning vegetables in the Common Ground Country Fair Exhibition Hall and then choose their own vegetables to enter at the Fair. They have taken home a number of ribbons. Also, the Waldo Organic Growers, a MOFGA chapter, sometimes helps with the gardening.
Based on its success, the Walker School model was instituted at three other elementary schools in RSU3 and has been held up as a model of what FoodCorps involvement could be.
The program is now transitioning as Wason's FoodCorps term ends after the next school year. FoodCorps helped the students develop a legacy that the community wants to continue and grow. To develop a long-term strategy to fund a garden/nutrition coordinator for RSU3 schools, Wason and Glen Widmer, principal and FoodCorps site supervisor at Walker and Troy Elementary Schools; Vina Lindley; and Jessica Decke, Cooperative Extension's Tanglewood summer camp director, have been seeking funding through grants and/or considering an ed tech position.
Students Weigh In
How important is that legacy? Here's what some of Walker School teacher Lynn Warren's fifth-grade students wrote.
– – – – –
We need fresh vegetables from the garden because sometimes when we have carrots that we bought they are soggy and not very good, and you're hearing this from somebody that loves carrots. – Emily Palmer
I think we should have more time to go outside and plant some fruits and veggies for our greenhouse. I love the greenhouse because I want strong and healthy people in the program. – Caleb Mack
When I was little all I could eat was chips and soda, so I got chubby. Today I'm healthy because I went to Walker School and they have a garden, gym and other things. – Blair Barnard
Some of the students here at Walker School don't have enough to eat at home, so they depend on the school for food. – Dakota Freeman
Once every month we try different foods to see if we like them. Once I tried sweet potatoes thinking that they wouldn't be that good – they were raw – but they were delicious! – Isaac Widmer
I used to be hesitant about trying new foods, but now I am usually very excited, thanks to the greenhouse! – Greta Ahlefeld
Our school's garden is important to me because of the Garden Committee. Garden Committee is a group of kids who help plan things. For example, we planned a vegetarian dinner, which was kid-run and a success! – Noah Cote
If we lost our greenhouse [program], we would have no fresh vegetables or fruit for the salad bar, and we would eat frozen and canned food. – Calvin Jewett
I think we need our greenhouse or we might have to eat chemical-filled, GMO vegetables and fruit for lunch. I don't want that to ever happen, never. – Paige Wilson

---
Cooked Chard and Spinach
1. Pour enough olive oil in a pan to cover the bottom. Heat on medium.
2. Mince 2 cloves of garlic and cook in pan for 2-3 minutes.
3. Tear leaves of spinach and chard into bite-sized pieces, until you have about 4 cups of leaves. Chard stems can be discarded or chopped and included. Add the greens to the pan and cook with minimal stirring for 2 minutes.
4. Stir in salt and pepper to taste, cook for another 3 minutes, stirring regularly.
5. Dish up and eat. Yum!