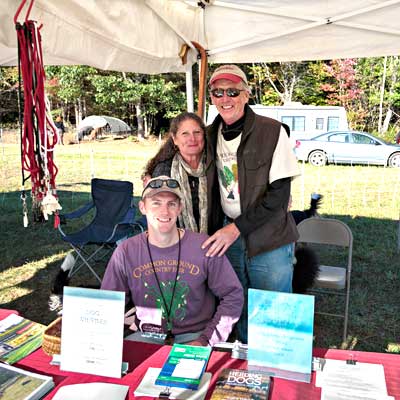 Left to right: Colin, Julie and David at their booth near the sheepdog demos at the Common Ground Country Fair. John Williams photo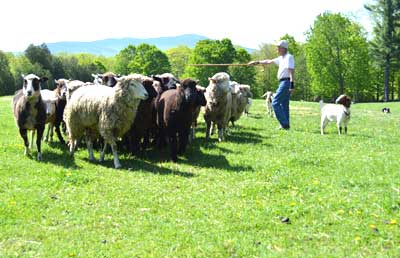 Sheep and goats keep the land open at Wellscroft Farm in Harrisville, N.H., affording a view of Mount Monadnock, thanks to modern fencing systems and sheepdogs. English photo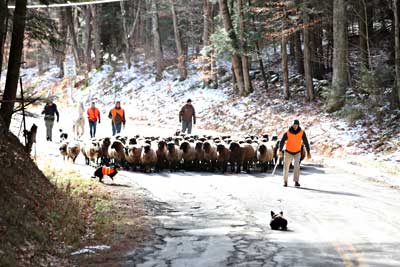 Sheepdogs help the Wellscroft farmers herd the flock through town to graze on various pastures. Thanks to strong root systems, pasture plants are available for grazing into December. Colin Kennard photo
By Jean English
The sheepdog demonstrations, among the most vibrant and loved events at the Common Ground Country Fair, attract thousands of spectators annually. Few realize, however, that the demos also reflect the vibrant atmosphere and integrated businesses of Wellscroft Farm in Harrisville, in Southwestern New Hampshire.
David Kennard and his son, Colin, along with their respective partners, Julie and Anne, own and operate Wellscroft.
Cultivating the Wellscroft Farm Ecology
David grew up in Massachusetts and spent summers working on his grandfather's Harrisville farm. Later he had a chance to travel around Europe, where he noticed different types of fencing.
He eventually bought Wellscroft from his mother and has lived there fulltime since 1973. He got a few sheep around 1975, and by 1978 had started the fence business. And he got border collies. "I wouldn't have sheep if I didn't have dogs," he says. "It's that simple for me."
Now one of the larger working sheep farms in New England, Wellscroft raises commercial Dorset crosses, with some Polypay and some Rambouillet. The farm consists of 400-plus acres of forest and pasture, with about 60 acres open and some in silvopasture. The sheep graze the open acres plus some rented land, and the Kennards make 10,000 bales of hay annually, selling half and feeding the rest.
"We've had over 14,000 lambs born here," says David. "I think part of our success was that I brought a fresh approach. When we started, the national average of lambs born per ewe was 1.25." That ratio was due to the influence of Western sheep farms where ranchers couldn't support twins.
"I worked with a wonderful Extension agent, Bruce Clement" (a former agriculture educator with Cheshire County Cooperative Extension). "We said, you've got fixed costs for that ewe; what if you could produce two or three lambs for the same fixed cost?"
The Pipestone Sheep Project, a Minnesota-based lamb and wool management program, sent expert advisors to 15 area farms, and in its heyday Wellscroft produced about a 240 percent lamb crop (240 lambs per 100 ewes). Now its 200 ewes produce about two lambs each.
David also improved pasture health. "We haven't fed any hay to anybody including fall lambs and ewes until mid-December for a long time, because we allow the root reserve to build up on the hay fields and then rotationally graze the aftermath. I can show you pictures of lambs and sheep grazing through snow."
The dogs and fencing enable that rotational grazing and root buildup. "Dogs and portable fence are a huge, huge part of our success. We'll walk 100 sheep right down through town, with traffic" to various pastures, thanks to the border collies' herding instincts.
Wellscroft also raises 30 South African Boer goats – companion grazers that offer "a natural way to control invasive weeds," says David. "Goats are browsers, sheep are grazers. They eat poison ivy, burdock, thistle, Virginia creeper – all the stuff the sheep won't touch." Many of his dog customers have goats, which are much more difficult to work than sheep, he says. "They're more headstrong, and they butt."
They raise 30 to 50 laying hens, selling eggs to local customers and to the Harrisville General Store, and about 60 meat birds for their own consumption. Colin says they keep chickens mainly for pest control. "They're free ranging – they really cut down on flies and ticks."
Colin notes that they run three to a dozen pigs in the spring if they have the time. They are an excellent tool for renovating pastures or creating new ones.
Tiger Batchelder has been the Wellscroft Farm manager for 17 years, handling the animals while Colin and David focus on the fence business. In mid-May they were preparing to run 200 animals through a race where they can flip the animals upside-down and trim their feet, check ear tags, fix medical problems and see which animals they should keep. This is a skill that they demonstrate at Common Ground.
The farm sells over 50 percent of its annual lamb crop to cater to the Easter markets (Greek and Roman); but also freezer lamb (by subscription), breeding stock, market lambs (for people to raise themselves), sheepskins, hay and up to 24 dump truck loads of composted and raw manure. And wool.
"I think I have the largest black flock in New England," says David. "Places like Green Mountain Spinnery buy all our black wool. Where else are you going to get 1,000 pounds of black wool?"
Wellscroft has won numerous awards. "The one that I'm most proud of," says David, "is the Andrew Felker Award" for significant contributions to the health and vitality of New Hampshire agriculture. "That was a big, big honor. It's voted on by Extension, FFA, even business people. That meant a lot to me."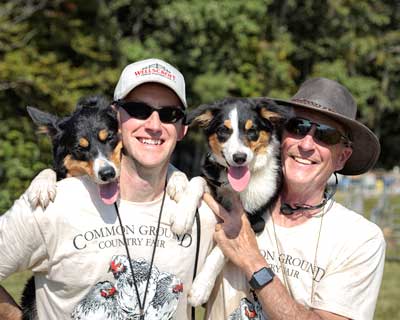 Colin (left) and David Kennard and their dogs, Tate (left) and Grace. While they are working dogs, their strong bonds with the Kennards make them loved family members as well. John Williams photo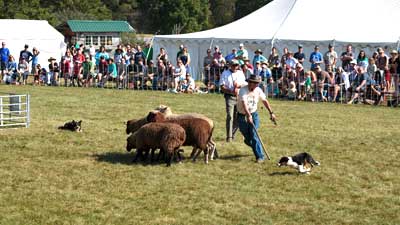 At the 2017 Common Ground Country Fair, 14-week-old Grace was already herding while the other dogs looked on. John Williams photo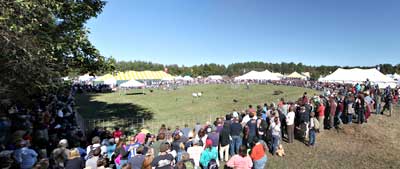 Thousands of people flock to the sheepdog demos at the Common Ground Fair. Catch the demo at 10 a.m., noon or 2 p.m. each day of the Fair. Colin Kennard photo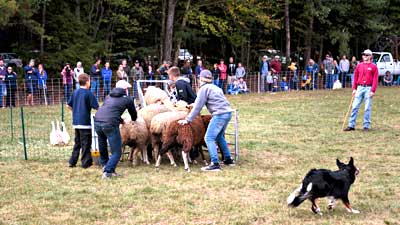 Common Ground is one of the only venues at which the Kennards let a small group of people — including kids – inside the fence to try to herd sheep so that they appreciate the job the dogs do. John Williams photo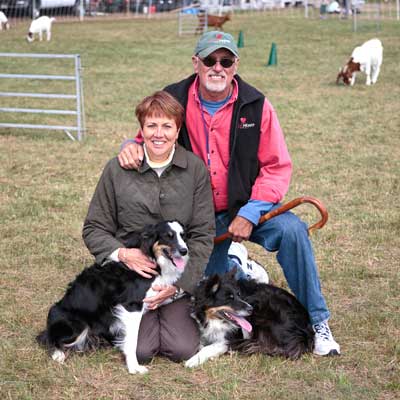 Doreen and John Simmons with their dogs Bea and Gwen have helped with the sheepdog demos at the Fair for several years. John Williams photo
Educating and Entertaining at Common Ground
This is David's 30th year demonstrating at Common Ground, but he's come to the Fair longer – originally paying to have a booth at the Windsor fairgrounds for his Wellscroft Fence Systems business.
Someone else was doing a sheepdog demo then, and after a mishap, David told Susan Pierce – Fair director at the time – that if she gave him a free booth, he'd do demos with his sheep and dogs the following year. He's been a favorite fixture at the Fair ever since. In fact, when MOFGA was planning its Common Ground Education Center in Unity, Pierce asked David how much room he'd need for his demos and where to site them.
"David embraces what's central to Common Ground," says Pierce. "He shares his unique knowledge with fairgoers in a way that makes sense to them; he works with the Fair staff so that his presentation is an integral part of the Fair; and he has become a great friend to many, including me. I look forward to seeing him and catching up every year in Unity."
The dog demos – daily at 10 a.m., noon and 2 p.m. – take so much time that Kennard no longer sets up a booth for the fencing business at the Fair; he simply hands out catalogs.
David and his crew spend the Wednesday before Common Ground preparing for the Fair – making sure everyone's healthy, and packing all the panels, fencing, PA system, feed and other necessities. They travel the 4 1/2 hours on Thursday and usually are set up by 6 p.m. During the Fair, says David, "we're on from 7:30 in the morning until 5:30 at night, nonstop" until they leave Unity around 7 p.m. on Sunday and get home near midnight.
People closer to Unity have offered to bring their sheep or dogs to try to help out, but "we try to always use our animals," says David. "When you're standing in front of sometimes as many as 1,000 people … it's good to have animals that respect the dog."
David says he tells people, "If you want to go to the best fair in the United States, absolutely, you want to go to the Common Ground Fair in Unity, Maine. There's no midway, no demolition derbies, and it's tremendous education, crafts and fantastic food."
For the past few years, MOFGA volunteer John Williams has been photographing the Fair, even getting in with the animals during the sheepdog demos. "What a sweetheart of a guy," says David. "He brings us food!" David tells people, "go [on the web] to 'Common Ground Country Fair John Williams photos' and that will tell you what the Fair's like."
David's friends John Simmons (a retired ER doctor) and his wife, Doreen (a retired ICU nurse), of Stoneheart Farm in South Paris, help with the demos. At their operation, they manage 100 Katahdin sheep and run a fresh pasta business. The Simmonses' dogs, Bea and Gwen, were born at Wellscroft, and the Simmonses have Wellscroft fencing.
The three days at Common Ground will be among the 17 days this year that David and Colin demonstrate sheepdogs. "We enjoy it," says David. "It's entertaining to people and it brings a piece of agriculture to people who can't see it. People are amazed when the dogs bring the sheep right to you. We'll grab a sheep and flip it over and show the wool. We tell people about why sheep evolved the way they did, why they have four stomachs, why they have no upper front teeth. People seem to be really interested. We've had people say, 'I'd buy more wool, but you have to kill the sheep to get the wool.' Some people actually think that. It's all about education."
The audience at Common Ground is the most engaging, says David, and it's one of the only ones where the Kennards let a small group of people inside the fence to try to herd the sheep so that they appreciate the job the dogs do. At Common Ground, "I know that the people respect what I say, and if I say 'Don't chase them," they won't."
Working Dogs as Family Members
The Kennards bring four dogs to Common Ground – Dot, Grace, Bonnie and Tate – and the Simmonses brings two. "We'll have six dogs all working simultaneously on three different things," says David.
During the demos, says David, "We try to show many different aspects of the dog, but also how important it is to know what you're getting into if you get a border collie. That's one of my main missions: to tell people to be careful buying a border collie as a pet or purebred, because they are absolutely the most intelligent dogs in the world. If you do not have something for them to do, they will find something to do."
After each demo, the dogs sit on a table so that fairgoers and fans can come over to greet them and ask the handlers questions. Fairgoers can also come into a pen to learn how to handle a sheep – to flip it, for instance.
According to the Wellscroft Farm website, the border collie breed "originated on the border between Scotland and England and over a period of many years, was selected for its ability to go out and retrieve livestock. What makes this breed so unique is its ability to go out around the animal and bring it back as opposed to 'driving' dogs which push the animal away. They do this by wearing (staring at) the animal with a predatory eye."
David describes three kinds of border collies: "American Kennel Club ones, which are great – they do agility, fly ball and search and rescue, but they're not necessarily being bred for their herding instinct."
Second are dogs for sheepdog trials – now a big, wonderful sport, says David, with some of the dogs living on farms and some not. "I liken them to a thoroughbred horse. It's a horse that has a lot of energy and does the job well, but you might not pull a cart with it."
Third are the "hill dogs" that David and a few others around New England have – "dogs that have a more intuitive basis and are very good at herding. They can think. When you send these dogs out on big outruns, you can't see them. You can't tell them to go clockwise or counterclockwise. You just tell them to round up the animals and bring them back. A lot of those dogs will work pigs and cattle and sheep. I think we sell as many dogs to cattle and pig farmers as we do sheep farmers." That herding instinct is part of what these farmers try to show in their demonstrations.
"We sell border collies only to farmers" in New England and New York, says David, "to help farmers out." Puppies are born only every other year at Wellscroft because of the work involved. The youngest dog at Wellscroft, Grace, "is a very good combination of being a biddable dog – she's very good with people and the public – and good at being able to move animals. She was at Common Ground last year at 14 weeks of age, and she's developed into this wonderful dog."
One of the most common questions at Common Ground is, "How long does it take to train a sheepdog?" David responds: "A lifetime." The Wellscroft website offers training tips and resources. One key, David says, is that "we're very good about being positive. It's repetition and enforcement. A border collie will get away with murder if you let them. You want to always visualize your command. I do talk at the Common Ground Fair about energy, and thinking, and animal communicators. If you visualize your commands, the dogs know a lot."
Regarding that energy, David points to a tree in a pasture at Wellscroft under which deceased dogs are buried. "We feel we've had a couple of our former dogs return to us – their energy. I like to think that."
Other questions, says Colin, include, "Do they make good pets? What do they eat? How do we train them? How can a dog know 40 commands?"
In answer to the first question, the Wellscroft website responds emphatically: "By themselves, no. Border Collies are such work intensive animals that they ALWAYS need something to do. Having a Border Collie simply because it is smart or beautiful is the WRONG reason to get one! We strongly discourage people from getting a Border Collie as a pet because they are just not bred for that purpose. Anyone that has gotten a Border Collie as a pet will usually tell you that it turned into a disaster (chasing cars, herding children, etc…). So, if you are thinking about getting a Border Collie, make sure that you either have livestock of some kind that you can work with the dog or that you do agility or fly ball."
David sees the dogs as an important part of rural living. "I'd be interested to see how many people who are members of MOFGA and have livestock have a herding dog," he says.
Colin notes, "As much as we try to educate people that border collies by themselves aren't good pets, when they're [on the farm] in a working environment, they're just as much a farmhand as they are a member of the family. When they're not working, they are family. It's like having a child. They have boundaries. We never let them beg. Just basic common sense."
He adds, "We like to make our border collies as well rounded as we can and introduce them to all kinds of new experiences so that they're very versatile from a working perspective as well as a social perspective. It's important that they can be a hard-working, very focused dog, but then when we say 'That'll do,' they can hop out and receive pets from the public and be good with kids. Not every dog is a social butterfly, but it's good when you have a dog that is not afraid to be in lots of different scenarios – working or public."
David says he always asks the crowd at the end of the demo, "What is the most important command?" The answer: "Stop." They use the command "That will do," which switches them off from working mode until the next whistle.
Wellscroft is also home to Sadie, Julie's Bernese mountain dog (who comes to the Fair) and to Ajax, a great Pyrenees guard dog, as well as two guard llamas.
The Fencing Business
"The whole concept of using plastic twine, with little filaments, wasn't available until the early '70s," says David. "When used with a high-voltage, low-impedance energizer, it doesn't burn. The old type of energizer that some call 'weed burners' will melt the plastic netting that we use today. We were lucky enough to be on the cutting edge of this spring-tight [fencing]." After Vermont farmer Henry Swayze brought the Gallagher fence system to the area, David started using it for rotational grazing.
Now the fence business is much larger than Wellscroft's farm products business. "I think we're probably the largest agricultural fence business in New England," says David.
"New England's agricultural fence experts – that's our tag line," Colin adds. They supply much of New England and eastern New York.
"People want to keep deer out of vegetables or orchards," notes David. "When we started, I'd say 80 percent of my business was keeping livestock in; 20 percent was keeping wildlife out. Now it's almost reversed because the deer pressure has gone from a population of 5 to 50 per square mile." He cites a vegetable grower on 200 acres north of Boston who says he would not be farming if not for the fencing.
Still, Wellscroft always keeps animals. "Aside from the fact that we have a beautiful farm with hundreds of acres, it validates our fencing business," David explains. "We're not just salesmen in a store; we actually use our product. We have a fence clinic every year." About 140 people attended their 31st clinic this year.
He imagines Wellscroft will always keep some sheep, at least to keep the land open. "Doesn't it look like somebody mowed all the lawn?" he asks as he looks out over the pasture and gazes at Mount Monadnock. That view, maintained by the sheep, dogs and fencing, "gives me youth," says David.