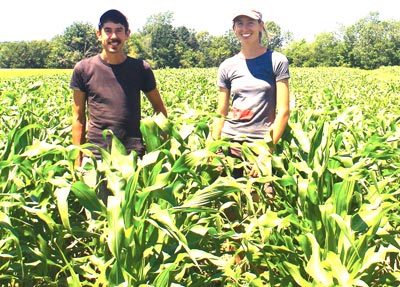 Adam Nordell and Johanna Davis grow MOFGA-certified organic vegetables, small grains, flint corn and dry beans in Unity, Maine. Here they stand in a chest-high-by-mid-July field of 'Abenaki' flint corn. Cederholm photo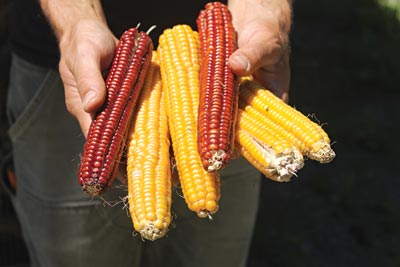 Nordell and Davis annually select their 'Abenaki' flint corn for seed. They look for eight rows of well-ordered kernels that fill the cob all the way to the tip. Cederholm photo
By Holli Cederholm
Young farmers Adam Nordell and Johanna Davis produce organic vegetables, grains, legumes and music on their Songbird Farm in Unity, Maine. The duo toured full-time for a year as folk artists, based in Nordell's home state of Montana, before settling down to farm in Davis' resident state: Maine.
After five years of operating Songbird Farm on leased land – their first season in Pemaquid and Whitefield and later in Starks – in 2015 the couple signed a 30-year mortgage on 41 acres in Unity.
The farm was owned and operated by Tim Christensen (who died in 2015) before Songbird Farm relocated. In establishing Green Earth Gardens, Christensen had segmented tillable land into single-acre chunks that lend well to vegetable cropping. For 2016, the Songbird rotation consists of 3 acres of MOFGA-certified organic vegetables and legumes on their home site and 10 acres of grains across the road. Those 10 acres are part of a 15-acre parcel leased from Sabasticook Regional Land Trust that has a history of corn and hay production. The other 5 acres are transitioning to organic. "It's just one huge open field, so a lot easier for tractor cultivation and harvest," said Davis. They rely on several tractors for seeding, weeding, fertilizing and combining.
Cultivating a Wholesale Niche
Davis and Nordell started marketing as many a beginning farmer does: Grow a wide array of fresh produce and sell it directly to customers weekly at a nearby farmers' market. However, their access to robust retail markets was limited, and they saw less competition for wholesale organic produce.
After three years they dropped their weekly market hauls. "It wasn't adding up. The time spent getting ready and prepping for the market and the amount we were selling didn't really work. We needed an alternative," said Davis.
Wholesale was that alternative. When transitioning their farm operation from Starks to Unity, they were able to keep existing accounts and add some new ones.
Their vegetable lineup is now streamlined to a dozen or so crops for wholesale accounts to natural food stores and co-ops in Belfast, Damariscotta and Waterville. About half of their fresh produce is sold to statewide distributor Crown of Maine Organic Cooperative, which picks up on-farm twice a week.
Carrots, beets, kale, Swiss chard, Brussels sprouts, head lettuce and pea tendrils grown in long beds formed with a black-plastic mulch layer shape the backbone of their offerings. Davis and Nordell have adopted some of Christensen's growing practices as well: The pre-existing greenhouses – a 120- x 30-foot wood-heated house and a 90- x 30-foot unheated house – are packed to capacity with tidy rows of trellised and drip-irrigated tomatoes and bell peppers.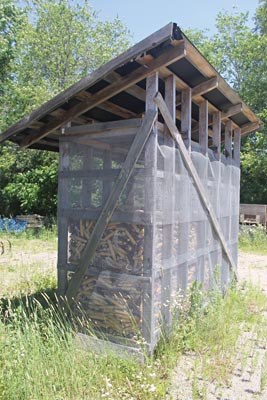 A modern take on the old-fashioned corn crib. Last year's 'Abenaki' flint corn stayed dry and rodent-free thanks to ventilation and protection offered by double-layer hardware cloth walls. Cederholm photo
Switching to wholesale also left weekends open for their other lives as musicians. "We didn't have to be somewhere Saturday morning," said Davis. "The opportunity for playing a gig Friday night or occasionally being out of town for a weekend became an option."
For the Love of Corn
Davis and Nordell also saw great opportunity for market expansion in grains. They experimented with cereals and legumes from the get-go, with 1/2 acre allotted dry beans and another to 'Hopi Blue' flour corn their first farming season. Nordell said, "Corn is so cool. We should grow corn."
Corn is easier than most grains to plant and pick on a small scale. The whole process can be done by hand, as Davis and Nordell initially did.
In the following seasons, they traded 'Hopi Blue' – bred for the longer, drier season of the Southwest – for a quicker maturing variety better suited to short summers and wet autumns. 'Roy's Calais' flint (aka 'Abenaki Calais') is an open-pollinated corn cultivated as a staple by the Abenaki people of Northern New England.
They increased production over time and now have 4 acres in the field, with most designated for cornmeal milled onsite in a Meadows Stone Burr Mill.
They sow seed with a corn planter as the soil warms and cultivate with a tine weeder before plants emerge and again when plants are 6 to 8 inches high. "The plants are well-rooted enough to withstand some scratching," said Davis. "The weeds are smaller, hopefully, are weaker, and get pulled out. It's the only way we have to do in-row cultivation in the corn."
They run a field cultivator through the pathways to manage weeds, and hill the corn with a potato hiller to further suppress in-row weeds and to help prevent lodging. "With the 'Roy's Calais' the stalks are not always that strong and the roots aren't as strong as more modern varieties," said Davis.
Harvest is slated for October, when the kernels have filled out and the cobs are starting to dry down, their outer husks hanging toward the ground, shedding water. Davis and Nordell purchased a tractor-driven picker-shucker to simplify harvest, but it was designed for the fat cobs of dent corn, which boasts 24 rows of kernels on average, and doesn't work with the narrower ears of flint, with only 8 to 10 rows. Instead Songbird Farm hosts a picking party to pull the cobs, each tossed by hand into the shucker's hopper to de-husk.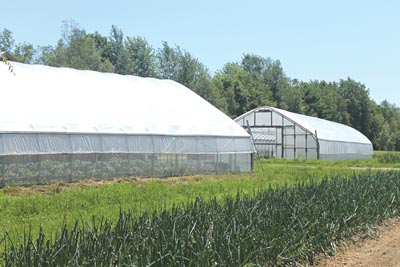 These two hoophouses grow tomatoes and peppers started in February for the 2016 season. Cederholm photo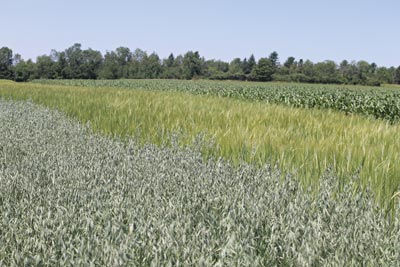 Grain is planted in 2-acre blocks on leased land across the street from Songbird Farm's 41 acres. Hulless oats, barley and corn are just a few of the staples offered in the farm's "Pantry Share." Cederholm photo
The 8- to 12-inch-long cobs are then moved to a homemade corn crib for further dry-down and winter storage. Modeled after traditional corn cribs, the slanted roof keeps out the worst of the weather. The framed walls (3 feet wide x 10 feet long x 8 feet high) have a double layer of hardware cloth for aeration and rodent protection.
"Snow will get on there in the winter time, and it rains. There's no side wall protection from the elements, but the wind hits it too, and the sun does and, by the spring, it's always way drier – moisture content-wise – than when we put it in in the fall," said Davis. Nordell adds, "and drier than we need it to be for longtime storage or to mill."
They now determine dryness with a grain moisture meter, with a desired moisture content reading at 14 to 15 percent, but they used to rely on their senses. "You can hear the difference. If you take a handful of corn and pour it out of your hand onto [other] corn, the sound changes dramatically as it's drying," said Davis. "The pitch brightens and gets higher," said Nordell.
A fly-wheel-operated corn sheller that can be hand-cranked or belt-driven by their tractor strips golden yellow and brick red kernels from the cobs two ears at a time. "Usually we shell in batches as we need it to grind it," said Davis.
They select the best ears for seed, targeting those that are long and skinny, with kernels stacked in neat rows all the way to the tip. Off-types, belied by the smooth, white kernels of another flint or the puckered appearance of the less-starchy sweet corn, are destined for cornmeal, as are ears with jumbled kernels. Fatter ears, with 10 or 12 rows of kernels, are sold on seed contract to Fedco in Clinton, Maine. The eight-rowed beauties become their own stock for replanting, in order to restore the variety to its traditional roots.
"Being the steward of a variety feels like a huge honor," said Nordell.
Packing the Pantry
The Songbird Farm fields annually reflect a larder laden with dry goods: hulless oats for cracked cereal, 'Danko' winter rye for cracked cereal and flour, 'Warthog' winter wheat and buckwheat for flour, and, of course, corn for all-purpose cornmeal. These storage staples are the basis of the farm's Pantry Share.
Now in its fourth year, the share follows the community supported agriculture (CSA) model. Some 25 members pay up-front for a one-time delivery post harvest, thereby defraying farm costs at the start of the season and cushioning against such possible financial risks as lower-than-expected yields or all-out crop failure.
Davis and Nordell strive to grow an ever-changing mix of legumes as another hearty component of the Pantry Share. They lean on tried and true performers for Northern growers, cultivating 1/2 acre total of standbys such as 'Midnight Black Turtle' and 'King of the Early' beans.
"We change it up. For the CSA, we like to have different looking and tasting beans, with different uses, and at least have some Maine heritage beans in there," said Davis.
They also like to dabble in new things. This year: yellow split peas. Two years ago they planted a couple of hundred row feet as a trial to see if the peas would mature in Maine's shorter growing season. In 2016, they upped their split pea patch to 1/2 acre, hoping to add the pea to their share delivery in late fall. They like to offer diverse crops to their CSA, and distribute excess flour and cornmeal throughout the state in 2-pound branded bags.
Sassafras Stomp
The unique Pantry Share – one of the first of its kind in the state – fills a gap in Maine's local economy while allowing the farmer-musicians weekends and winters off. Their crops are sold, stored or frost-killed by October, when the pair typically packs the car for a weeklong tour. By early December they hit the road for another two to three months, bringing their high-energy folk music to venues and private homes across the country.
Perhaps best known as a contradance band, Davis sings and plays the fiddle while Nordell sings, strums guitar and stamps his boot-clad feet to add percussion in syncopated patterns. Hence the duo's name: Sassafras Stomp. Their repertoire includes traditional tunes, ballads and originals.
Nordell, a songwriter, finds inspiration in their agrarian lifestyle. "The farm feeds the music in a lot of ways," he said. "As a songwriter, it gives a lot of contemplative time. If I'm weeding carrots by myself, I need to do something with my mind, and songwriting is one of the things that keeps me happy."
The music also feeds the farm. "For me, personally, I think both the farm life and the music life make both things more sustainable long-term," said Davis.
She relies on their winter travel as a source of inspiration and social energy. It's also a source of revenue.
Sassafras Stomp is a fulltime winter job for Davis and Nordell. Until 2015, the farming-performing income split was about 50-50. Now touring and CD sales generate about 30 percent of their overall income; their farming income increased with the added infrastructure at their new place and access to closer markets, said Davis.
True to the do-it-yourself nature of farmers, the two are their own band managers and booking agents. On rainy days and evenings, they're likely to be sketching a roadmap of future gigs.
Most contradances book a year in advance, and Sassafras Stomp's winter tour is often set upon a foundation of dances. They sometimes chart a course they want to travel – from Maine to Montana and onward to the West Coast, perhaps – sending press materials to venues en route. They also try to book as many house concerts as possible, to perform their singing material.
"When we play house concerts, the farm is a kind of background context for what we're about and what we're sharing. A lot of the songs are about farming," said Nordell. "We give people a little piece of rural Maine life and a piece of farming life."
Find Songbird Farm at the Common Ground Country Fair Pine Gate Farmers' Market on September 23, 24 and 25 this year, or at www.songbirdorganicfarm.com. For more about Sassafras Stomp, including tour dates and booking information, visit www.sassafrasstomp.com.
About the author: Holli Cederholm is the 2016 resident steward at the historic Good Life Center at Forest Farm in Harborside, Maine.