By Jacki Martinez Perkins
The recent news that Danone, owner of Horizon Organic, has made the decision to withdraw from the Northeast, to focus on sourcing their fluid milk from larger producers in the West, has the potential to shake the moorings of Maine agriculture. Our beautiful and rural state holds the potential to provide fresh, healthy food options for its citizens, but without maintaining and strengthening our infrastructure, this becomes an insurmountable task.
Maine's dairy farms help to maintain large tracts of open agricultural land, provide local sources of fertilizer, and help to maintain our state economy through their partnerships with veterinarians, mechanics, feed supply stores and more. Their major contributions in the form of tax dollars help to maintain our roads and schools, and, due to the nature of the dairy business, farmers are often focused on investing in the future. It takes time to grow healthy cattle and forages, and once those investments are made, it is not as simple as shuttering these enterprises. The decline in dairy farms in the past decades has been felt across many sectors of the community.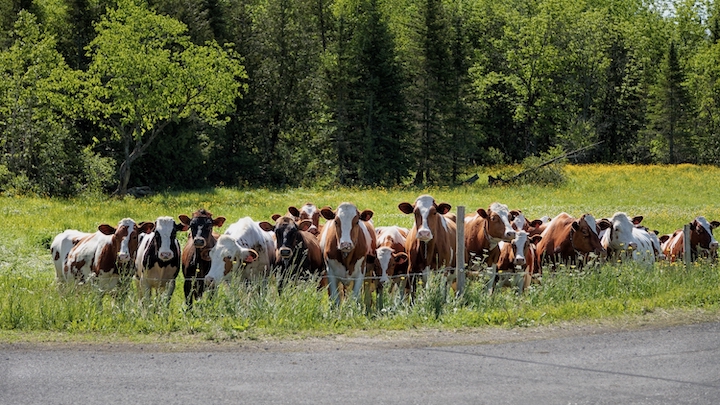 Maine, once the breadbasket of the Northeast, has found itself in a unique situation, where our remote location relative to other parts of the United States has isolated our agricultural economy from growth, but prevented our farming infrastructure from becoming inconveniently specialized, as was seen once the pandemic struck. Production lines of all kinds came to a halt due to the inability to source parts or labor within specialized factories. America's economy is still stumbling in fits and jerks after experiencing this hurdle. Investments in agricultural processing facilities across the board are vital to maintaining economic viability and food affordability. Keeping organic fluid dairy local, and affordable to the majority of consumers, is possible but challenging. There's an essential partnership between commercial dairy farmers, who focus on producing the cleanest, most nutritious milk possible, and processors, whose attention turns toward creating saleable products with that milk. Danone/Horizon's decision to withdraw from the Northeast has shattered this partnership, and left 14 Maine organic dairy farmers, and an additional 89 farmers across the Northeast, wondering where to build new relationships.
The crushing realization that Danone isn't simply reacting to contracting retail sales, but will be shifting their milk sourcing to larger dairies currently transitioning their herds to organic production, highlights the need for the USDA to refocus on reforming the Origin of Livestock (OOL) rule. The rule is currently being interpreted by some certifying agencies to allow for continuous transition of young stock, supplying a cheap source of replacement animals. There are entire operations dedicated to keeping conventional herds of dairy brood stock that are managed on organic feed for the last three months of their pregnancy. The heifer calves from these operations are then sold to large certified herds. These large dairies stock thousands of cows, making it irresponsible and logistically impossible to pasture on delicate soils, effectively turning these farms into confinement operations — and unable to meet the organic pasture requirements. The Northeast is not home to any of these organic mega-dairies, meaning the majority of milk in the retail market is neither locally sourced or processed.
Gov. Mills also reiterated her calls for the USDA to finalize its proposed OOL rule. There has long been pressure from organic dairy farmers in the Northeast on certifiers to disallow the transition of conventional dairy herds, require startup dairies to purchase cattle that are currently certified organic, and to adequately enforce this rule, which would help maintain important markets for Maine organic dairy farmers. Organic dairy farmers in the Northeast have long been at a disadvantage because certifiers in other regions are interpreting the current language of the rule to allow for herds to continuously add newly certified cattle to their operations, making an unlevel playing field across the country.
MOFGA supports local, organic production. By this time next year, if Danone/Horizon hasn't changed course, their products will no longer be locally produced in Maine. For any other existing processor of organic milk to be able to absorb the quantity of milk flowing from these farms, they must have buying support from retailers. Retailers need to know that consumers are willing to switch to another company. Support Maine organic dairy farms by buying local, adding your voice to targeted outreach efforts, and rallying behind legislation aimed at investments in infrastructure and systemic support. There is hope for a future in dairy for our farmers.
Jacki Martinez Perkins is MOFGA's organic dairy and livestock specialist. You can contact her at [email protected].