By Sonja Heyck-Merlin
Evening Song Farm, owned by Ryan and Kara Fitzbeauchamp and certified organic by the Northeast Organic Farming Association of Vermont, offered a virtual farm tour during MOFGA's 2020 Farmer to Farmer Conference. Located in Cuttingsville, Vermont, 11 miles southeast of Rutland, the 100-acre property is perched at 1,200 feet on a hillside a short drive from the Mill River. Their original farm site was on the river, but in 2011 – their first growing season – Tropical Storm Irene destroyed the river's bottom land beyond recognition.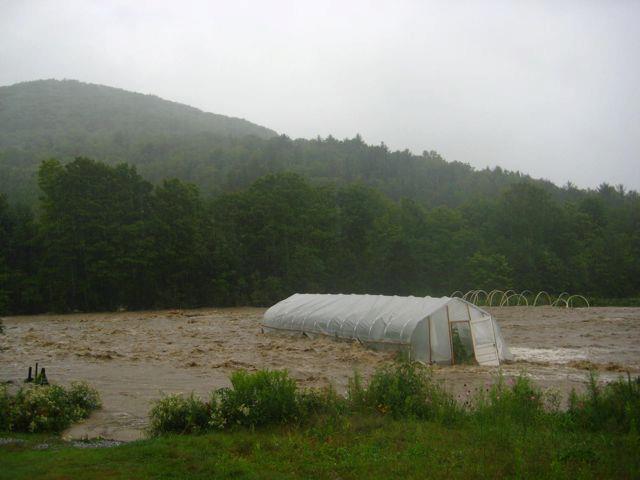 "Within hours," Ryan says, "the river had carved a new path for itself, turning our vegetable fields into a river bed. We were really lucky to be so visible on a highway. With lots of community support, we were able to purchase a piece of land a safe distance away and rebuild."
On this new site, they grow 4 acres of mixed vegetables, employing five people in the summer and three in the winter. The couple has two young children. Their home, barn and high tunnels are conveniently situated in the middle of their vegetable fields. Prior to the COVID-19 pandemic, 50% of their sales were from two summer and one winter farmers' markets, and the other 50% from a combination of community supported agriculture (CSA) shares and retail sales. Because of COVID, they decided to drop the farmers markets' and increase their CSA from 100 to 225 members. Demand for their year-round CSA remains strong, and they do not plan to return to markets in 2021.
Field Layout
Their experience with the storm has shaped how Ryan and Kara farm on their western-sloping hillside, which has a 5-10% slope. While there is no risk of losing this land to flooding, there is a risk of losing small amounts of soil over time through erosion. When they broke ground, they used the same raised bed equipment they had used on the flat river bottom soil. Ryan says, "In that first season, we learned how plowing our fields bare and raising beds allowed for massive erosion."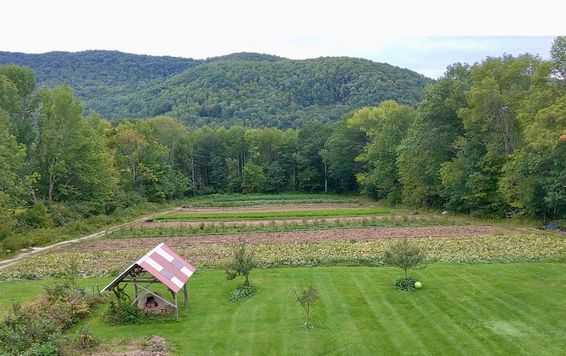 To combat the soil loss, they switched to 4-foot, flat, rototilled beds and established permanent 2-foot sod pathways between each bed. The beds run cross-wise to the slope.
This method presented production challenges – perennial weeds such as quackgrass found a sanctuary in the permanent pathways, and it was difficult to manage the annual weeds along the edges of the beds where the rototilled soil met up with the pathways. It did offer some buffer to erosion, but not enough.
"I realized that the method didn't address what I now think of as the fundamental issue of erosion – the way water would run down from the top of the field and accumulate at the bottom of the field and in low spots. It was the biggest problem that needed solving to make our farm more resilient to erosion," Ryan says.
Specifically, they knew they needed a system that could protect their soil during the heavy rainfall events associated with climate change. They decided to divide their 4 acres of fields into 40-foot-wide zones. The lengths vary from 100 to 175 feet. Each 40-foot section is broken up by a 10-foot-wide sod swale, which is pitched at 1 to 2 degrees. They have 37 such zones. Water runs along the swales and is diverted into a ditch running the whole length of a field. Ryan says, "This prevents water from traveling more than 40 feet before hitting the swale and being diverted into a ditch that is designed to handle the large amounts of run-off."
Tilling and Tarping
A few years ago, Evening Song Farm replaced their PTO-driven rototiller with a Forigo power harrow, which they pull with a 45-horsepower John Deere 5045E. Reducing tillage on their farm prevents soil erosion and reduces the amount of weed seeds that are brought to the surface by more aggressive tillage methods such as rototilling. Rather than having blades like a rototiller, a power harrow has tines that only stir and disturb the top few inches of soil.
Ryan says, "What amazes me with this tillage system is the diminished weed seed bank from the first to second plantings. It saves a huge amount of labor, making it possible to scale up the growing of high-value mixed greens."
To reduce the amount of tillage, Ryan and Kara rely on the use of tarping. The UltraWeb black woven ground cover they use (available from Nolt's Greenhouse Supplies in Pennsylvania) is 40-feet wide; this is the reason their zones are 40 feet. Ryan prefers these to silage tarps because a single person can roll one up and place it on a pallet. Once they're loaded on a pallet, they can be moved with a set of forks on their tractor. Ryan also likes these tarps because they don't hold water or get mucky, and they don't readily puncture. To weigh down the tarps, they use grain bags partially filled with sand.
One way Ryan uses the tarps is to cover the weeds in a zone to prepare it for a second planting, leaving the tarp in place for two to three weeks. "With this system," Ryan says," we can put a tarp over a zone before the weeds set seed, and then loosely run the power harrow over it at 1 to 2 inches of depth." In the former bed system, they would have to make multiple passes with the rototiller, which degraded their soil structure while pulling up weed seeds.
They experimented with tarping in a different way during the 2019 and 2020 growing seasons. In the fall of 2019, Ryan broadcast-seeded one zone with a mixture of winter rye and vetch. In the spring the crew used digging forks to remove perennial weeds, such as dandelions and quackgrass, whose growth was not suppressed by tarping. By mid-June the rye and vetch were full-grown, and the farmers rolled down the cover crops using a roller on a flail mower, then covered the zone with a clear tarp for a week. Within a few days the rye and vetch were dead. Some summer annual grasses, however, did not die, so they covered the zone with an UltraWeb tarp. When they removed the tarp a week later, the summer annual grasses had formed a dense mat of dead vegetation.
They then planted this zone with fall broccoli. To prepare the zone for transplanting they used digging forks to loosen the soil, and then planted directly into the rye and vetch residue. "It was amazing to see the weed suppression with this method," Ryan says. "We expected to do some weeding because the mulch was thicker in some places, but we didn't need to."
Ryan describes that one corner of this broccoli zone was not tarped, and he had to mow the rye and vetch rather than roll it. This section had a high density of weeds compared to the rolled part. "It seems to me," he says, "that the weed-suppressing effect of the rye and vetch depends on having zero soil disturbance. As soon as that soil becomes disturbed, you get a flush of weeds."
As he looks to expand this system and improve its efficiency, Ryan would like to set up a toolbar with coulters and little shoes to open up three rows in each bed. He thinks that any fall transplants that require wide spacing – broccoli, cabbage, Brussel sprouts and napa cabbage – are suited to this transplanting method. In the fall of 2020, he seeded some zones to oats and yellow blossom sweet clover; the oats will winter-kill, leaving the clover to grow to maturity. Then the zone will be rolled, tarped and transplanted into.
Season Extension
The Fitzbeauchamps have three 30-by-148-foot high tunnels. At the end of the 2020 growing season, they dug 3-foot-deep trenches along the outsides of the tunnels with an excavator. Then they installed geotextile fabric and drainage pipe, covered with crushed rocks. The wooden ground boards were replaced with 2-foot polycarbonate panels, lined with rigid foam board insulation. The insulation helps protect soil temperature in the tunnels, especially the outer beds.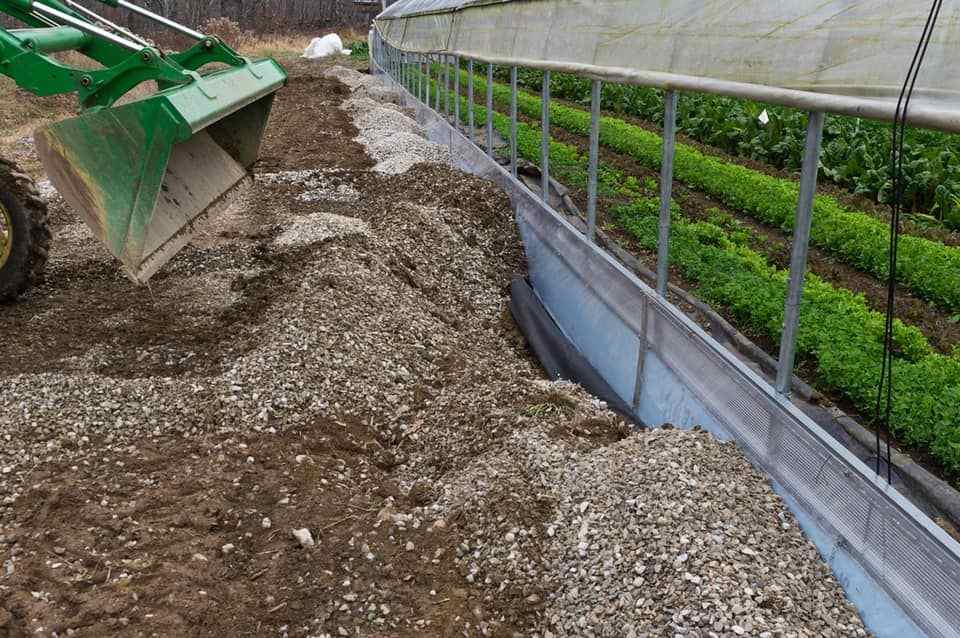 In the summer, they use the tunnels primarily for tomatoes and cucumbers. As the daylength decreases and the ripening of the fruit slows, the plants are quickly removed and the ground is prepped using hand tools and a power harrow on their BCS walk-behind tiller. After forming 3-foot-wide beds, they use a Jang to seed.
Lettuce is seeded in mid-September, with eight to 12 rows per bed. In mid-October, they seed mustard greens and spinach – the mustard greens are planted at the same density as lettuce, but the spinach is planted six rows per bed. At the end of October, they transplant Swiss chard and kale that were started in their propagation greenhouse in mid-August. At this time, they also direct seed some baby bok choy varieties. If anything doesn't germinate well, they will fill in the space with pea shoots, which will grow even if planted at the end of October.
In 2012, when Ryan and Kara diversified into winter greens sales, they had no year-round employees. "Our approach back then was to just get things into the ground, but now that we have help in the winter, we manage our winter greens more intensively than most any other crop," Ryan says. "We put a lot of energy into making sure things are well-weeded, paying attention to airflow and putting on and taking off row covers."
Their biggest challenge in the winter high tunnels is managing diseases like gray mold and bottom rot caused by humidity and poor airflow. To reduce the humidity, they stop watering at the beginning of November to keep the top of the soil as dry as possible. They also use box fans to circulate air – four per tunnel. Though the process of adding and removing protective row covers as the temperatures fluctuate is management-intensive, it is critical to controlling the humidity on the top of the soil.
In addition to controlling the environment of the high tunnels, they also intensively manage individual crops. For example, their lettuce is particularly prone to mold, and it wasn't unusual for half the crop to die after the first harvest in mid-November. "Recently," Ryan says, "we've started removing all of the older leaves that were left behind during the first harvest. We strip the plants down, making sure no old leaves cover the soil, and it makes a big difference in getting them through the winter."
Having dropped their winter farmers' market, the majority of their winter greens will go to their winter CSA members. The main-season CSA will end in December after a few harvests from the high tunnels. Then they will let the greens (and themselves) rest during January when there is no growth. The winter CSA will begin in January as the daylength and temperatures increase. "This lets us slow down a bit and makes it so we don't exhaust the supply of greens too early in the winter," Ryan says.
Community Supported Agriculture
Ryan and Kara are excited about the future of their business with the CSA at the core of their economic livelihood. Ryan says, "For us, the CSA works better than the farmers' market routine although there are different challenges to plan for."
One of their challenges is to grow large enough quantities of the crops favored by their CSA customers, such as greens, without expanding their tilled land beyond 4 acres. To meet this challenge in 2021, they have decided to reduce the number of zones dedicated to space-intensive onion and potato crops and will purchase these crops from other local organic growers. With this extra space, Ryan says, "We hope to include crops like melons, Asian eggplants and lunchbox peppers that will make the CSA special and help retain members." Reducing the potato and onion crops will also allow them to leave some of their zones in cover crops for the entire season which will improve soil fertility.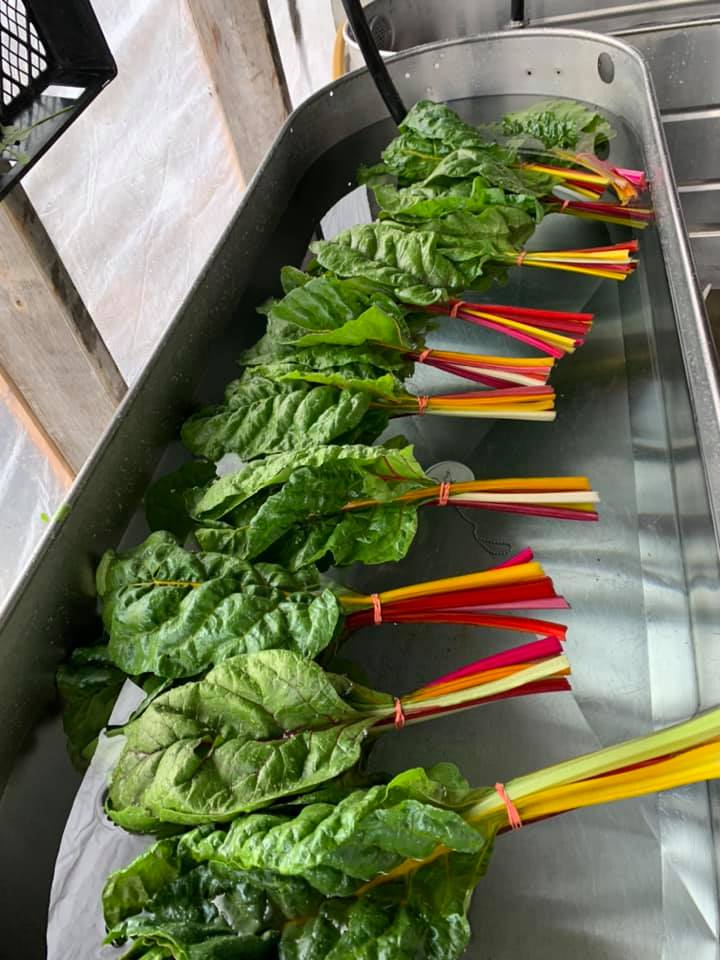 The majority of CSA members pick up their shares at Evening Song. The farm is open to them three days per week in the summer and two days in the fall and winter. It is a free-choice CSA where members select a predetermined number of items from a series of coolers set up in the barn. For example, a cilantro bunch or 1 ½ pounds of rutabagas each count as one item. A small share selects six items per week, a medium share eight, and a large share 10. Alternately, members can preorder their items and pick them up at one of two local drop-off sites. Though the CSA accounts for the majority of farm sales, they also have two wholesale options that they use to balance surplus produce.
Ryan says, "Our CSA customers seemed very happy this year, and we expect that we won't have difficulty maintaining our 225-member size. Even when some of the minutia of running a veggie farm can bog us down, remembering the big picture of imagining all those veggie eaters reminds us how much we enjoy this project."