By Catie Joyce-Bulay
Last season the confusion and safety concerns of the COVID-19 pandemic brought on a need for farmers to pivot to new marketing strategies. They worked quickly to build no-contact sales and distribution systems, rapidly changing how they got product out to customers. Many farmers turned to the internet.
Although many farms incorporated online stores or ordering systems for the first time last year, a shift to web-based sales was already a growing trend. Kari Hulva, of Timber Frame Farm, which sells pasture-raised chicken, eggs, small fruits and vegetables, started an online market in the end of 2018 "to solve my own problem," he says. When his small farmstand in Unity, Maine, closed in the winter he couldn't find a market to sell his chicken so he started selling through a multi-producer software platform called FarmDrop with a few of his farmer friends.
For the first couple years Unity FarmDrop made a few hundred dollars a week, some weeks selling only a carton or two of eggs, says Kaya Pulz, a recent Unity College graduate who helped start the online store, which is sponsored by Unity Barn Raisers, with Hulva and Heather Holland of Outland Farm Brewery.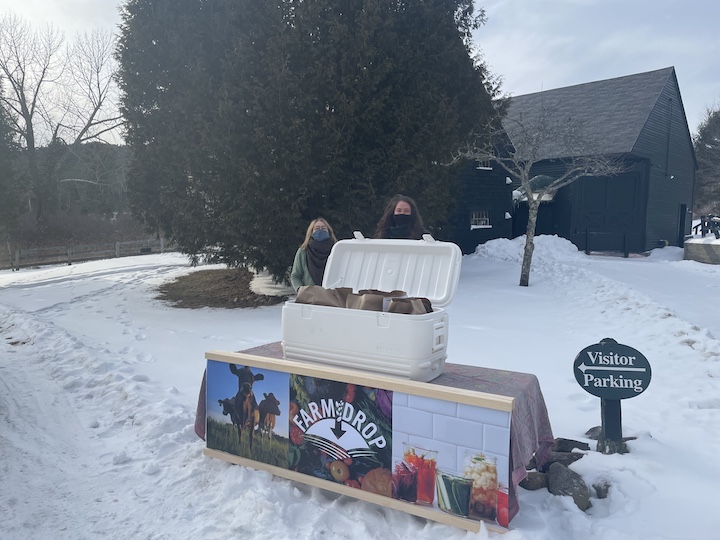 Then the pandemic hit and eaters became very interested in finding secure local food sources. Unity FarmDrop's orders jumped to 100 per week in a two-week period, and they soon expanded to include 25 participating producers.
This year they changed their name to Central Maine FarmDrop and expanded to offer eight different pick-up locations. Then Hulva had a light-bulb moment: He realized that by having participating farmers become pick-up locations they could easily expand the market's reach without much extra effort or time since farmers were already headed back to their farm, after dropping off product, with empty trucks.
"The idea is to have a Portland-size market in every town in Central Maine," says Hulva. "The information and technology from the [FarmDrop] website allows us to communicate in a way that wasn't really feasible before."
The store is open year-round and it opens for orders at 9 a.m. on Saturdays and closes Thursdays at 3 p.m. Vendors pack their products on Fridays from noon to 1 p.m. at the Unity Community Center and customer pick-up runs from 2 or 3 p.m. to 5 or 6 p.m., depending on locations, which are in Unity, Pittsfield, Waldo, Newport, Waterville and Lincolnville, with a delivery option for the Hampden area.
Central Maine FarmDrop encourages farmers to branch into value-added products, says Hulva. "Producers disappearing in the fall is a big problem of local ag," he says. "Every spring farmers are searching for their customers to come back. We really focused on value-added to keep it going over the winter."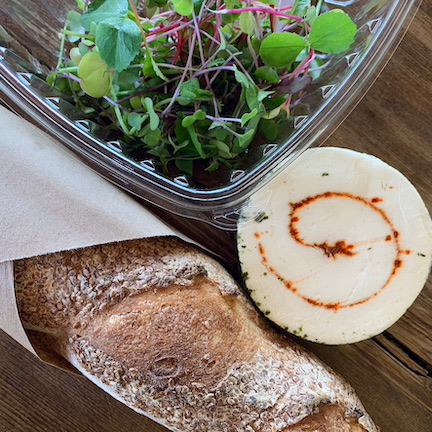 In addition to fresh in-season produce Central Maine FarmDrop offers meats, cheeses, canned products and baked goods, as well as organic coffee locally roasted by Farm House Coffee Roasters in Winterport and organic flours from Maine Grains in Skowhegan.
From Development to Delivery
Central Maine FarmDrop is one of about a dozen FarmDrops in Maine and New York. The FarmDrop platform acts as an online marketing tool for any group of farmers to connect to their local or "hyper local" customers. The original FarmDrop was started in Blue Hill in 2011 by George Hurvitt and his mother Mary-Alice as a way to support local farms and offer more fresh produce through the winter at the Blue Hill Wine Shop.
In 2018 Hannah Semler, FarmDrop CEO, and Kelin Welborn, COO, took the helm of the online marketplace, becoming the official co-founders and scaling it up for more locations. This involved not just fine-tuning the software, which went through several iterations, says Semler, but also building a platform for farmers that includes training modules in transferable skills like how to take digital photographs of products and write product descriptions.
"The newness of FarmDrop is that it manages the payments online," says Semler. The system, through the online payment processing service Stripe, automatically distributes customer payments to each individual farmer within the group order. Product is paid for before delivery, which Semler says is a benefit to farmers, but calls for new logistical problem-solving like how to hold and package inventory for individual customers. Some farmers get creative with labels and personal notes as part of their customer service while others fill orders in simple bags.
All FarmDrops require commercial farmers insurance to join but, other than that, they are open to any local producer. Farmers set their own prices and take photos and write descriptions of each product and can link to their contact information and farm story. For participating farmers there is a fee for use of the software and a credit card fee, so they see around 90-92% of their retail price.
Customers pay a $5 distribution fee, which goes to the market hub's managerial costs. For Central Maine FarmDrop about 50% goes to the farmers that deliver orders, the rest covers advertising and marketing, coolers and other supplies. FarmDrops are run by nonprofits, like Healthy Acadia which runs Mount Desert Island's, so the customer order fees can go to nonprofit programs, supporting things like a delivery truck or a produce gleaner position, says Semler.
The business itself is primarily supported by grants right now, says Semler, who also acts as a consultant for food security organizations that partner with farmers and food businesses to help them reduce food waste, hosts a podcast called "What is American Food?" and works on gleaning projects in the Downeast region, including founding the Maine Gleaning Network.
Other Online Models
Most FarmDrop participants, even the less tech-savvy ones, report while there's an initial learning curve, they find FarmDrop easy to adopt and maintain. But it is not the only option out there. Maine Highlands Farmers' Market found a simple website that worked for their online pivot.
Last spring Brooke Isham of Land of Milk and Honey (LOMAH) got together with other farmers from the East Sangerville Grange to think about how they could safely provide products to their local community. Moving to an online platform, which had the advantage of fewer hands touching product and no money exchanged for a more sanitary process, seemed like the best idea. Plus Isham, who raises dairy sheep and sells sheep's milk soap and bath and body products on her own online store and at a few regional farmers' markets, had past experience participating in an online multi-farmer market in Michigan.
After many long meetings, the group officially came together to form Maine Highlands Farmers' Market and decided on a website and open hours that would allow enough time to harvest and get orders together – the store is open for online orders Saturdays and Sundays 8 a.m. to 8 p.m. and customers pick up orders on Tuesdays from 4 to 6 p.m. at Dover-Foxcroft's American Legion Hall. Isham was fortunate to have a friend knowledgeable in websites to help create mainehighlandsfarmersmarket.com, a basic WordPress site that uses a plug-in called Product Vendors, which allows customers to buy from different farmers with PayPal and then automatically disperses payments to the correct farmer for each order.
They have four participating farmers – including MOFGA-certified Marr Pond Farm and Helios Horsepower Farm – with a few others interested. Isham says the more the merrier, but they are focused on well-rounded offerings. She says the market has been easy to maintain and runs smoothly. Farmers drop off orders then leave, and they each take turns staffing the pick-up.
Some farmers found benefits in opening their own online stores. When Snakeroot Organic Farm of Pittsfield became a member of Central Maine FarmDrop in March of 2020, it inspired them to start an online store through their own Weebly-powered website.
Snakeroot, which sells mixed organic vegetables, fruits, perennials and herbs, first trialed a method of sales for their seedlings using Google Docs forms, in which customers could pre-order and then pay and pick up at either the Waterville or Orono farmers' markets or at their farm. Snakeroot received over 240 orders from 155 customers, many of whom were new.
"We were pleasantly surprised at the success of this approach, but it did have some shortcomings," says Tom Roberts, owner of Snakeroot. One drawback to the Google forms, he says, was that customers could not prepay. He discovered that the digital payment service Square, which they used for farmers' market sales, had the ability to create an online store that connected to their existing account.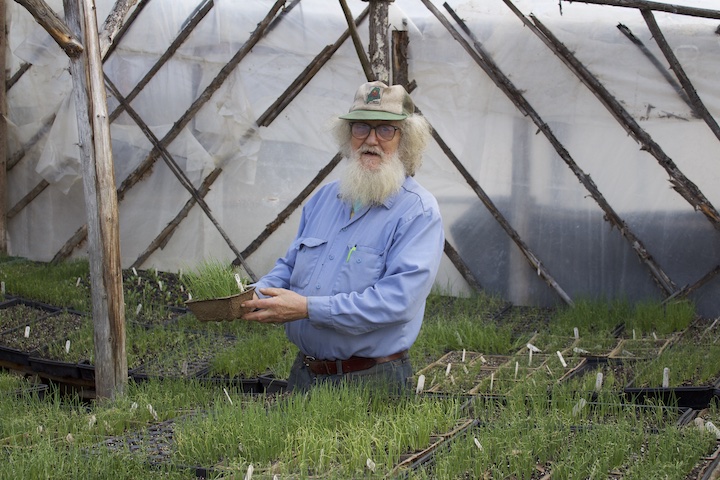 Roberts notes that it took a significant amount of time to get the online store up and running last spring. "However, once this initial setup is done, maintaining the store is almost trivial while orders and payments begin to flow in," says Roberts.
Costs and Benefits
While Roberts, who has been selling at farmers' markets since 1980, likes the idea of the online store and plans to continue participating in Central Maine FarmDrop, he is quick to note that he doesn't consider it a farmers' market.
"Some of the essential parts of a farmers' market include the experience of shopping face-to-face among a group of farmers and the relationships that thereby develop between shopper and farmer and among the attending farmers," he says. "These aspects are exclusive to farmers' markets."
Isham also sees the lack of relationship-building with customers when marketing online. "You don't get to mingle and talk as much," says Isham. "Sometimes people weren't intending to buy something but because they see you or drive by and see the market, they stop. It's a fun place to hang out. So there's not that same farmers' market vibe [online]."
Another drawback of online sales is that the customer doesn't have the ability to touch the product, feel a tomato for ripeness for example, says Isham, but she notes that with COVID-19 protocols in place those options went away last year at farmers' markets, too.
Roberts points out that the relationship-building and socializing between farmers is also limited with online stores.
Reaching New Customers
There are some advantages to online stores that farmers' markets can't provide. They allow more flexibility in buying and opportunities for customers who don't have schedules that allow them to shop at farmers' markets or do not live near one.
"Folks can look over our products online, make their buying decisions in their own time and pay for everything even if it's 2 a.m. on a Tuesday morning," Roberts says.
Hulva sees FarmDrop as the next step in the online shopping trend. "This idea of grab-n-go has seeped into our consciousness as a new way to shop," says Hulva, who likens it to the rise of drive-thrus. "Consumers are thinking 'Walmart and Amazon were great, but now I can [shop online] locally.'"
For farmers who farm in communities with no existing farmers' market, online shops are an opportunity to reach more customers in more locations.
"The farmer always thinks 'I have to move to bigger markets,'" says Hulva. "Actually we've found that our niche is in the inefficiency. We're doing something that no one else was able to do since we don't need 100 bags to make it profitable. We are size-neutral."
Maine Highlands Farmers' Market echoes this sentiment. "Most of us participate in farmers' markets farther away, and we could be feeding our community," says Isham.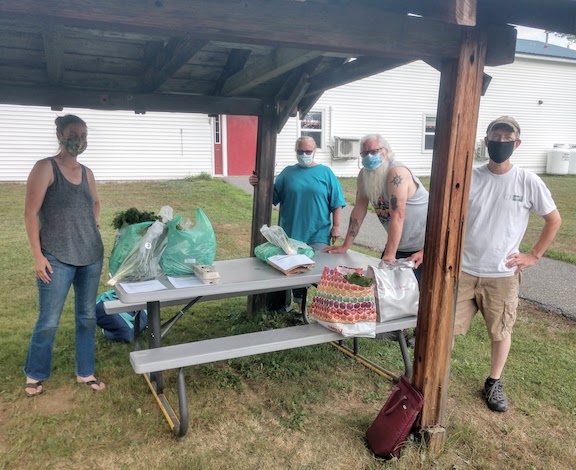 Beyond ease of shopping are the time-saving elements embedded in the system. This means more time on the farm for farmers, and customers get the products often within a few hours of harvest, fresher than the grocery store and even the farmers' market, where product might be driven long distances and then sit out in the sun, says Pulz.
The pre-ordering also means farmers don't need to speculate on how much product to bring to market that day since they are delivering only what is already sold. This saves farmers money and reduces food waste (provided the farmers have another market for what's ready to harvest).
Marketing into the Future
Online marketing options are here to stay. Many farmers who participated in these markets in 2020 continue using them this year and plan to after the pandemic.
This spring FarmDrop launched its newest iteration, which put all of the market locations into one database so customers can switch markets depending on where they are that week. It also allows producers to sell to more than one FarmDrop market with a single inventory. Semler says they plan to continue expanding across the country and also hopes to soon add an EBT option for customers on the website while also piloting this technology to make it available to anyone with a WordPress website, addressing one of the company's goals – to create more equity in the local food system.
Isham and Roberts recommend selling at both in-person farmers' markets and online.
"We think of our marketing as taking a modular approach, with our attendance at farmers' markets having acted as a foundation that we build on," says Roberts, who adds that marketing their produce consists of several parts, including "displaying/describing the product, making the sale, order fulfillment, and money deposits. Having an online store simply adds an additional and very efficient channel for these components."
About the author: Catie Joyce-Bulay is a Winslow-based freelance writer focused on farms, craft beer and sustainable food systems. She has published in a variety of regional and national magazines. Connect with her on Twitter @catiejoycebulay.