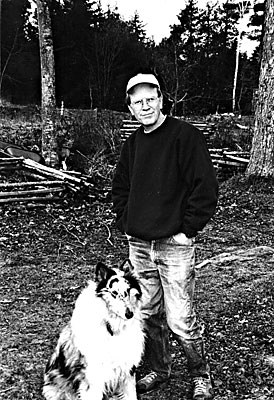 John Bunker finds and saves heirloom varieties of apples in Maine; his dog, Tessa, keeps deer away from the orchard. Jane Lamb photo.
"To Be of Value While I'm Here"
By Jane Lamb
"Core and slice thickly, with skin. Fry in pork fat. Add water as necessary till soft. Then add 'a few dollops' of molasses. Serve with biscuits." So goes the Fedco Trees catalog description of Kavanagh, an apple "not for fresh eating but good for cooking and drying." It was brought to Damariscotta Mills from Ireland in 1790 by renowned shipbuilder James Kavanagh. Like many of John Bunker's intriguing catalog listings, this one opens up a new perspective on the lives of Maine's early settlers.
"Before we had food coming from all over the world, people were using what grew locally in many different ways," John explains. "Each apple had its own best use. There were apples that were particularly good to bake, others for pies, some that were better in sauce, some better dried. Some were good to eat fresh. But having that perfect eating apple, the kind that's sold in the supermarket primarily to fill your lunch box, wasn't the object. If you take a bite out of an apple from an old variety and it doesn't taste that great, it's missing the point. Some apples that don't taste good fresh taste really terrific dried. Drying concentrates the flavor." Cider, the staple drink, was one of the most important uses for apples in colonial America and cider vinegar was a household necessity.
A fascination with historic fruits – finding, preserving and propagating them for Fedco Trees – has become a way of life for John Bunker. "What I like about my work is that it's not simply about one thing, it's about lots and lots of things," he says. "A lot of it is about meeting [other "fruit explorers"] and noticing our connection as human beings. Like joining a chess club or being a movie fan or whatever it is that you're interested in. For me it's a combination of being interested in trees and fruit, being with people and climbing trees."
An Incurable Tree-Climber
John has been climbing trees, at first to watch birds, since he was a kid in California and fearlessly scaled the 160-foot coastal redwood in his back yard. When he came to Maine at 17 to attend Colby College in Waterville, he and his friends went on apple-picking and expeditions in the surrounding countryside as a way of living in the world outside the classroom. Being students, they had to experiment, extra-curriculum, (form intentional) with historic cider-making methods. The consequences were predictably explosive.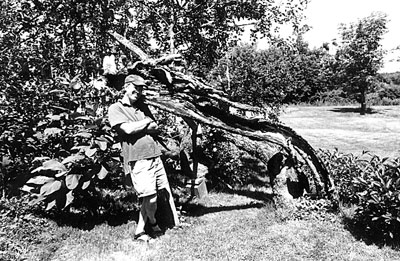 The oldest Black Oxford in Maine, from another angle. The young trunk at the rear and its fellows, which will produce Black Oxford apples, depend upon less than half of the ancient trunk for all of their nutrients. The trunk is almost completely hollow, supporting just a little wood and the bark. Wooden blocks have been set on the ground and under limbs to help support the tree.
After graduating in 1972, John carved out the self-sufficient, off-the-grid homestead in the Palermo woods where he has lived ever since. "I wanted to be providing for myself and it was hard not to notice apples everywhere. For the first few years I had no interest in growing trees myself. They were all out there, loaded with fruit and nobody seemed to want them." He began going farther afield, collected a lot of fruit and earned significant income pressing cider, commercially and at the Common Ground Fair in Litchfield, later in Windsor. When he was managing the Belfast Coop Store, a man named Ira Proctor brought in a couple of bushels of Black Oxford apples. "I'd never seen them before. They were so spectacularly beautiful, I think I bought all of them. I decided I would have to start propagating myself." This led to learning to graft and soon to collecting scion wood from anonymous trees around the area. The search has continued ever since.
The Great Starkey Hunt
One of John's most exhaustive treasure hunts has been tracking down an excellent old apple called Starkey. He first learned about it from Earland Goodhue, who lives on the old family farm on the Goodhue Road in Sydney, now run by his sons and grandsons. Spending time hanging out in the Goodhues' kitchen talking apples with Earland and his "delightful" wife, Helen, is one of John's joys. Now in his 80s, Earland has been collecting apples for years and has more than 100 varieties in his orchard. "A lot of what I've learned about old varieties has been from exploring his," John says.
The Starkey originated in North Vassalboro on the farm of one Moses Starkey. "It's one of North Vassalboro's claims to fame. The historical society knows all about it," John notes. He figures that Starkey may be a chance seedling, a cross between Ribston Pippin, a popular English apple of the 18th century, and Black Oxford. A Dr. Benjamin Vaughn of Hallowell imported Ribston Pippins, and because he lived right on the main highway, the Kennebec River, they became a common variety in that area. In 1799 Vaughn planted a Black Oxford, which originated in South Paris about 1790, a brand new variety at the time. "He must have known what he was doing," John maintains. "The tree is still alive, about seven feet tall. The inside is completely gone and the bark has turned inside out. It looks sort of fantastic, but it has a few very nice branches still bearing fruit. In fact it had seven bushels on it in l997." Though he's seen no records, John presumes Moses Starkey had Ribston Pippin on his farm and very likely the popular Black Oxford as well. "As far as I know, it's enlightened speculation that Starkey is a cross between Black Oxford and Ribston Pippin."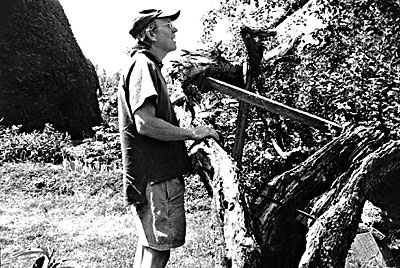 John admires the 200-year-old Black Oxford apple tree – the oldest Black Oxford in the state – that was planted in 1799 by Benjamin Vaughan on his farm in Hallowell, overlooking the Kennebec River. The greenery to the right is part of the flourishing, 10-foot-tall, healthy growth, thick with green apples in July. John predicted a six- or seven-bushel crop for this year. Wooden supports and a steel tie-rod indicate that the tree has been carefully preserved by the Vaughan family. Diana Vaughan Gibson and her husband, George, now in their 80s, still own the property, with its well-tended, park-like grounds and mansion-size Federal homestead.
But that's not the end of the story. "One thing that is very difficult about being in the nursery business is maximizing the possibility that what you're selling is true to type," John says. Unlike annual seedlings, fruit trees may take seven or eight years to reveal their identity. "I don't want to offer a particular variety in the catalog unless I'm damn sure what it is. That's what took me on the search." He went looking for a tree in Vassalboro that might have been Moses Starkey's. Frank Getchell, of Getchell's Store, thought there was a tree on the Lemieux farm, but it was gone. He went to look at a tree marked "Starkey" in Orono, in an overgrown orchard once owned by a University of Maine professor. "It looked like the one at Earland's, and got me thinking I was on the right track. Then I went back to Lemieux's orchard with Frank and tried an apple from a tree I found along the fence row. He said it wasn't a Starkey. I gave him one from Orono and he wasn't sure. It wasn't till a neighbor came by with a bag of apples from Vassalboro and asked if I could identify them. At that point I was virtually positive I had the right apple. I went and got a bushel and ate them non-stop. Then I went back to Frank with them. That was when he said yes."
Since then John has taken scion wood from a tree in Vassalboro and grafted about 150 in his nursery. Fedco will be offering Starkeys for sale in 2000. "They're of outstanding quality," says John. A taste test last fall at the Fedco office came up with: "really good flavor," "very interesting, something besides apple flavor," "fruity, good." His own description is: "crisp, juicy, perfect combination of sweet and tart, a really excellent apple, also beautiful. It's sort of a rusty red color with very prominent small white dots, visually very attractive, not just another 'red' apple."
State of the Art Search
Apple exploration takes many forms, from the old-fashioned look, taste and compare to the latest DNA technology. "The Starkey thing was kind of a treasure hunt. The DNA thing is more like science fiction. I'm about to get into that myself," John says. An early settler of Mercer (between Norridgewock and Farmington) was a gentleman farmer from Boston named John Thompson. He originated two apples, the Thompson and the Somerset of Maine. Controversy rages over whether the Thompson is the same apple as a Massachusetts variety called Williams. John has seen them both and they're very similar. There's also a feud going on in Mercer about who has the real Thompson, who has the real Somerset of Maine. "I went and got scionwood off what one person said was the last Thompson tree in town three years ago. It died at the end of the summer." It's possible that the Fedco nursery has the only Thompsons left anywhere, John says. The scion wood he took was the most miserable he'd ever seen. Using whatever green tissue he could find, he got it to sprout.
At a Penn State conference on biodiversity, he met Phil Forsline of the Germ Plasm Repository in Geneva, N.Y. "He said if he could ever help me, he would. So I got this idea that we ought to take a Williams, a Thompson, two different Somersets that may be the same apple, or not, and try to find out by DNA testing. The project won't be completed until summer. (Perhaps a last-minute bulletin on the outcome will reach The MOF&G just before press time.) "It will be interesting. There are a couple of other varieties I'm curious about. We might be able to do it all at the same time," John says.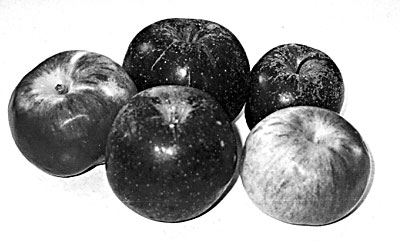 Black Oxford apples contrast sharply with the more conventionally colored Cortlands and Northern Spies. Jane Lamb photo.
Apples for the North Country
John started working for Fedco Seeds in the third year of its existence. Shortly afterwards, in 1984, he founded Fedco Trees. "One of my goals was to create a business that would provide inexpensive, hardy trees for northern people. Another was to track down varieties other people were not offering and to propagate them ourselves. The first one was Black Oxford. We've sold two to three thousand Black Oxford trees by now." John describes Black Oxford in the Fedco catalog as: "Beautiful medium-sized round fruit, deep purple with a blackish bloom." It won a fruit-tasting event at the fall Maine Tree Crop Alliance gathering, is excellent for cooking, superb for late cider, best eating late December to March.
Another of John's goals was to keep the income generated from sales in the state – rather than see people sending money out of the state to buy trees – and eventually to be supporting local nurseries. Because he had seen many a hopeful entrepreneur with a fine product fail for lack of a market, he believed it was important to create the market first and then start producing the product. "There were enough quality wholesale nurseries in the northern United States to get products from at first. Slowly but surely we've been cultivating small nurseries in Maine." Mark Fulford's in Monroe, the first one Fedco worked with was the primary supplier of fruit trees for several years. Now Fedco has 15 or 20 small Maine nurseries producing for them, including Maine Hardy Nurseries, John Meader, and Jean English's Bayberry Gardens. Many of them Fedco has helped to establish, encouraging avid gardeners and people already doing small scale nursery work on their own. John finds himself doing less nursery work and more coordinating, partly because he hasn't enough time and partly because other people want to do the growing. (Fedco Trees offers not only fruit trees of all kinds, but small fruits and berries, nut trees, conifers, other shade and ornamental trees, shrubs, bulbs and perennials.)
"What I see Fedco Trees becoming, and in some ways it has already become, is a coop of growers for whom Fedco acts as a distributor, "John explains. "We have people growing several thousand, even hundreds of thousands, of plants a year for us. They don't have to worry about where they're going to sell them. All they have to worry about is that my thinking is clear enough so I tell them the right thing to grow. In most cases, I dictate what they grow, but with some of the more experienced, I tell them to decide for themselves. What they are enthusiastic about will sell better because it's kind of infectious."
John's own enthusiasm is definitely infectious. "It's very rewarding," he continues. "We're not restricted to what we can buy from out there in the market. Next spring, if I wanted to, every variety of tree fruit we sell could be varieties no one else is offering now, because we now have the capacity to pretty much propagate all our tree fruits ourselves. We're ripe for finding more and more varieties that have unique qualities. We don't just offer good-tasting fruits, but ones that have a niche – good for this, not good for that. We don't want people to read a catalog where every variety is "the best." There's no distinction. We have stuff you want to buy because you live in Maine and you want it in your yard for historical reasons, not because it's going to be the next Cortland." About half of Fedco Trees's business is in Maine, another good portion throughout New England and New York, some in the upper Midwest, as well as places like West Virginia and North Carolina that have cool, mountainous climates even though they're farther south. They don't do business in Canada only because it's illegal. "But we're not a national catalog," John says. "We're not trying to be the be-all, end-all of tree growing. We want to be a cooperative of tree catalogs [among others catering to the needs of other areas of the country.]"
Sharing the Know-How
Vocation or avocation, "fruit exploring" can become as addictive as antiqueing or archaeology. There's always another old tree to discover and identify, which is seldom easy, as John has learned. There have been a number of attempts to provide a "field guide" to old apples. One of the best, he says is Apples of New York, a two-volume set written by S. A. Beach about 1906, part of a series which includes plums, peaches, grapes, pears and the like. John has one of the rare copies. "It's excellent, magnificently illustrated, but it doesn't have any apples past 1906. There aren't color plates of everything, but it's a guide to get you closer," he says.
A more contemporary resource is The North American Fruit Explorer, an organization that brings together people interested in many kinds of fruit, all over the United States and Canada. It publishes a quarterly, Pomona, to which members of the organization contribute eight to ten articles a year. There are no ads. "The writing is of high quality," John notes. "Some people tell briefly about something they've discovered. Others write fairly detailed treatises. It's all volunteer. No one gets paid. It's a valuable resource for anyone interested in growing fruits." For information about Pomona, the address is Jill Vorbeck, 1716 Apples Road, Chapin, IL 62628. They may have a web site as well, John suggests, admitting that he is not familiar with resources that may be available on the Internet.
The Maine Tree Crop Alliance, run by Fedco, holds a regular scion wood exchange, a free, half-day gathering where people can bring scion wood, cuttings, seeds and so forth to share. They also provide workshops on grafting, pruning and related subjects, as well as selling grafting supplies and root stock. To find out the date, call Fedco in February, John says. It's usually advertised in The MOF&G as well.
Keeping History Alive
"One thing I've noticed is that whether its an old farm or a building in town or an apple variety, if someone like you or me doesn't take an active interest in protecting and preserving things of value as they age, no one will," John says. "It's not like there's somebody out there in the state making sure our plant heritage – or cultural heritage – gets saved. These old [apple] varieties are going to fade away and be lost and forgotten if we don't do something about it." He speculates that he may already have saved some things that would now be gone, for example, the Thompson apple, if that turns out to be the only tree. "I don't consider myself to be better than anybody else for doing it. It's just that it's something I CAN do to be of value while I'm here."
He acknowledges the necessity of preserving the gene pool, now fully accepted by even the most conservative scientists. "But it's a little more of an earth-first attitude, which is an important part of why I'm doing this. But it's absolutely indisputable, whether you're a believer in biotechnology or earth first or anything in between, that these varieties were important to our ancestors. It's a tip of the hat of respect to them, to preserve something about them.
"We don't need to be spiking trees, cutting tires on skidders, shooting executives, blowing up buildings. Maybe they're right, but I believe in this other way, which has something more to do with appealing to the connections we have with other human beings that's undeniable. That's the salvation of society – to notice our connections and not to fight it out. Nobody can win in the fight. We're fighting now and that's what we've been doing and we're destroying the whole world in the process."
It's the way fruit exploring nourishes the connection with other people that means the most to John Bunker. He loves the story told by a 70-year-old fellow fruit explorer and "fun fellow," Len Alexander, who lives on a farm in Augusta. "As a kid in the 1930s, he used to go with his father to abandoned farms along the Kennebec River, looking for varieties of apples, lilacs, anything growing. They found an apple they really loved and grafted it onto one of their trees. They didn't know what it was so they called it Alexander. It turned into a huge tree with large, beautiful apples. One day a fellow from the state DA came to look at the cows and they found out he was an apple buff. He looked at the tree and said, 'Do you know what this is? It's an old Russian variety called Alexander.'"
About the author: Jane Lamb lives in Brunswick and writes feature stories for The MOF&G regularly.