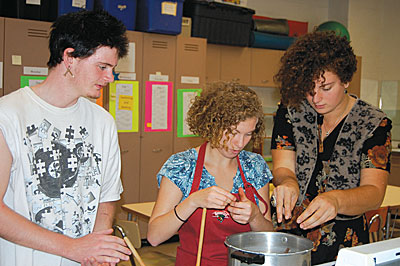 Genna Cherichello and students at Oceanside East High School prepare a meal incorporating school garden produce. One student who worked with Cherichello on gardening and cooking in the previous academic year went on to work as a gardener over the summer and enroll in Midcoast School of Technology's Culinary Arts Program. Photo by Marina Schauffler.

Oceanside East High School's Pumpkin Hot Chocolate Recipe
By Marina Schauffler
With so many organizations and individuals actively working to strengthen farming, gardening and local food systems in Maine, one might think the addition of a couple of dozen young people scattered around the state would have minimal impact. Yet the influence of FoodCorps service members is already transforming the way Maine schools and communities relate to food.
Maine is in its third year working with FoodCorps, a national nonprofit that engages young leaders in public service – building and tending school gardens and introducing fresh, local foods into schools. Maine was one of the first 10 states in the nation to benefit from Food Corps service members, thanks to a collaborative application coordinated by University of Maine Cooperative Extension, which now acts as the state's host site (with local community service sites ranging from schools and farms to Healthy Maine Partnerships and county Extension offices).
Genna Cherichello, the FoodCorps member serving Knox and Lincoln counties, got into the competitive program through sheer persistence. Although she wasn't offered one of the first-year Food Corps positions (when 1,000 candidates applied for 50 positions), she was able to secure an AmeriCorps VISTA position at UMaine Extension doing similar farm-to-school programming. Cherichello then transferred to FoodCorps and is in her second year of service, working primarily with Oceanside East High School in Rockland and Medomak Valley High School (MVHS) in Waldoboro.
Cherichello stepped into these roles with a rich food legacy that fuels her passion for cooking and gardening. Her immigrant grandparents owned and ran an Italian specialty foods store in New Jersey, stocked with their own homemade pastas, sauces and seasonal specialties. Helping her grandmother and mother cook reinforced her conviction that food should nourish mind, body and culture – making the world a better place.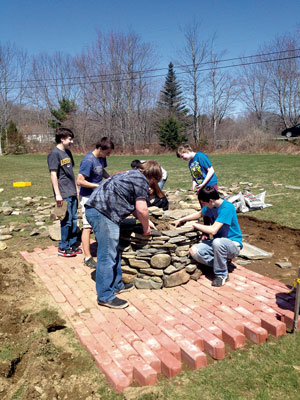 Students at Medomak Valley High School build the fieldstone base for their earth oven, a project Cherichello initiated and coordinated. Photo by Laura Budde.
Studying at Haverford College, Cherichello initially thought she'd become a doctor. That dream gradually shifted to work with food and education (her parents are both teachers). "My desire to make people happy and well through medicine," she told the editors of Good Food Jobs, "is being fulfilled much more holistically and beautifully through food." She admits that her family didn't immediately recognize the value of this career direction, holding a traditional immigrants' view that each generation should be better off financially and farther from the farms of their ancestors. But her work success and fulfillment has persuaded them.
There is no question in Cherichello's mind that she is on the right path. "I feel so lucky to be serving in FoodCorps. It's a great organization supportive of its service members, and it's an incredible way to spend time – particularly in midcoast Maine. I'm delighted by the random unexpected moments when students latch onto what you're saying and trying to do."
Her first two years of service helped teach Cherichello that she was best at doing "something real and hands on" with older students. At Oceanside East, she has helped bring more community members into the school – forging partnerships that will likely extend beyond her term of service. Last spring, Cherichello organized an orchard planting of 13 trees that engaged the whole school community and drew strong support from Good Tern Cooperative Food Market and ReTreeUs (a Maine-based nonprofit organization that supplies trees for school plantings).
Twice a week, Cherichello works with teacher Jesse Bartke to help Oceanside's alternative education class maintain the school garden and greenhouse and cook fresh, whole foods. The class receives food for its cooking projects from Good Tern and in exchange prepares lesson plans for the Fresh Fruit and Vegetable Program that Good Turn runs in RSU 13 (with funding support from the USDA). As part of learning about the history of food preservation, the class plans to build a solar dehydrator and make some garden cabbage into sauerkraut.
Engaging students in food fermentation would have been a stretch when Cherichello first entered the class more than a year ago and found students downing energy drinks and potato chips for breakfast. But by the end of last year, she recounts, students wanted to make a lunch for teachers that demonstrated what they had learned. The menu included a quiche with fiddleheads and chive blossoms, a quinoa salad with garden asparagus and toasted walnuts, and fresh salad greens from the school greenhouse. That meal made great inroads generating staff interest in the school garden. Cherichello followed up by writing three Food Corps ideas for every course in the school and sharing those with teachers at a staff meeting. By the start of this year, numerous teachers wanted to get involved.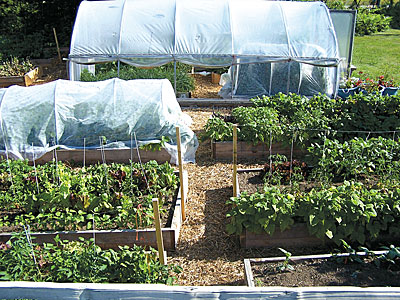 Medomak Valley High School's raised bed gardens allow for heirloom seed grow-outs while supplying the school salad bar and providing food pantry donations. Photos by Genna Cherichello.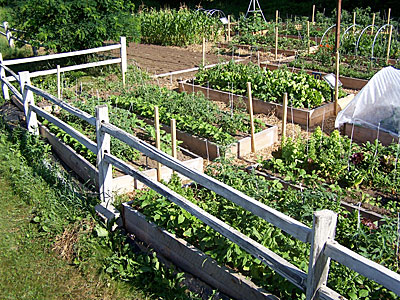 Cherichello loves her role as an "intraschool connection," making linkages to foster healthier, more delectable foods. One classroom, for example, will soon have a window lined with herbs to spice up school lunches. The school's "senior survival" class is getting a stronger food component – teaching students how to garden and buy healthy food on a budget. Students and teachers in the Life Skills classes routinely do taste tests that up-end their view of vegetables: "If you've only ever eaten canned beats," Cherichello says, "it's powerful sampling raw and roasted 'Golden' and 'Chioggia' beets."
After cooking with Jesse Bartke's students, Cherichello used to bring bowls of food to school administrators. Now the administrators visit the room to get the meals while they're hot. One morning this fall, both the principal and vice principal joined the class to sample plates piled with the handiwork of the students' two-hour labor – roasted garden vegetables (red and gold beets, carrots, cauliflower, and chard stems); pasta with homemade marinara sauce; and sautéed chard and kale, complemented by a mug of steaming pumpkin hot chocolate (see recipe). Shaking his head in amazement at the delectable concoctions, principal Tom Forti turned to Cherichello and the students, saying, "You rock!" For a visitor's benefit he added, "Having Genna here all year is huge for us and has done so much to advance farm-to-table efforts. We could not be happier and the food is darn good."
Neil Lash, a teacher at MVHS who has worked closely with Cherichello on the school's Heirloom Seed Project, says her service has been invaluable. As the nation's oldest seed-saving program in a high school, the project engages students in learning the history behind genetics and horticulture while educating the broader community on the value of biodiversity, heirloom varieties and local food security. Cherichello has brought to the project and the school, Lash says, "an infusion of enthusiasm and knowledge and a go-getter attitude that has touched and inspired a lot of students and cultivated a culture of healthy foods."
Cherichello is gradually getting more MVHS teachers and students across the curriculum engaged with the school's garden and Living History Arboretum. This November, MVHS hosted a Gettysburg Address recitation contest, highlighting the fact that the school has a Gettysburg Address honeylocust seedling – grown from seed from a tree near where Lincoln stood delivering that famous address. Cherichello is also helping the Heirloom Seed Project set up a database to track which of its 850 historical seed varieties need to be grown out at a given time.
Financial constraints often limit creative initiatives, but Cherichello has been remarkably resourceful in finding support. She has written $21,000 worth of successful grants for MVHS, obtaining funds to hire students for a summer Teen Ag Crew at the school garden; to help the Heirloom Seed Project acquire critical refrigeration; and to construct an earthen pizza oven outdoors so that students can use grains and greens from its garden in a process she calls "Breaducation."
When her term of service ends next July, Cherichello – like many of her FoodCorps colleagues – hopes to stay in Maine. She has found Maine a fabulous setting to indulge her hunger for new knowledge, particularly with organizations like MOFGA, which was, she says, "a huge draw in my coming here and remains a strong magnet that I want to tap into as I continue my agricultural education. Maine has so many organizations that have our best interests in mind, and so many multi-talented people with skills who are willing to share those freely."
Ellie Libby, UMaine Extension Educator and Maine's FoodCorps host site supervisor, says one of the best aspects of an initiative rich in superlatives is that "they're staying!" Many of the dynamic and dedicated young leaders who are helping transform the state's food culture will keep putting their skills and passion to work in Maine for the long term.
Genna Cherichello is one of 10 FoodCorps members currently serving in Maine: for more information on their current service, visit www.facebook.com/FoodCorpsMaine.
About the author: Marina Schauffler is a writer and consultant in Camden. She is author of Turning to Earth: Stories of Ecological Conversion.
---

Oceanside East High School's Pumpkin Hot Chocolate Recipe
1 to 2 c. cooked and pureed pumpkin or winter squash
3 c. organic Maine milk
3 oz. semisweet chocolate
4 to 6 Tbsp. sweetener of choice
1 tsp. vanilla
½ tsp. cinnamon
pinch nutmeg
pinch cayenne
Melt chocolate in a saucepan, add the other ingredients and whisk well.