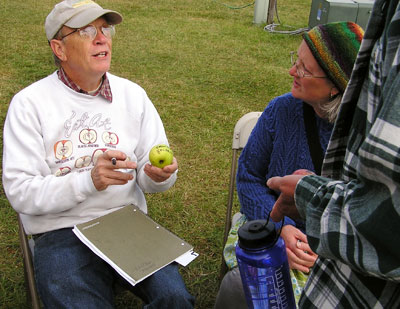 John Bunker is a common site – almost always with an apple – at the Common Ground Country Fair. Join him in an apple taste test at the Fair to determine the favorite variety for 2013. English photo.

By John Bunker and Cammy Watts
'Canadian Strawberry'. 'Chestnut'. 'Cox's Orange Pippin'. 'Liveland Raspberry'. What do all these fruits have in common? Amazingly they are all apples, and the only place you can taste them at the Common Ground Country Fair (or probably anywhere for that matter) is the Fedco tent. On Friday and Saturday afternoons, apple enthusiasts gather to taste these and other rare apples and to vote for their favorites. It's a raucous event where devotees campaign for their favorites at such high volumes that neighboring tents have been known to complain about the noise.
Although most apples reach their taste peak later in the fall, enough unusual apples are ripe by the third weekend after Labor Day in September to tantalize everyone's palate. Don't expect to sample a 'Black Oxford' or a 'Northern Spy' – we save them until the Great Maine Apple Day at MOFGA in late October. Instead you'll have an opportunity to taste such classics as 'Duchess', 'Wealthy' and 'Gravenstein', some monsters such as 'Charette' and 'Alexander', or some sleepers such as 'Milton', 'Prima' or 'Maiden Blush'. Sometimes fairgoers contribute their own homegrown favorites to the mix.
Since apples have their good years and bad, our sampling selection is always a surprise. It's a bit like going to a Red Sox game. You never know when the eighth man in the batting lineup is going to hit one over the Green Monster, or Big Papi is going to strike out standing.
On Saturday of last year's Fair, we sampled nine varieties. Here are the top five.
In fifth place was the recent University of Minnesota patented all-star, 'Honeycrisp'. The patent has run out, but the popularity of 'Honeycrisp' only continues to grow.
In fourth place, 'Wealthy'. Another Minnesota apple, 'Wealthy' originated nearly 150 years ago and makes great pies
Third place went to 'Snow', also called 'Fameuse'. Its origins are lost in the distant past. It might be from Canada or even pre-colonial France. Some think it's one of the parents of 'McIntosh'. The name 'Snow' comes from it pure white flesh: it's really white.
In second place was 'Jonathan', an heirloom from New York. The Jonathans were exceptionally good last year
The big winner in 2012 was 'Cox's Orange Pippin', one of the most famous apples in the world, but not often grown in Maine. (That may be changing.)
If you want to walk on the wild side of apples, be sure to join us at the Fedco tent at this year's Common Ground Fair for the apple tastings. As you sample 10 to 12 varieties, you'll get to hear a bit of history and odd anecdotes about each apple. Then you'll have an opportunity to shout out your opinions about the apples and try to rally the crowd to support your favorite. When the votes are tallied, the 2013 Common Ground Fair Apple Favorite will be crowned.