By Tim King
When Kim Patnode and Christopher Hahn came separately to 3 Level Farm in South China 11 years ago, they were acquainted with each other but had no idea what the future would bring. Hahn had just purchased the 143-acre farm, formerly known as French Farm, and imagined it supporting multiple enterprises, more than he could do alone. Included in that vision was the possibility of creating an alternative to today's sole proprietorship model of farm ownership.
At the same time, Patnode was looking for a place to live closer to a new job, and mutual friends told her of possible housing at the farm. Between them, Patnode and Hahn had decades of agricultural experience, especially in vegetable farming. After about a year, Hahn and Patnode realized their ideas and vision for the future were very compatible and, by 2014, they decided to marry.
"The vision that I had when I came here was that the potential for this property was such that it could care for a number of families, maybe up to five," says Hahn. "My idea was that those families would have shared but diverse interests. People would be cross trained so we could do each other's work and people could be away for periods of time for any number of reasons."
The idea for 3 Level Farm, which is named in part after the farm's three distinct topographical levels, was that its enterprises would reflect the interests and experiences that Hahn and Patnode had developed while working the land over the years.
Over the next decade Hahn expanded the goat herd from three milking does to up to 12 and built a milking parlor and cheese-making creamery in order to produce raw goat milk, fresh and aged cheeses, and yogurt. Along with the dairy goats came a niche in frozen goat meat.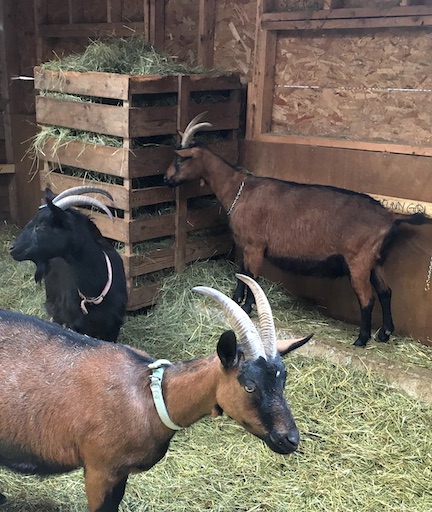 The farm also began producing cut flowers and specialty and heirloom vegetables. Growing mushrooms became another enterprise at 3 Level Farm, which now offers shiitake, wine cap and oyster mushrooms to their handful of wholesale accounts, including a restaurant in Waterville. They also sell their products directly at the farm.
When Hahn and Patnode came to 3 Level Farm there was an apple orchard in a state of neglect. Since then, the orchard's old trees have been renovated and brought back into production and new trees are being added to the orchard every year.
Hahn has even become a bit of a fruit explorer. "I'm experimenting with pawpaws," he says. "They taste like a cross between a banana and a mango." In addition to pawpaws and apples, 3 Level Farm produces raspberries, blueberries, grapes and kiwis.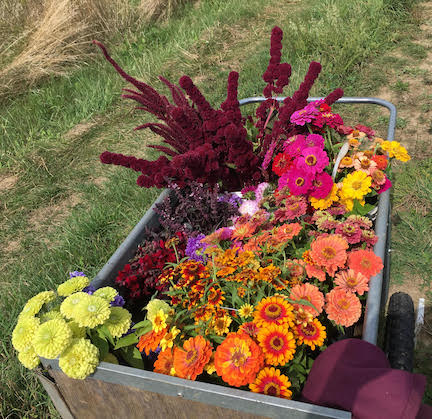 The diverse array of enterprises at 3 Level Farm — which even includes a small band sawmill — reflect what Hahn and Patnode refer to as their "interests and experiences." But underlying their interests in pawpaws and shiitake mushrooms is a broader interest in creating a farm to support more people than themselves. They refer to this model as a "multi-family farm."
"Our vision is a multi-family operation with multiple independent endeavors collaborating, when necessary," they wrote in a recent listing for Maine Farmland Trust's FarmLink program. The listing continues: "Currently three families are involved. Two live on immediately adjacent properties. There are three generations living here and we imagine that to continue."
Each shareholder is a co-owner of the entity "with all the rights of ownership and decision making," says Hahn. "For example," he says, "if I am using half of the barn I will pay a fee to the entity, the vegetable operation pays a fee for cooling equipment, land use or whatever is needed to operate."
One of the challenges in creating a multifamily farm has been settling on a legal structure, or entity, that meets the needs of the multiple families. The three families currently involved started by considering a limited liability company, or LLC.
An LLC protects its owners from personal responsibility for its debts or liabilities. They are hybrid entities that combine the limited liability characteristics of a corporation with income flow through of a partnership or sole proprietorship. That is to say, the LLC is designed so that the income doesn't stop at the entity but flows through to the owners.
"We had some preliminary conversations with two of the volunteer lawyers from the Conservation Law Foundation (based in Boston), but after we talked a while, they weren't quite sure what the right structure was for us so they referred us to another lawyer," says Hahn. "Right now, we're not quite sure what form we'll take. It could be an LLC or perhaps a farmers' association or something else."
While discussions with lawyers are ongoing, the three families have met regularly to discuss and craft a set of operating bylaws that define and guide how they will work, make decisions and share ownership. Although the bylaws are still a work in progress Hahn says, that through their regular meetings, they've reached consensus on most of what they think will be a basis for the future. The families were guided by documents they found online from a number of established intentional communities throughout the country.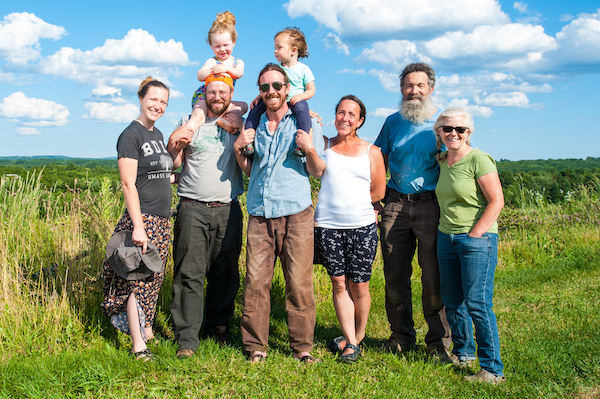 "In addition to what form to take, our bylaws discuss how decisions will be made, how ownership will be structured, and we have also determined the process for joining or leaving the community," says Hahn.
A person who joins the entity will have an exploratory year to see if they will be able to get along with the other families and individuals. On the other end of the process a family that wants to leave will be required to find another individual or family prepared to go through the exploratory year and the process will not be complete until that has occurred. The existing community members could potentially buy the share and then identify and sell the share to the new community member.
"We have frequent potluck meals that provide an opportunity to build deeper relationships than those based just on legal documents," says Hahn. "It's a blast! There are three generations here including children. This feels like our chosen family. We think this is a model to share, although it's still under development."
The farm family at Dig Deep Farm is one of the three families that have been discussing the future structure of 3 Level Farm. They lease land from Hahn and Patnode and sell MOFGA-certified organic seedlings from the 3 Level Farm site, as well as at a number of farmers' markets and wholesale accounts.
"We currently lease 9 acres of ground, a walk-in cooler, and a greenhouse from 3 Level Farm," says Dalziel Lewis of Dig Deep Farm, which is in its thirteenth growing season. Lewis worked on farms for about 10 years before deciding to farm. "We grow mixed organic vegetables for year-round sale at farmers' markets, through our CSA, to Daybreak Growers Alliance, and a specialty salad mix to Crown of Maine," adds Lewis.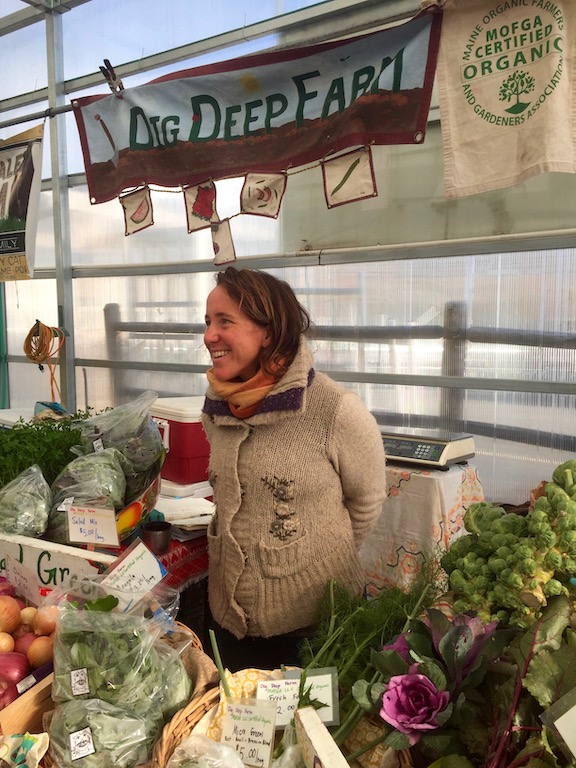 She likes both the limited liability aspect of an LLC as well as the income flow through feature.
"From my understanding, a LLC has limited liability so it can be useful in case a customer gets sick from food your farm has raised. It protects the farmer so they will not lose everything. The other benefit, I believe, is taxes and payroll can function differently, meaning I could write myself a paycheck and take taxes out during the season instead of at the end, like I do as a sole proprietor. A LLC seems to be a way to protect one's livelihood."
Lewis acknowledges that she's still learning about the workings of an LLC but that she finds the idea of shared ownership attractive.
"For Dig Deep, I have often farmed with somebody who has been a friend and employee collaborator," she says. "I have often wondered, should the right person come along, if there could be space for shared leadership and shared profit. I think one of the reasons for exploring a LLC structure is for the potential of shared ownership of the land and infrastructure at 3 Level."
Although a legal structure has yet to be settled on, the nature of 3 Level Farm's multi-family farm is continuing to evolve. For some years Hahn has managed the farm's creamery business along with all aspects of goat herd management. However, he is now planning to transition out of the goat business and is training Solomon Heifets to take it over.
"He is part of one of the original three core families," says Hahn. "I will be happy to work with him and teach him the various aspects of the business."
Hahn adds, "The farm will not be selling milk products this season as Solomon decides what direction he wants to take the operation.
"I'll switch to maintenance," says Hahn. "On a farm it seems that you're always behind — 365 days of the year." Hahn envisions himself as not only being the guy to do minor repairs on equipment and buildings but also a jack-of-all-trades. "I'll jump in where and when I'm needed."
The description of the maintenance role isn't finalized yet, but it will be as the families settle on the entity.
"Once the relationship is formalized by some type of legal structure shareholders would have a decision-making voice as opposed to having to accept what my wife and I decided to do on some issue," says Hahn. "Their future with this land would be secure because they would have ownership."
Before finalizing the legal structure of the multi-family 3 Level Farm, Hahn and Patnode, as sole proprietors, made a significant decision that will potentially affect all future shareholders.
"In 2019 we sold the development rights for the land to Maine Farmland Trust who now own an agricultural easement on the property," Hahn says. "We have been designated as a Forever Farm."
Meanwhile, 3 Level Farm is still looking for one or two more families or individuals to join the multi-family experiment in farm ownership.
"We aren't yet using all the assets that are available on this farm," says Hahn.
About the author: Tim King is a produce and sheep farmer, a journalist, and cofounder of a bilingual community newspaper. He lives near Long Prairie, Minnesota.
This article was originally published in the fall 2022 issue of The Maine Organic Farmer & Gardener.