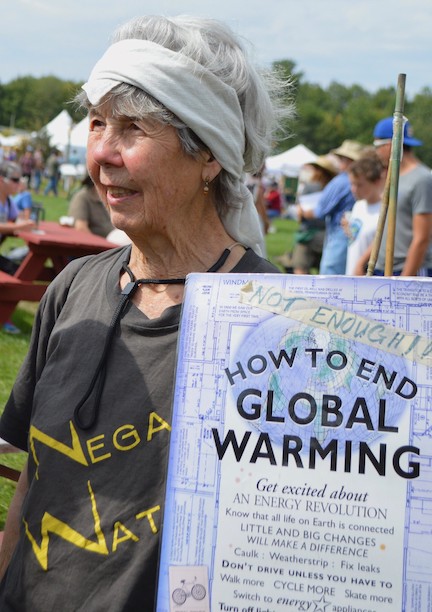 Here's a memory from Beedy Parker:
I think this is more of a history sampling than a "story," but I miss our old Coastal Knox MOFGA chapter and wish we could bring it back! I think we were introduced to it in about 1976, when it met in a church basement in Thomaston — and Tony Bok probably got us there (he and Mary farmed up on Ragged Mountain and we bought their milk). The monthly evening meetings moved to the Rockland Unitarian Universalist Church basement and we were there for years, enjoying sumptuous potlucks full of vegetables, the energetic meetings, and speakers. (We were "Coastal Knox" because there was already a Knox County MOFGA chapter of wild and wooly back-to-the-land homesteaders up in Burkettville, on the west end of the Appleton Ridge.) Our members were retired couples and young ones starting out, some with children who played about outside, and brought their crayons and sometimes a sleeping bag to sack out under the table.
Our meetings all started out with Nelle Hanscombe (a real Mainer who shrimped in Florida in the winter) getting the coffee going and her husband Herbert starting the line for piling the food on our plates. And such good food it was — we went on to produce a cookbook, "The Potluck Supper Cookbook," in 1979, which I hope is in the MOFGA library for all to enjoy. Nelle always brought a big baked dessert, just in case there wasn't enough, and we never minded that.
We usually started the fall with a "How did your Garden Grow?" meeting, had a seed share in January and a seedling share later in the spring, and interspersed our visiting speaker programs with inhouse member sharings on chosen topics (All About Squash, Growing Corn, Home Composting, Potatoes, Eating with the Seasons, Beans, Alternatives to Pesticides, Food Politics and on and on … ).
For our speaker programs, we put up posters, issued press releases, and sent postcards and made phone calls to those requesting notice (no emails back when).
We had amazing speakers. (Here I will proceed to name-drop shamelessly from my saved — mostly from the late 80s — notes. A sample: Chaitanya York on Small Farms in Maine; Raquel Boehmer on Seaweeds; Jack Kertez's "Foodbearing Trees and Hardy Perennials"; Larry Danzinger's "Simple Living"; "Starting Seeds" with Erwin and Mary Ellen Ross of Merry Gardens; Mark Fulford's "Grafting Resistant Fruit Varieties onto Old Trees"; Deb Soule of Avena Botanicals on medicinal and culinary herb growing; Rob Denny of the Maine Board of Pesticides Control on knowing about pesticides; Bob Parnes of Woods End Lab on analysis and improvement of soils; Richard Hill's "Energy and Environment"; Tina Lee on "Gardening in the Wind" (on an island off the coast of Ireland); Bonnie Rukin, Jay Adams and a stellar panel on "Small Grain Growing on Homesteads"; Jean English "Starting a Backyard Tree Nursery"; me and Karen Good with a slide show on "Gardening in Small Spaces"; and Eric Sideman's "Organic Farmers of Maine." Sister Lucy of H.O.M.E. came to talk to us. We couldn't get Wendell Berry, who did speak at the Fair, so we got a TV recording he made and watched that. And Eliot Coleman, in a much earlier, unrelated, freezing cold venue in Tenants Harbor, gave us his garden rotation system.
Later on we offered public programs at Merryspring and, at the Lincolnville School in 1997, Carla Emery of "The Encyclopedia of Country Living" fame gave us a rundown on the dire environmental deterioration of our food system and lands and an overview on how to get going on your own.
In the summer we went on joyous potluck Sunday picnics; to members' homesteads (Ray and Linda Nelson's in Friendship was a highlight, as was Slegona's in Lincolnville and so many other incredible gardens); to an artist's garden in North Haven (he gardened between the rocks with heaps of seaweed and had a huge, shady compost going in a wide pit); to an organic farm on Vinalhaven (we got to swim in the quarry); and on several pilgrimages to the Nearings in Harborside.
We had projects outside the meetings, mostly at Tony Bok's instigation, including restarting (on Memorial Day in the rain) the huge backyard vegetable garden for the old home for "aged" women in Camden to grow food for the home (people often still had big backyard vegetable gardens in town in the early days to help feed their families), a community garden in a field under the powerlines on the edge of Camden, and even a legislative committee for MOFGA (also Tony's idea), which sent Jeanne Hollingsworth and me off to Augusta, to witness (attend) the Board of Pesticides Control meetings and attempt to work on regulatory legislation. We drummed up donations of vegetables for the Common Kitchen to feed the volunteers at the Fair and created several chapter displays for the Exhibition Hall over the years, with members' produce, canning and home crafts.
I think our chapter petered out gradually in the early 2000s as economic activity picked up and there didn't seem to be enough time — families got busier, got older, and driving home in the dark and the weather was too much. More people understood better the need for organic practices, the grocery stores started carrying some organic produce and the co-op stores flourished; the Fair and The MOF&G paper and events through the year taught us, so the chapter withered away. But I think we need it again now with climate change coming on and more people turning to gardening again.