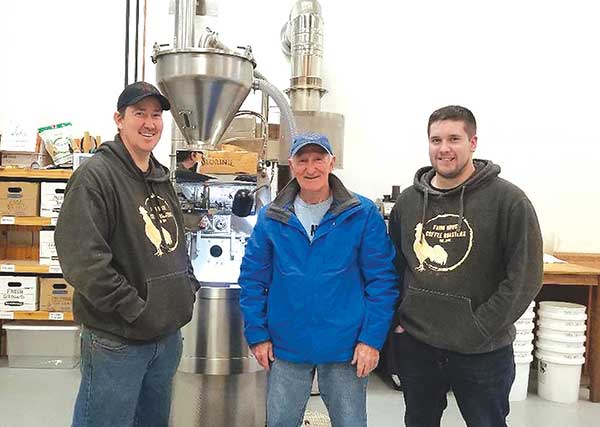 Andrew Newell, owner of Farmhouse Coffee Roasters, with his father Michael Newell and employee Garrett Greystone. Photo courtesy of Andrew Newell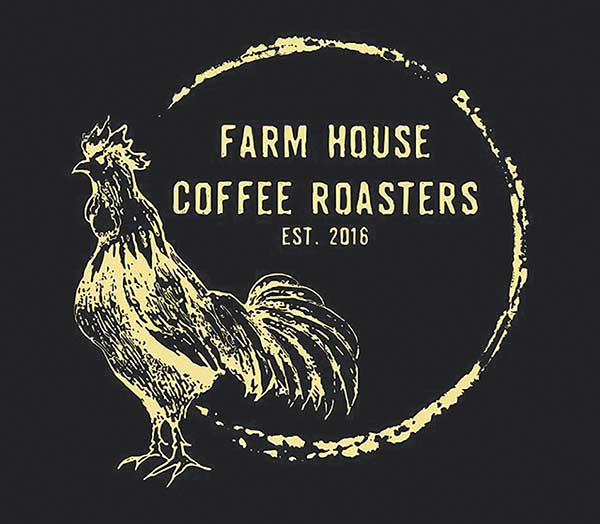 Logo of Farm House Coffee Roasters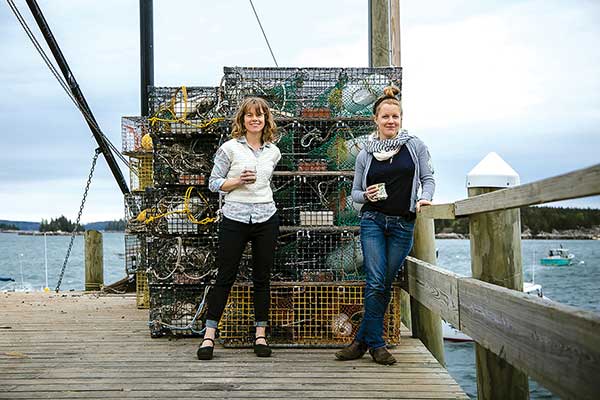 Melissa Raftery and Megan Wood co-own 44 North Coffee in Deer Isle. Photo courtesy of 44 North Coffee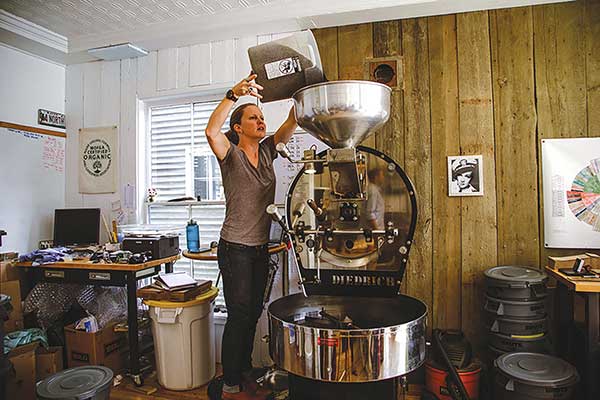 As a microroaster, 44 North processes beans in small batches. Photo courtesy of 44 North Coffee
By Sonja Heyck-Merlin
Humans drink about 2 billion cups of coffee every day, according to the British Coffee Association (www.britishcoffeeassociation.org/coffee-in-the-uk/coffee-facts). Coffee beans, which are actually the pit or seed of the coffee fruit, grow in what is called "the Bean Belt" – the equatorial zone located between the latitudes 25 degrees north and 30 degrees south. While it is grown in more than 70 countries, Fairtrade Foundation notes that over 60% of the world's coffee is produced in Brazil, Colombia, Vietnam and Indonesia (www.fairtrade.org.uk/farmers-and-workers/coffee/about-coffee).
The Roasting Process
Whether coffee beans originate from a mountainside in Hawaii or a large farm in Mexico, all beans go through a roasting process before being made into a cup of joe. Most consumers would be sorely disappointed by a steaming mug of coffee brewed from unroasted beans as it would taste grassy, bitter and acidic.
When beans are roasted, they undergo physical and chemical changes that bring out the flavors and aromas unique to each bean. A roast profile refers to how coffee develops as heat is applied. Differences in roast profiles yield the range of coffee roasts, from light to dark. During roasting beans are brought to very high temperatures – up to 486 F – in about 15 minutes, according to Coffee Crossroads (www.coffeecrossroads.com/coffee-101/coffee-roasts-from-light-to-dark). The beans are then quickly cooled to stop the roasting process.
For an unsurpassed coffee experience, try coffee that has been freshly roasted in small batches. To take it one step further, buy certified organic beans processed by one of Maine's many microroasters. A microroaster refers to a business roasting coffee beans in small batches, according to their own specifications. Although the crop is sourced from afar, freshly roasted organic coffee deserves a place in the "eat local" lexicon alongside vegetables, microbrews, dairy products, meat and seafood. As with any certified organic crop, organic coffee farmers can't use synthetic fertilizers or unapproved herbicides and pesticides. They must also demonstrate a commitment to the improvement of soil health, fertility and biodiversity.
Farm House Coffee Roasters: Winterport, Maine
Andrew Newell, owner of Farm House Coffee Roasters, in Winterport, Maine, came to the microroasting business through an unconventional pathway. When he was 30, Newell says, he was having a lot of health problems, particularly with his digestive and neurological systems. After a decade, he was eventually diagnosed with Lyme disease. "I couldn't drink coffee anymore. It would mess me up. As I was researching my health problems, I discovered that conventional coffee production involved many herbicides and pesticides. I bought a small batch of green, organic, mold-free coffee beans and roasted them in a small toaster-oven type roaster." When he drank this coffee, it didn't hurt his stomach, and he could drink as much as he wanted to.
Newell continued roasting coffee for personal use and discovered he had a passion for the technical aspects of roasting. Eventually he was producing more than he could drink and began giving it away to friends and family, who encouraged him to start selling it. At the time Andrew was a stay-at home-dad, but with his two boys old enough to attend public school he decided to take their advice. Farm House Coffee Roasters was born in January of 2016 and was certified organic by MOFGA two months later. The business has one full-time employee; Newell's dad, who lives close by, is also willing to lend a hand.
Newell sources most of his green coffee beans though a specialty coffee and tea importer called Royal New York. While some roasters enjoy traveling the world, meeting with growers and sourcing beans, Newell would rather be roasting coffee and coaching his children's baseball team. "I have a good relationship with a woman from Royal who travels to the farms directly. She sends me samples to try before I buy beans, and all of the beans can be traced back directly to the farm," he says. Every bean that passes through his roaster is certified organic, and most beans are Fair Trade Certified.
Appreciating nuanced flavors, Newell buys beans from all over the world including Mexico, Guatemala, Honduras, Nicaragua, Costa Rica, Peru, El Salvador, Columbia, the Dominican Republic, Haiti, Kenya, Ethiopia, Sumatra, Bali, Hawaii and elsewhere. Currently he receives a delivery of beans every two weeks and roasts about 600 pounds per week using a drum roaster. With some drum roasters the heat source, typically propane, sits just below a circulating drum. As the beans are tumbled through the drum, each one comes into contact with the hot walls. Newell uses another style of drum roaster: It forces hot air into a stationary roasting drum while paddles stir the beans.
When Newell went commercial, he upgraded to a propane-fired Loring S15 Falcon roaster and moved operations from his home garage to a purchased commercial building. "The Loring is the best roaster in the world because it provides an ultra-clean roast environment and has low carbon dioxide emissions," says Newell.
Although the Loring can roast 30 pounds of beans per batch, Newell keeps his batches around 15 pounds. The smaller batches yield a better-quality bean in his opinion. Roasting small batches also enables him to deliver exactly what customers order and to ensure his inventory is freshly roasted.
As he is roasting, Newell uses the Loring's touchscreen to carefully watch a graph that charts the roast profile. He constantly adjusts the propane during the roasting process to keep the graph in a nice line. From the roasting chamber, the beans go onto a cooling tray where they are rapidly cooled. Newell says, "If you don't cool the beans quickly enough, the internal temperatures can keep rising and change the profile."
From lights to darks, Newell roasts them all. "With coffee, I think you should be drinking what tastes good to you, and that's why I do so many different roasts. If there's a big snow storm, I like to drink dark and gnarly coffee. If it's beautiful out, light and fluffy [snow], I will have a medium or lighter roast."
Newell's goal is to get beans from his roaster to the consumer in less than a week. You can buy Farm House beans at stores in the Bangor and Midcoast regions and through the roaster's online store. Andrew also uses a distributor to move his product in southern Maine and New Hampshire. His sales to restaurants and cafes who brew and serve his coffee have dipped because of COVID-19, but an increase in internet sales have compensated for those losses. Newell can also be found slinging beans and nitro cold brew at the Bangor, Orono, Hampden and Belfast farmers' markets.
Newell's goal moving forward is to slowly grow the company without sacrificing family time. He doesn't want to open a cafe or grow his employee roster. "I'm going to stick with what I'm good at – which is roasting coffee," he says. "I have done more research about roasting coffee than I did for my college degree."
44 North Coffee: Deer Isle, Maine
44 North Coffee, owned by Melissa Raftery and Megan Wood, was founded in 2010. Their microroastery is located on Deer Isle, a small island in the Penobscot Bay located at a latitude of 44 degrees north and connected to the mainland by a suspension bridge.
Wood grew up on the island, moved away for college and her early career, and later returned. Raftery hails from Cincinnati, Ohio, and moved to Maine to be a whitewater rafting guide. The two met while working for a Maine outdoor design company.
Both possessed an entrepreneurial spirit. Wood says, "We started dreaming of a business together. We also drank a lot of coffee." These caffeine-fueled dreams, along with Wood's plan to move back to Deer Isle, inspired 44 North Coffee.
Beans are roasted in a rented building located on Deer Isle's Main Street. The front of the building houses a small cafe that, due to COVID-19, is only offering curbside pickup. Six miles to the south in Stonington, they have another cafe that is open to the public.
"We really wanted to create places in our community that would invite folks in and help people from different walks of life engage with one another – whether they're a tourist, fisherman or teacher," Wood says.
Deer Isle is isolated and rural, with its economy largely dependent on tourism. Wood and Raftery learned early on that they would have to branch into wholesale markets and internet sales to remain economically viable. To grow the wholesale business, they needed to roast beans more efficiently, so they transitioned from their first drum roaster, a Deidrich IR-6, to the larger Deidrich IR-12. The IR-12 has a heat source directly under the drum and can roast up to 22 pounds of beans per batch. On a busy day they roast up to 400 pounds of beans.
Every Wednesday Raftery, Wood and their employees have a cupping: This is the coffee equivalent to a wine tasting. "We taste everything we roast and analyze the time and temperature differences between each roast and recalibrate if necessary," says Wood.
Most of their roast profiles are in the medium-light to medium-dark range, and all of their beans are certified organic and Fair Trade Certified. Like Farm House Coffee Roasters, their beans come from organic farms all over the world. 44 North, however, is one of 23 U.S. and Canadian roasters that belong to Cooperative Coffees. Started 20 years ago, Cooperative Coffees is a cooperative that imports green coffee. According to their website, the company is committed to improving the livelihoods of small-scale coffee farmers, providing services to their members and creating connections that have regenerative and sustainable impact (https://coopcoffees.coop).
"Most small coffee growers belong to their own cooperatives," says Wood. "Cooperative Coffees buys directly from these cooperatives. It provides a level of transparency and intimacy between our business and the coffee farmers that is very unique."
This level of intimacy and transparency, so important to Raftery and Wood, is evident in Coffee Cooperative's response to COVID-19. "When the pandemic hit, the co-op quickly provided emergency funds to our growers for things like handwashing stations and personal protective equipment. In hard-hit Peru, the co-op provided week-long food packages, so people could avoid going to market and limit their exposure," Megan says.
Their relationship with Coffee Cooperative is also valuable because it provides travel opportunities to meet with and learn from the small farmers who supply their beans. So far Raftery and Wood have visited Ethiopia, Guatemala and Mexico.
In an industry largely dominated by men, Raftery and Wood are proud to help forge a path for women in the coffee business, whether they're representing 44 North internationally or serving a pour-over to a local customer. Though not intentional, their entire summer workforce of 10 is all female. Wood speculates that about 75-80% of coffee pickers are women.
"From the get-to," she says, "women are part of coffee. As a woman, I feel like we're really able to forge connections with the pickers, and the full circuit – from their hands to our roaster – feels really good." On a more local level, Raftery and Wood are proud of their year-round business within a community dependent on the largely male lobstering industry.
The pair recently purchased a commercial property that will solely be used for roasting, freeing up the small Deer Isle cafe to become a larger community space. With their current roaster they can double capacity, but they see a need for a second roaster in the long run. "The people of Deer Isle have been incredibly receptive and supportive of our business, even when COVID hit," Wood says. "It's a great community to call home."
Experience the Difference
You can taste the difference when drinking freshly roasted organic coffee. To fully enjoy the benefits of Maine's organic microroasters, invest in a grinder and grind the beans right before brewing. Start thinking about the color spectrum of roasted beans, from light to dark. Experiment with brewing coffee from different countries and taste how the beans are impacted by the climate, soils and geography. Within each cup of coffee is a story: of hard-working farmers' hands, of importers and co-ops devoted to fair trade and human rights, and of Maine roasters working hard to provide consumers with a distinctive java experience.
About the author: Sonja Heyck-Merlin is a regular feature writer for The MOF&G. She and her family own and operate an organic dairy farm in Charleston, Maine.