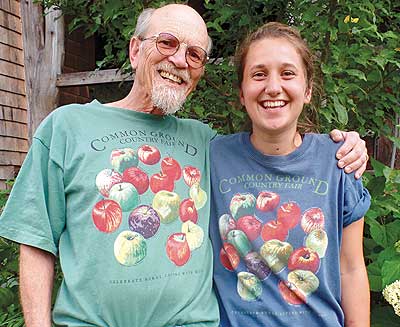 John Bunker and Laura Sieger model the apple design T-shirt that has been reprinted as a fundraiser for MOFGA's Maine Heritage Orchard. Kip Sieger photo
By Laura Sieger, MEHO intern
For years people have been asking if the 2009 Common Ground Country Fair T-shirts with the apple design are still available. They've long been sold out, and past Fair shirts have never been reprinted – until now! The Maine Heritage Orchard (MEHO) committee has worked with Liberty Graphics to reprint the design as an orchard fundraiser. The front will be the same as the 2009 shirt and poster; the back will say "Maine Heritage Orchard, Preserving the Old, Exploring the New."
The design and slogan illustrate MEHO goals: preserving old varieties (270 as of April 2017) and exploring new technologies in orcharding and land reclamation. At MOFGA's MEHO orchard in Unity, we have preserved apples from all 16 Maine counties, including apples featured on the shirt. Many old Maine-grown favorites populate the orchard, including Wolf River, Yellow Bellflower and Tolman Sweet, as well as some obscure varieties that may be ancient seedlings – Sand Hill from Waldo County, Robinson-Pemaquid from Lincoln County and the Ghost Apple from Kennebec County. The USDA provided scionwood for a handful of the historic varieties planted. We'll compare some of our recent finds to some of these known varieties.
New orcharding techniques in the reclaimed gravel pit include planting on terraces and incorporating companion plants in the orchard understory. Apprentices and interns from MOFGA have helped bring old, depleted land back into production, making unwanted land more desirable.
John Bunker, MEHO director and creator of the 2009 design, says that early in his effort to save old Maine apples, he needed to learn the geography of Maine. He decided to do that by learning the counties, and then, because apples grow in every county, decided to learn which varieties originated and/or were grown historically in each county. That led to the idea of the shirt with 16 varieties, one originating in each county.
Bunker chose the apples to be visually striking for their range of colors, shapes and sizes. He says Black Oxford was the most obvious choice of a variety originating in a Maine county; next was Kavanagh, a large, iconic russet from Lincoln County. These two are featured in the center of the design.
Selecting varieties to represent Lincoln, Oxford and Aroostook counties was easy; others were more challenging. Some counties had several varieties that originated there. Somerset County had Gray Pearmain and Thompson, but Somerset of Maine seemed more fitting. Aunt Penelope Winslow would have been perfect for Knox county, but Aroostook's Dudley Winter, Franklin's Deane, Penobscot's Red St. Lawrence, Washington's Collins and Somerset's Somerset of Maine were all red and striped, so for visual diversity Bunker chose another North Haven variety, Cora's Grand Greening. This name does not appear in any book, but the huge, yellow-ribbed variety was likely planted by farmer and midwife Cora Ames, who tended the farm on the north end of the island over 150 years ago.
For Sagadahoc County Bunker says, "I couldn't find any apples that originated there, although I did come across one reference to an apple called Givens." He based the painting of this variety on a vague physical description. Only last fall did he and I get more information on Givens, and we may be closer to finding the actual fruit!
The new shirts will be available at MOFGA's Country Store, online and at the Fair, and all proceeds will benefit the MEHO. At the Fair, visit the Hayloft tent to see many of the apples we've preserved; bring apples to identify; and enjoy apple tastings and talks on beekeeping, fermented foods, hard cider, vinegar and more. Look for us – we'll be wearing shirts that say "Preserving the Old, Exploring the New."