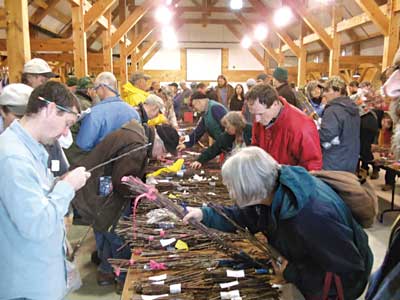 Only the scions outnumber the people at the Seed Swap and Scion Exchange. John Bunker photo
Scion Exchange, Grafting, Planting and New Apple Books
By John Bunker
The Maine Heritage Orchard at MOFGA is beginning to wake up after a winter of huddling under ice and snow. Meanwhile the heritage orchard crew was out pruning and traveling the Maine countryside, collecting scionwood for spring grafting. As winter waves its final goodbye, we'll gather on the last Sunday in March for MOFGA's Seed Swap and Scion Exchange. Fedco grafters will be on hand to graft you a tree of your choosing, the proceeds of which will support the orchard. There will be piles of scionwood and seeds for the taking, as well as workshops to attend and grafting supplies for sale. It's a wonderful way to celebrate the coming of spring.
When the snow was too deep or the wind too chilly for us to be out in the orchards, we spent many hours getting to know the brand new, seven-volume set, "The Illustrated History of Apples in the United States and Canada," written by Daniel Bussey. For 30 years Dan systematically and meticulously transcribed and compiled over 16,000 apple descriptions using hundreds of historic sources. Kent Whealy of JAK KAW press then spent seven years editing the massive text. "The Illustrated History" will be the most important book on apples ever published in English. There has never been anything like it. This is the book for orchardists, researchers, historians, nurserymen, collectors and dreamers. It is the ultimate apple reference encyclopedia. Seven volumes, 16,350 descriptions illustrated with 1,400 magnificent historic USDA apple watercolors. Your local bookstore won't have it, but you can order your set from jakkawpress.com or 844-567-5888. It's surprisingly affordable.
Not long after we clean up the Exhibition Hall and the Scion Exchange is history, we'll begin our own spring grafting. We made several exciting new finds last fall, including ancient trees in Ogunquit, Cape Elizabeth, Hallowell, Brooklin, Fairfield and Aroostook County. You can still find old apples trees everywhere in Maine! Those and several dozen others will be grafted this spring. Some of the resulting young trees will eventually be planted in the heritage orchard. Others will find homes in the yards of "tree stewards" throughout the state and beyond. Not only are we saving our endangered plant heritage, we are also reintroducing these varieties to communities throughout Maine.
Last summer at the heritage orchard site, we began renovating another 4 acres of the gravel pit on the opposite side of the central pond. That earthwork was completed by midsummer. Cover crops were planted shortly thereafter, and we'll begin major planting this spring. On Saturday, April 21, we will host our fifth annual planting day. With the help of volunteers, we'll plant more apple trees and companion plants in the orchard. It's a perfect opportunity to learn to plant trees, meet other tree enthusiasts and find out more about MOFGA's Maine Heritage Orchard. We'll begin at 9 a.m. and go all day. We'd love to see you and the whole family.
Join orchard manager Laura Sieger and others for other volunteer opportunities throughout the 2018 growing season. For more information, see& mofga.org or email [email protected]. Weekly volunteer days at the orchard are a great way to see our innovative orcharding techniques in action. We are working to create a productive ecosystem and mentor a new generation of orchardists. Hope to see you sometime soon.