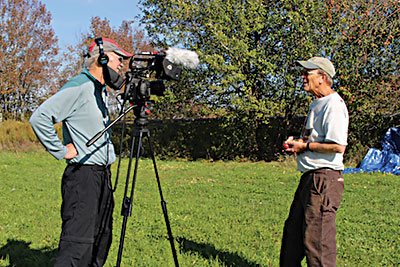 Huey Coleman filming John Bunker collecting wild apples, for Coleman's next documentary, "Henry David Thoreau: Surveyor of the Soul." Photo by Judy Wentzell
By Abbey Verrier
In April 2014, Huey Coleman arrived at MOFGA's Maine Heritage Orchard, camera in hand and ready to film. It was our first planting day, and a big group of volunteers was eager to put 102 apple trees into the ground. For us it was the moment this piece of land became an orchard. For Huey it was the beginning of a 1-1/2-year project documenting and learning all about apples, the heritage orchard and the revived culture surrounding both.
Huey's filmmaking career began during his days at Colby College where, under the guidance of art teacher Abbott Meader, he became interested in film. A few years later he finished his first documentary, "Grace: A Portrait of Grace DeCarlton." Grace, a silent film actress and dancer, was then 93 and living in Portland. Huey recalls that while she looked like a little old lady on the street, she danced as elegantly as a woman of fewer years. Huey continued to do a series of documentaries on elderly artists. Perhaps best known was his film "In Good Time, The Piano Jazz of Marian McPartland," which won the Manny Berlingo award for best documentary at the Garden State Film Festival in 2011.
Most of Huey's projects have been Maine-based. In fact, when he teaches film, he tells his students, "local is good." His last documentary shot in film rather than digital was "Wilderness and Spirit: A Mountain Called Katahdin." It includes the first recorded footage of the Katahdin 100 Sacred Run of the Penobscot people, an annual tradition in which Penobscot Natives journey from Indian Island to the base of Mount Katahdin by canoe and foot. Huey filmed them from the banks of the Penobscot River and by motor boat.
He and his camera even trekked to the top of Katahdin to capture the first AT through-hiker, Earl Shaffer, climb the mountain on the 50th anniversary of his historic hike.
Like all of Huey's films, the heritage orchard documentary eloquently bridges past with present. In the film we see a generation of farmers – John Bunker, Russell Libby, Tom Vigue – pass their life's learning onto an influx of aspiring young homesteaders. In an interview, Rowan Jacobsen, author of "Apples of Uncommon Character," remarks, "What you're seeing with the young people going into farming is that they're doing it to save society. They're trying to be the people who plant the seeds for a new generation that really makes things better." The film illustrates this sentiment with images of people at the Common Ground Country Fair, excited to learn about agriculture. We watch folks run along the orchard terraces with buckets full of compost and fertilizer. We see them grafting trees at Super Chilly Farm in Palermo and apple tasting at the Great Maine Apple Day. Interviews with experts in orchard polyculture and fungal influences in the soil give us the full picture of orchard care.
Help us care for these fruits that have nourished us through the generations. Watch the heritage orchard documentary at www.youtube.com/user/MaineOrganicFarmers (click on the video titled, "Maine Heritage Orchard") and then join us in April for our third planting day.
Huey's current film in production is on another big apple fan. Watch for "Henry David Thoreau: Surveyor of the Soul," set to debut on Thoreau's 200th birthday in 2017.
And if you were wondering, Huey's favorite apple is the 'Trailman'. His wife, Judy, grafted a tree of the variety just last year. They look forward to its first fruit.
Abbey Verrier is the Maine Heritage Orchard research assistant.