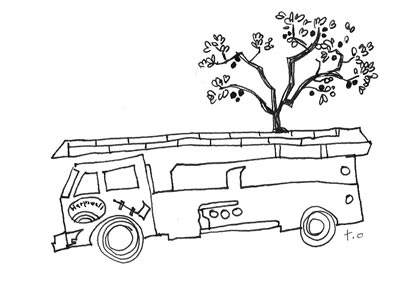 Toki Oshima drawing
By Abbey Verrier
Apples have been chasing Robert McIntyre from the time he was a little boy and his father cut down a healthy apple tree.
"It didn't have apples that I was interested in, but it sort of made a mark in my mind," said McIntyre. Years later, as a professor at Bowdoin College, he was living in Brunswick with his wife and children. Late each year his family traveled to Chicago for the holidays while he stayed behind to grade papers, later driving to meet them – going north through Maine, into Canada, and then west to Chicago.
"When I would go up north in Maine," he said, "there would be these strange experiences of unbroken woods for 10 miles and suddenly a monster apple tree but with no house back in the woods."
He would stop and gather the apples, a pile accumulating on his backseat. He might have snacked on them, but mostly, the apples were a curiosity.
"I would often think, 'Oh, these are really interesting apples,' but it was all sort of abstract."
Another time, his neighbors in Brunswick decided that a couple of old apple trees in their yard had to be cut down. McIntyre persuaded them to keep the trees alive by pruning them himself. He had never pruned before but let intuition lead the way.
"Suddenly they went back to producing apples, and that gave me the sense that apple trees were extremely forgiving and responded to very little attention by consolidating their resources." The experience spurred him to buy and plant his own heritage apple trees.
He moved to Harpswell in the '90s. He had always admired the town for its architecture, but now that he lived there, he was seeing ancient apple trees, remnants of old orchards, everywhere.
"There was one particular tree at the Harpswell Neck Fire and Rescue that looked really, really old and which I discovered had truly wonderful tasting apples," he says. The "Firehouse" apple catalyzed a new passion. What was the variety? McIntyre checked with staff at Highmoor Farm, the research orchard for the University of Maine, where the groundskeeper said, "Oh, nobody here knows anything about old apples. You have to find John Bunker."
Bunker called it a Baldwin. McIntyre and his wife, Dorothy Rosenburg, were not convinced.
"There is universal agreement among people who have tasted them [Firehouse and Baldwin] at the same time that it's a little bit different," said McIntyre. "It looks like Baldwin, it tastes mostly like Baldwin, but it seems to have a better flavor."
To Bunker, Firehouse and Baldwin were synonymous, and any differences could be attributed to terroir (environmental effects). Then Bunker's wife, Cammy Watts, tasted Firehouse and agreed: The flavor was unique.
So investigation into the true identity of the Firehouse apple was reopened. We haven't solved the case yet, but Firehouse was planted in the Maine Heritage Orchard last spring.
For McIntyre, Firehouse was just the beginning of his apple explorations around Harpswell. Two years later, he was ready to share his discoveries with the community. He, Rosenburg and a friend, Sharon Whitney, created Harpswell Heritage Apples. They enlisted someone to graft four ancient varieties they had discovered around town, sold the young whips and donated the profit. Eight years later they're selling more trees than ever, offering a mix of varieties that McIntyre grafts from ancient trees around Harpswell as well as some popular Maine heirlooms, such as Black Oxford. Trees sell for $65 per sapling. They also sell a fertilizer mix and, for $2, Robert will come to your house and plant the tree for you. Last year they donated $1,600, with all proceeds going to such local organizations as the Harpswell Heritage Land Trust, the Harpswell Coastal Academy or the town's pre-kindergarten program.
"It is something that could be done anywhere in Maine," says McIntyre. "You just link it back to the local schools or aid for the homeless or nutrition programs or whatever and people pay enthusiastically."
Hang out with McIntyre and other amazing people by getting involved with the Maine Heritage Orchard. We host weekly volunteer days all summer. We'd love to see you! For more information, visit www.mofga.org or email [email protected].
Abbey Verrier is the Maine Heritage Orchard research assistant.