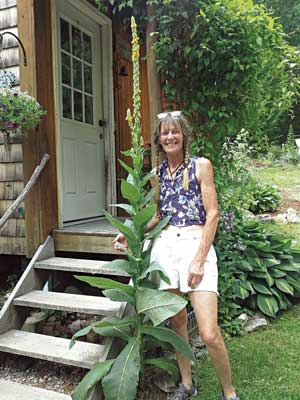 Wendy Green outside the house she built and next to the mullein plant that just appeared. Photo courtesy of Wendy Green
Live simply that others may simply live.
– Gandhi
By Joyce White
Wendy Green, 61, has spent the years since adolescence creating her own life from an underlying philosophy of taking responsibility for herself while respecting all life. She, like anyone who has tried to live simply, knows that living simply is not simple. So much to learn! So much to do! And never quite enough time or money. But ah, to live near a singing brook amid lush herb gardens is priceless beyond measure.
Green, who occasionally teaches about herbs through adult education and garden club programs, sometimes opens her gardens in Albany Township to visitors. Since it was raining when several of us arrived for one of her herb walks, we first sat at the kitchen table in her charmingly simple, owner-built home and drank red clover tea while she discussed some whys and hows of using plants in healing. Among the herbs hanging to dry from the rafters above our heads were bundles of comfrey, hyssop and plantain. On two large screens hanging horizontally on cords from the rafters were bright orange and yellow calendula blossoms and red clover blossoms.
Green stores the dried clover blossoms for year-round use in tea and medicinal extracts. Calendula petals will go into a healing salve, and the dried leaves of hanging plants will be crumbled and stored for use in healing tea mixtures or in salve. Medicinal plants grow all around us, Green said, and most have several healing properties. Red clover, for example, is a blood cleanser, contributing to its reputed anti-tumor properties. It also counteracts skin disease, bronchitis, gout and gall bladder problems.
When the comfrey, calendula and plantain are completely dry and brittle, Green makes a healing salve, picking the dried calendula petals from the plant head and dropping them into a jar with enough olive oil to cover them. The dried comfrey and plantain leaves she snips into pieces and puts in separate jars of olive oil. She sets the jars in the sun for about six weeks, turning and shaking each jar daily to release the healing properties of the plants. She strains out the plant material after six weeks and adds the oil to melted beeswax in a pot over boiling water. That mixture is poured into small jars. When cooled and semi-solid, the salve can treat a variety of what Green calls "bone, flesh and cartilage" conditions, such as muscle and joint pain, inflammation and skin problems.
The rain stopped and we walked around the extensive, lush herb gardens while Green identified a variety of plants and suggested ways they can be used to improve health. Red raspberry leaves, plucked off second-year plants and made into a tea, supply many minerals and vitamins, including B vitamins and zinc. A tea made from 2 teaspoons of dried leaves or a tablespoon of fresh, steeped in a cup of boiling water for 15 to 30 minutes, will provide many nutrients and is especially helpful for the female reproductive system. It has been used for centuries to help women prepare to give birth. Its astringent action can help reduce heavy menstrual bleeding and in general tone and normalize women's systems.
The mullein plant growing beside her house is the tallest I'd ever seen, and it arrived as if by magic. Its leaves are huge and velvety, and bright yellow flowers bloom atop the tall stalk. All parts of the mullein plant, Green explained, can be used. Leaves are expectorant, useful in chest congestion to help soften and cough up mucus. Mullein has a long history of use for soothing respiratory problems such as asthma and bronchitis. Leaf tea can be taken on a regular basis to reduce inflammation in mucus membranes, and it acts as a mild respiratory sedative. Green picks some mullein flowers produced each day and puts them in oil. Called an infusion, the oil extracts the active ingredient from the flowers. It can be used to treat earaches.
Yarrow, in flower during our walk, with lush, white blooms, is useful in case of heat stroke and high blood pressure.
Green described skullcap as "brain food," providing cerebral nutrition as it calms and heals. She harvests skullcap just as it begins to produce its purple flowers.
Coltsfoot, which grows near the shady, singing brook, has silky leaves in the shape of a small hoof. She snips leaves and stems from healthy plants for use as a powerful respiratory herb.
Spikenard, also known as "man root," lives near the brook, too, and is useful in male reproductive issues.
While the above plants grow naturally in the wild, Green planted valerian. Once it gets started it reseeds itself. Valerian root helps relieve stress and insomnia and is useful after head trauma as it repairs cell tissue.
Hops sometimes grows naturally in our area, but Green started the hops plant climbing her outer wall from a seedling. Hops is not just for making beer but is a useful sedative. The flowers, which appear in July and August, can be used for their antispasmodic properties and to help alleviate headaches.
The medicinal value of plants, Green said, especially the flower parts, is greater in the morning. She suggested harvesting between 10 a.m. and 1 p.m., after the dew has dried and when the active properties are most concentrated in the plant tops. She harvests carefully with respect for plants, never taking too much of any one plant in any one area. She uses her intuitive connection with the plants to discern which are ready to be harvested. She is not interested in healing only herself but would like others to know they can learn to use plants for their own health.
"Every home should have an herbalist," she believes.
Green traces her interest in plants as food and medicine to an insight while a teenager that all living beings have feelings. She stopped eating meat then. When pregnant in her late 20s and passionate about being a healthy mother, she expanded her knowledge of a plant-based diet to include plant medicine for various aspects of pregnancy. She had learned that raspberry leaves help tone the uterine muscles, have been used for centuries to help the body prepare for childbirth and help control bleeding during and after delivery. Green also drank chamomile tea after delivery to help restore muscle tone to the reproductive system.
While working as a veterinary assistant on Cape Cod, she experienced the usefulness of herbs in treating animals and eventually began a formal study of herbal medicine with Dr. John Christopher.
Green later worked at a machine shop, first learning about using tools and eventually becoming a welder. She got her first experience in building when her mentor at the machine shop helped her build a barn for her two horses.
When she moved to Maine (originally to Andover) with two horses and her young daughter, she expanded the rudimentary skills gained from building the barn and, with a partner, built a small, rustic home from mostly recycled materials, all built without using power tools.
Green later found the land in Albany Township where she now lives amid her lush herb gardens with the sound of the brook accompanying all her outdoor activities. The brook, she said, convinced her this would be her home. She began building in June 2004 on land that had been a log yard. The simple plan from the Andover house – "The only way I knew," she said – resulted in a small kitchen and dining area with stairs to a sleeping area.
"By Thanksgiving I had the floor and roof and support beams in place but no walls. We had Thanksgiving there anyway, and by Christmas I had the walls in but had to put plastic over the window openings. I lived that way all winter."
The process was slow because she needed to clear land and demolish a camp for the lumber to build the house. Her daughter, grown by then, came with friends from Sarah Lawrence College to help clear the land that summer.
Green also built a shelter for the horses and fenced in their pasture. That winter, she said, she had only a three-sided structure for the horses, and she remembers putting a bale of hay and buckets of grain on the toboggan and sliding down the hill to feed them. The fence allowed them to get to the brook for water. The horses got their barn the next year and enjoyed comfortable lives for a few years. Eventually both horses died of old age and were buried in Green's field across the brook.
"Everything took longer," she said "because I didn't really know enough about building." The house was finished the next summer but lacked plumbing and electricity. Over the ensuing years, she spent periods of time as a live-in caregiver.
"For the first time in 30 years," she said, "I could be away from home because I had no horses to care for."
Those local jobs allowed her to spend some time at home to tend her herb gardens and continue working on the outbuildings.
She is now engaged in a course of study with herbalist Rosemary Gladstar, and she works at a plant nursery in spring and late summer and at a ski shop in winter. She has also been doing concrete work with two friends in the summer.
She has lived frugally but managed to buy a good chainsaw early on so that she could clear land and cut her own firewood. In the same careful way, she saved enough to buy a log splitter, rototiller and eventually a tractor. Last year she had a well dug and now has running water, and as of last summer she has electricity and a refrigerator.
Nothing has been easy, in the usual sense of the word, for this strong and determined woman, but, she said, "I am so glad that I've found out that I actually can do it by myself!"
Green also loves to ski, play drums and guitar, play with her 8-year-old grandson and sit by her brook and absorb its beautiful rhythms. She likes to read and is a thinker and spiritual seeker, kind and generous to all beings who cross her path. She can be contacted at 207-461-2291 or [email protected].
About the author: Joyce White studies, grows and gathers medicinal plants in her garden and the fields around her home in Stoneham, Maine, with the aim of becoming more self-sufficient in healthy aging.
This article is for information only; please consult a health care practitioner if you have a serious medical problem and to learn about possible side-effects of herbs.