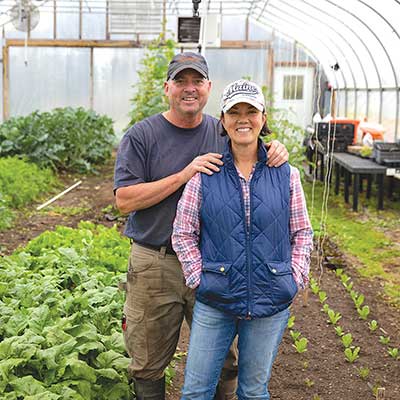 Tim and Anne Devin of Chase Stream Farm wanted to do something completely different after their careers in the military.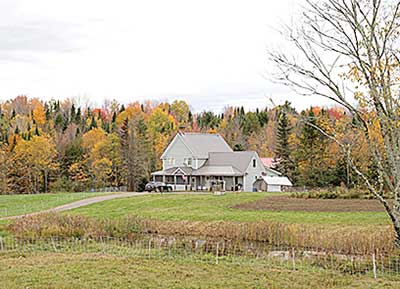 The Devins bought their 72-acre property in Monroe in 2016 and continue to refine their plans for the farm.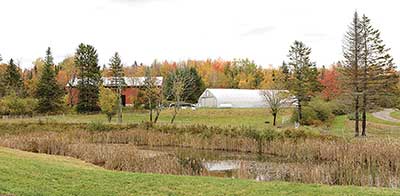 The farm pond provides irrigation water.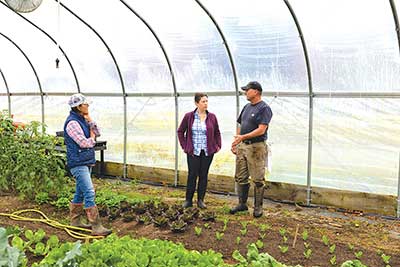 Sarah Alexander, MOFGA's executive director, toured Chase Stream Farm in 2018.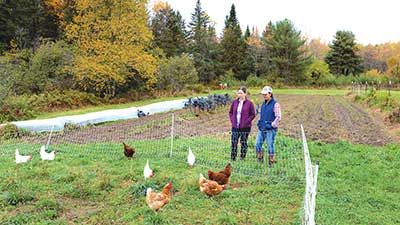 In addition to raising MOFGA-certified organic vegetables, the Devins raise bees, meat animals, layer poultry and a small herd of Katahdin sheep.
By Sonja Heyck-Merlin
Photos by John Williams
"I think we both woke up one morning and asked ourselves what we were doing," Tim Devin (age 58) says. After 23 years as a Marine helicopter pilot, he was on a second career at the Office of Naval Research in Washington, D.C. Anne (age 51), now his wife, was ready to retire after 27 years as a Marine intelligence officer. "We just wanted to do something completely different," they say.
Homesteading in Newport, Rhode Island, was their original idea. Beyond finding a place to grow food, being back on the Atlantic shores of New England would put Tim close to his family and The International Yacht Restoration School. Ever since his days of watching the America's Cup races from the jetty in Newport, Rhode Island, Tim imagined being part of New England's marine industry.
"From a value perspective," Tim says, "everything in Rhode Island was overpriced," so they reconsidered their plans and left boat school behind. They started thinking about a diversified farming venture. Tim enrolled in an associate's degree program in sustainable agriculture at the University of Massachusetts, and they extended their land search into New Hampshire, Massachusetts and Vermont. Their desired land base grew as they imagined incorporating livestock. Another requirement was some amount of established agriculture infrastructure.
They became discouraged after a year and a half of searching. Then, at the end of 2015, Tim saw an ad for an organic vegetable farm in Monroe, Maine (formally Rolling Acres Farm). Optimistically, he told Anne that "he thought he'd found it." He was right. They saw the 72-acre property for the first time in November and owned it by the beginning of 2016. "We moved up and set off running," they say. This is their third growing season.
Over the past three years, the couple has brought the farm back into a diversified agricultural enterprise including MOFGA-certified organic vegetable production as well as bees, meat, layer poultry and a small herd of Katahdin sheep. Their ultimate goal, they say, is to "establish a veteran training program that will enable us to stay involved with our military community."
Growing Specifics
The steep and hilly terrain, bisected by Chase Stream, is part of the northern Penobscot Bay watershed. All farming activities take place on the 30 acres on the east side of the stream. The western side is primarily wooded.
"The farm wasn't turnkey by any stretch of the imagination, but it was 60 percent of the way there," Tim explains. It includes a house, a 40- by 80-foot covered compost facility, 2,000 feet of buried pipe supplying frost-free hydrants in various locations, a small commercial kitchen and an apprentice cabin.
Their major capital expenses have related to equipment. They purchased a 38 horsepower L3800 Kubota tractor, a 5-foot Land Pride PTO-powered rototiller, and a Rain-Flo 2400 combination implement that shapes beds and lays drip tape and black plastic.
Two acres of vegetables are laid out on four plots; the primary soil type is Marlow fine sandy loam. To facilitate irrigation under the plastic mulch, they use plots easily serviced by the network of frost-free hydrants. After tilling fields, Tim uses the Rain-Flo 2400 to form 3-foot-wide by 6-inch-high beds, lay the irrigation drip tape and the plastic mulch in a single pass. Three-foot-wide pathways separate beds. Rows are 100 feet long. "The standard length helps us with calculating yields and knowing how many transplants we need per row," Tim says. Purchased mulch hay suppresses weed growth in the pathways. The following growing season, the new growing rows are shifted 3 feet to coincide with pathways that were covered in mulch hay the previous year.
Mixed lettuce is an important field crop, and Tim credits Johnny's Salanova for increasing the efficiency of salad mix production. "Basically, it's a cored head lettuce. You remove the core with a little tool almost like an apple corer, and you can make your own custom small leaf, spring mix lettuce blends," Tim says. The Devins succession plant Salanova every 10 days in their seedling greenhouse – a cordoned off, heated section of a high tunnel – and then transplant it into plastic mulch at a 6-inch spacing.
They use four colors of plastic mulch, depending on the time of year and crops being grown. "We use black early in the season to keep the soil warm," Tim explains. "Later in the season, we switch to white plastic to keep the soil cooler for our leafy greens. For cucurbits, we use metallicized mulch as a deterrent for cucumber beetles, as the underside of the plant gets blasted by the sun and makes the beetles miserable. Red mulch is reserved for solanaceous crops, as it increases the amount of far-red (FR) light available to the plants, which enhances both growth and yield."
Connected to each frost-free hydrant are three-quarter-inch lines with filters, control valves and Mazzei fertilizer injectors supplying five-eighth-inch drip tape under the plastic mulch. The drip tape has holes at 6- or 12-inch spacing, depending on the crop. Tim says, "The drip tape under the plastic mulch is either a single or double run, depending on what we grow. For example, with beans we have four rows in a 3-foot bed, so we run two sets of drip tape and plant on either side of the tape."
They determine irrigation needs with a REOTEMP moisture probe. The plastic mulch reduces the irrigation demand dramatically by minimizing evaporation. Without plastic mulch Tim doubts the drilled well could supply enough water.
They fertilize with fish emulsion through the drip irrigation system – a process called fertigation. Tim uses soil analysis and nutrient requirements for each crop to decide how to adjust the Mazzei fertilizer injector flow rate. He fertilizes most crops once a month. They also spread purchased compost by hand according to soil test results.
Winter rye is the primary cover crop because it can be planted late in the season and is more economical than oats, clover or vetch. The Devins seed cover crops with either a PTO-driven broadcast seeder or a commercial walk-behind seeder (similar to those used by golf courses).
They have one 30- by 72-foot high tunnel and have received NRCS funding for two more. In the Devins' experience, the midsummer vegetable market is saturated. They plan to use the two new high tunnels to expand upon their success growing and selling crops late in the season. Primary high tunnel crops are herbs (dill, basil, parsley, oregano, thyme and sage), lettuce, spinach, bok choy, Asian greens, kale, beet greens, chard, salad turnips and radishes. Aphids are a significant pest problem in the high tunnel, but they control them with ladybugs and with neem oil sprayed from the overhead irrigation system. They weed with hand tools and a backpack flame weeder.
During the winter of 2017-18, Tim and Anne grew vegetables (mostly leafy greens) by heating the high tunnel with propane. While customers loved the fresh vegetables, Tim and Anne found that heating the high tunnel required too much propane to be profitable.
Creating Diversity
In addition to veggie sales, last year Anne capitalized on the commercial kitchen and debuted a line of value-added products. They include relishes (one called Cukes of Hazzard), kimchi, chutneys, and a Korean-style hot sauce called Kojang Sauce, a nod to Anne's Korean ancestry. She also sold fresh seasonal soups in glass quart jars – coconut cauliflower, creamy green bean, cold cucumber, and Spanish creamy tomato. Although she sources most of the ingredients from their farm, Anne will purchase ingredients as necessary. The product line is not yet certified organic, but Anne expects to certify at some point.
Anne says, "I really enjoy the value-added production, but we're still waiting to see how it all pans out financially." The Devins are entering their second year as MOFGA journeypersons. Heather Omand, MOFGA's organic marketing and business specialist, is helping them evaluate the profitability of their field and high tunnel crops and of the value-added products. If the financial analysis supports it, Anne says she can imagine "increasing the production of the value-added products."
Livestock are increasingly important on the farm. The Devins began with laying hens, added a few pigs for personal consumption, and last May welcomed five Katahdin sheep. Bred to lamb this spring, the sheep graze on large paddocks in a 12-acres pasture. Tim uses Premier ElectroNet with a 1 joule solar powered fence charger. With no permanent fencing in place, they depend exclusively on 164-foot sections of netting.
"The animals are an important part of the farm," Anne says, "but we want to keep the herd size manageable." They can, however, see increasing the breeding stock to 15 to take advantage of their ample pasture land.
Veteran Training Program
Settling into Maine, learning the ways of their soil and land, and establishing their business and markets have consumed the last three years of the Devins' farming career, but they continue to plan for a residential veteran training program. "Tim and I have found our own peace in being away from the demands of the life that we had as Marines," Anne says, and they hope to share both their military and agricultural experiences with other veterans.
Their plans include a structured curriculum that will allow veterans to take advantage of education funding programs available to them. "Ours will differ from a regular farm apprenticeship," Anne explains, "because it requires us to have an official and validated curriculum." Currently they are working with various agencies to design a program and hope to bring on their first military veteran apprentices in the spring of 2021.
One of the biggest hurdles is their current lack of housing for apprentices. An existing cabin is large enough for only one person, and they would like to host three to four apprentices at once. Anne recently applied to the Maine Cabin Masters, a reality TV show that follows a team of Mainers renovating cabins across the state.
This winter Anne has been doing veteran outreach work part-time with MOFGA and Maine AgrAbility. In her opinion, one of the biggest challenges facing veteran farm operators is their lack of business skills. She admits that she too has struggled with the financial aspects of running a farm business. "There is especially a real reluctance to charge enough for our product," she says. "We didn't go into farming thinking we were going to be the next Bill Gates, but there has to be some way to make enough money to stay economically sustainable."
"One of the best parts of this farming experience is feeling comfortable calling ourselves entrepreneurs," the Devins say. Beyond sharing their knowledge of growing vegetables, making value-added products and raising livestock, they plan to devote a significant part of the veteran apprenticeship to entrepreneurship and financial analysis.
Changing Strategies
After a winter of introspection and recalibration, the Devins have decided to scale back in both size and scope for the 2019 season. Growing plots will be in cover crops during the spring and early summer, with the intention of ramping up production in late summer for fall crops. The two high tunnels that they will put up this summer will allow them to increase fall production.
The frenetic pace of the last three years combined with no hired help and some personal family needs have the pair reassessing where to focus their energy. "When we got here, we never even fully unpacked," Tim explains. "We've been talking together and realize that we need to focus on some things this year that we should have done when we first got here. It will allow us to get back in balance."
Looking toward the future Anne says, "We anticipate scaling back on diversity and will focus on producing larger volumes of what we grow well." Primary field crops will be alliums, brassicas and leafy greens, with a deemphasis on nightshades and winter squash. In late 2018 they dropped the United Farmers Market of Maine in Belfast. In 2019 they plan to concentrate on their wholesale accounts: The Hichborn (farm-to-table restaurant in Stockton Springs), the Lincolnville General Store, Waldo County General Hospital and school district RSU-22.
About dropping the Belfast market, Anne says, "I knew it will be hard to find another market that generates that level of visibility and income, but it just didn't fit into our holistic vision of spending time together as a family. With teenage boys in the house, I needed my Saturdays back."
The Devins are no strangers to stress and tension, having both served in war zones as Marines. The inherent challenges of commercial agriculture – juggling family and farm, economic worries and the weather – is a new kind of stress. The pair credits the military for "helping from a discipline perspective and being able to say to ourselves, 'I am not going to let this beat me.'"
The flip side to the challenges are the open arms that have welcomed them into both Maine's veteran and agricultural communities, the crunch of a creamy white November Hakurei turnip, and the joy of leading the sheep into a new pasture. "It's hard to beat rolling out of bed and going to work," they say.
About the author: Sonja and her family own and operate an organic dairy farm in Charleston, Maine.