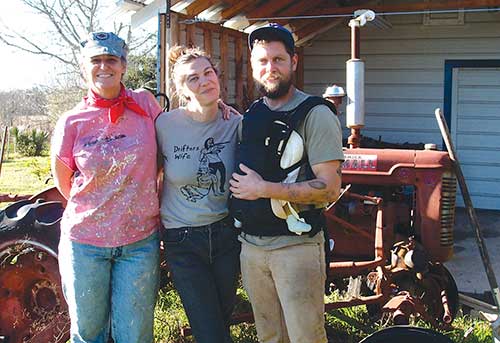 Left to right: Katie Pitre, Finnegan Ferreboeuf and Jason Gold (with Izzy) at Tecolote Farm.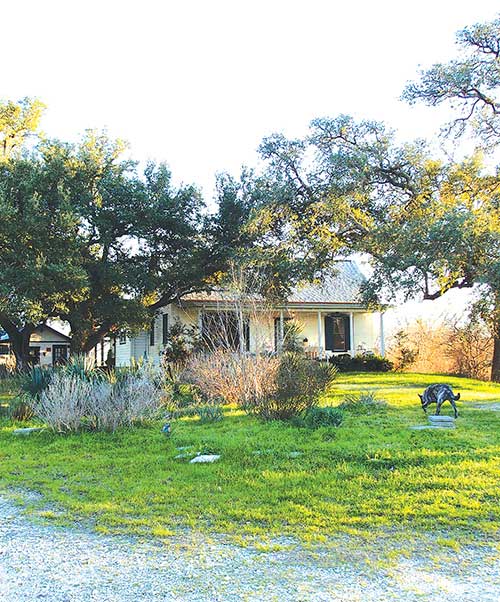 The lovely farm house at Tecolote.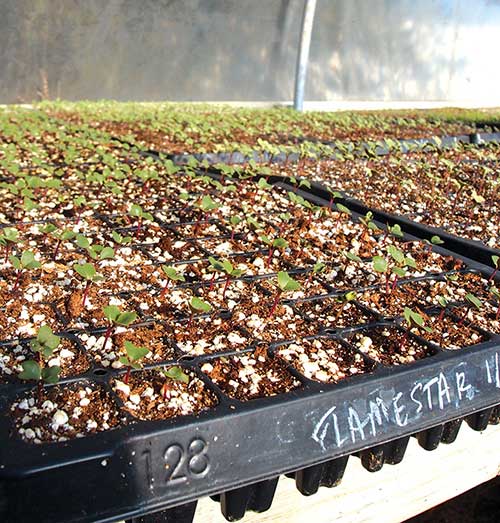 Seedlings in the greenhouse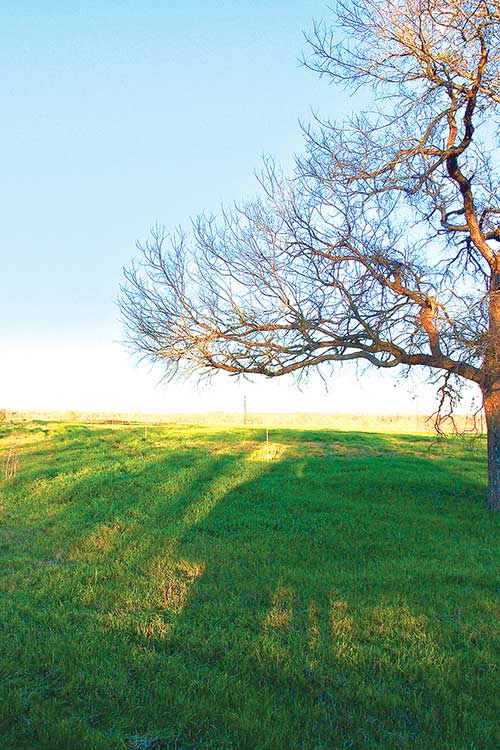 A field planted to a cover crop
By Jaco Schravesande-Gardei, Associate Director of Crops, MOFGA Certification Services, LLC
I often say that working for MOFGA Certification Services (MCS) is mostly a social job – that before the knowledge of organic growing practices, of the National Organic Program rule, etc., come into play, we try hard to keep the human touch in our work while staying within the National Organic Rule. Clients call and explain why their paperwork is late; inspectors report that their record keeping was not so good as last year because of the birth of a baby; a farmer has to change growing practices due to a health issue. Our clients are not just clients, so when farmers occasionally surrender their organic certificates, I often wonder how they are doing.
One such client this year was Steelbow Farm, which moved its operation to Austin, Texas. In our email exchange, the farmers, Finnegan Ferreboeuf and Jason Gold, asked if MCS could still certify them in Texas. We considered this, especially since three of us would be in San Antonio for the National Organic Certifiers training in February. However, we decided that we could not certify them since parts of the National Organic Program rule would have been hard to comply with from so far away.
The Move to Tecolote Farm
Since I was going to be close to Austin, though, I did ask if I could visit their farm there to see how they were doing and to hear about farming in Texas. So on a sunny afternoon I drove to their new farming location at Tecolote Farm. The drive brought surprises, such as zebras grazing alongside the road. I later learned that they are bred for hunters. Less surprising were some huge housing developments.
The farm is about 13 miles from Austin. A long driveway through growing fields leads from the road to the lovely farm house. Behind the house are typical farm buildings, which is where I found Gold, Ferreboeuf and their newborn baby, Izzy. The parents looked energetic but also a bit tired – no surprise with the birth of a baby and a huge move just behind them, all in less than two months!
David and Katie Pitre bought Tecolote Farm in 1993 and started one of the first organic CSAs in Texas the next year. On the 65-acre farm, 6.5 acres are used for vegetables and 10 to 12 acres are pasture. At the high days of the CSA, to accommodate 350 members, they bought a couple of more acres suitable for vegetable growing from a nearby ranch. In 2014 Ferreboeuf worked at Tecolote. After that, when visiting her parents in Austin, she stayed in contact with the Pitres.
In the past two years, the Pitres had stopped the CSA and were still selling wholesale but were thinking of retiring, so in the fall of 2019 they talked with Ferreboeuf and Gold about leasing the farm. That's when the thinking and listing of pros and cons started for the Steelbow farmers, who at first thought the idea seemed a bit crazy. They wondered, do we stay in Maine or move our whole operation to Texas?
Ferreboeuf said the decision was hard as they love Maine and had come here in the first place because farming is cool and doable in our state. They were MOFGA journeypeople, and they had great customers who became friends. Also Texas has far fewer younger farmers and much less of an organic farm community. However, they would be closer to family there (handy with a newborn!), they could grow year round, and the opportunity to lease Tecolote was too good to pass up. So Ferreboeuf boarded a plane with Izzy, and Gold and a friend rented a box truck and drove all their farming equipment and other possessions from Maine to Austin.
Soil, Climate, Weather and Pests
Growing crops in Texas is a lot different from growing in Maine. The couple started many of its seedlings on January 13 and started plowing in the third week of January, which was late due to the move. Their soil has a lot of clay but is not super heavy. The climate is very different. In Austin you can grow year round, but August is the most challenging month as it is just too hot. Only okra, melons and summer squash might still be happy. Instead of thinking about extending the season by keeping greenhouses warm, people in Texas work to cool their greenhouses with shade cloth, swamp coolers (evaporative air conditioners) and wet walls (walls with evaporative cooling pads). Lack of water is an issue for many Texas farmers. Tecolote gets water from a creek and a 4,000-gallon catchment system that was installed after a nearby housing development undermined its primary well.
Gold said he needs to learn about the different pest situation. When they moved to Maine, they thought that pests would not be bad here. However, the flea beetle pressure was much worse in Maine than on any of the Texas farms where they had worked. Colorado potato beetle and hornworms are not so bad in Texas, either. Squash bugs and other shield bugs, however, can be bad, as can blister beetles, which defoliate chard and beets completely and leave their frass on everything. They are called blister beetles as people who are allergic to them get blisters as a reaction. Slugs, cutworms, cabbage loopers and grasshoppers can also be problematic. However, as Gold states, pests in Maine are like the farmers in Maine: They have a short window, so they have to use that as best they can; that is not the case so much in Texas.
Gold and Ferreboeuf expect less disease pressure than in Maine. They never see blight in Texas, and the drier climate creates much less fungal pressure, but some mildew and mosaic virus diseases can be issues.
Just as the growing season differs, so do weather patterns relative to those in Maine. Drought, tornadoes, hail and, in spring and fall, big rain and flood events can make farming challenging.
Still Tied to the Northeast
Remarkably similar, said Gold and Ferreboeuf, is sourcing their inputs and seeds. Small vegetable growers in Texas have no local fertilizer, compost or seed suppliers, so the couple still gets those items from places they used in the Northeast.
Gold and Ferreboeuf plan to visit Maine in August, when things are slowest in Austin, and they plan to remain on MOFGA and Maine's listservs and other outreach platforms so that they can stay connected with our farming community.
Asked why they had hoped that MOFGA Certification Services could still certify them in Austin, they said they had loved working with MCS, which was easy to communicate with – and the reputation of MOFGA and the other Northeast certifiers is better than that of the big certifiers. The latter, said Gold, are just different, especially regarding hydroponics and animal welfare. He and Ferreboeuf believe that MOFGA is doing the right thing and is a good advocate for smaller farms. Katie Pitre told them that she and her husband always felt very tense during their organic inspection. Having people come onto your property and inspect it can feel intimidating, but Gold and Ferreboeuf always felt that MOFGA inspectors really want farmers to succeed, and they were never nervous about their MCS inspections.
We wish the couple all the best with its new farming endeavor!