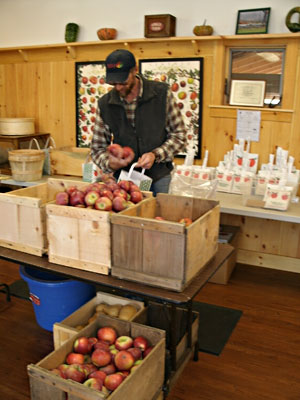 Scott Miller sorting apples into bags for sale inside the sales building. Joyce White photo.
By Joyce White

Maine Apple Day at Pietree Orchard in Sweden was a lively celebration of apples. Shelves were lined with crisp, just-picked apples, and trees were loaded with ripe pick-your-own fruit. Visitors enjoyed freshly pressed apple cider, apple cider donuts and apple pizza – with caramelized apples and ricotta cheese for the more adventurous, or traditional pepperoni for others.

The larger cause for celebration, though, for those who want to keep Maine farmland growing crops instead of houses, is that this hilltop orchard with spectacular views is still producing apples.

The McSherry family operated the well managed conventional apple orchard for more than 75 years. When it came on the market in 2008, the land could have been a developer's dream. Instead, it was purchased by a Maine family with the foresight, vision and means to maintain the working orchard.

Margaret Morehouse, operations manager, said that when she and her sister first went to look at the property, they decided immediately to buy it to maintain the productive orchard and farmland for the foreseeable future. Morehouse also wanted to provide an enjoyable experience for local people and for tourists.
One of her innovative ideas to make visitors' trips to the orchard even more interesting was a sunflower circle. Morehouse had sunflowers planted in seven circles surrounding an old cabin formerly used as a sales center. Children and adults alike enjoy walking or running in the maze-like circles.
Another planting of sunflowers around the parking area and the building that houses the salesroom/ kitchen /office space was started in June so that their cheery blooms would welcome fall visitors. In addition, the flowers should help feed the five hives of bees that Pietree Orchard keeps for pollinating apples, strawberries, blueberries, peaches, pumpkins and veggies. (The blueberries and some squash and pumpkin plantings are grown using organic methods but are not certified yet, since the land is still in its three-year transition phase.)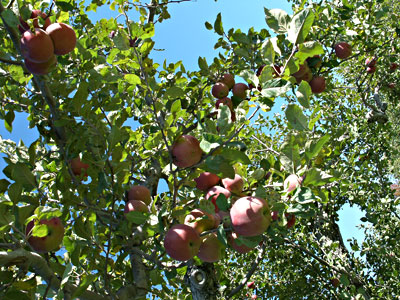 Organic apples at Pietree Apple Orchard in late October. Joyce White photo.
Beautiful and scenic as this land is, earning a living from its bony soil must have been difficult for the McSherry family. Of the approximately 50 acres, only about 25 are suitable for crops, explained production manager Scott Miller, who graduated from the University of Massachusetts Stockbridge School of Agriculture and earned "The Apple Doc" title from 30 years of working with apples.
Miller manages the section of orchard on the north side of Waterford Road/ Rt. 93 with organic methods – though not yet certified – and the section on the south side with IPM (integrated pest management) methods, partly because organic management costs more in time and spray materials. He said maintaining fertility for the trees that are transitioning to organic is challenging – especially maintaining adequate nitrogen levels economically. He has tried a pelletized chicken manure product but is still experimenting; and he is looking for the best clover to enrich the soil and attract bees. Also, sulfur applied for disease control is beginning to lower the soil pH, so he may add lime.
Miller said he constantly tweaks IPM to make it more efficient and effective and that he takes spraying on both sides very seriously, always thinking about the best times to do it. On the organic trees, he uses Pyganic (pyrethrins), Surround (kaolin clay) and Entrust (spinosad), a deterrent to the apple maggot fly.

Macs, he said, are perhaps the least well suited for organic production, and he may let the McIntosh trees on the organic side die a natural death. They are so susceptible to apple scab that he applies sulfur spray 15 times a season. But so many customers still demand Macs that Miller said he'll continue to use IPM to produce blemish-free Macs to meet customer expectations. In his experience, "Demand for organic is not yet exceeding the supply," he said.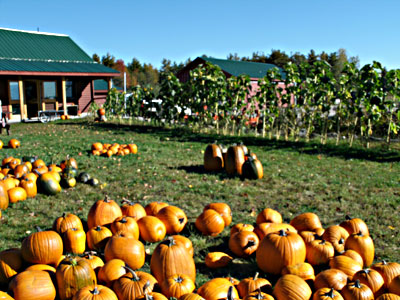 The exterior of the sales building at Pietree Apple Orchard in late October. Joyce White photo.
Last fall's apple crop was good, said Miller, except for losing the crop from eight 'Vistabelle' trees, an early variety that Pietree had planned to offer customers at the beginning of the season – until its blossoms got hit by frost.
Miller is experimenting with grafting heirloom varieties of apples, such as 'Black Oxford' and 'Westfield-Seek-No-Further,' onto existing trees, hoping to help maintain those old varieties and make them available again to customers.
"There's always something new to learn," said Miller, and he continues to partake of a variety of educational programs. He has learned the processes of beekeeping and cider making, of growing blueberries and day-neutral strawberries (which produce until fall frost), peaches and many vegetables.
"Response to fresh strawberries in August and September was great!" he said. He's contemplating experimenting with black plastic mulch on a few rows this year.

The peach trees were in full bloom in spring 2010 when a late May frost hit, so peaches were scarce last summer. "We are leaning more heavily toward 'Reliance' and 'P.F. 24-C,' which are supposed to be the hardiest varieties," Miller said. The latter is from the Paul Friday Farms' breeding program in Coloma, Michigan. Pietree has a number of the 'Stellar' series of peaches, too, and some trees from a trial at the New York State Agricultural Experiment Station in Geneva.

Miller manages the orchard and other farm work with the help of Bryce and Campbell, two men from Jamaica who have worked on the farm before and whom both Miller and Morehouse value. They live in a neat double-wide manufactured home beside the organic side of the orchard when they are working for the orchard. Work begins in early spring with pruning and grafting and continues through summer with fertilizing, pest control, and mowing, and into fall, for harvest. The vegetable plots, bees, berries and peach trees require care also. The orchard isn't open to the public during winter and spring, but farm work continues even then, with planning, ordering, building maintenance and bee care.
The new owners love the farm as the McSherrys did and have created a welcoming atmosphere. On fall weekends, Pietree offers hayrides until Columbus Day, and cider donuts will be fried in the new kitchen. In the sales area, two rocking chairs, placed in front of shelves of the farm's strawberry jam, invite visitors to sit and nibble a donut or sip cider or just rest and soak up the pleasant atmosphere and the smell of new donuts.

Pietree Apple Orchard is located at 803 Waterford Rd., Sweden, ME 04040; 207/647-9419; www.pietreeorchard.com.