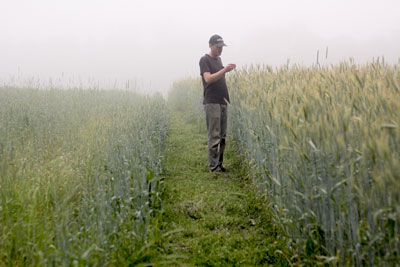 Sam Mudge checks on his field of 'Danko' winter rye (right) and 'Sirvinta' winter wheat (left). Photo by Aube Giroux.

By Holli Cederholm
Grange Corner Farm, a MOFGA certified organic farm, stretches across 30 acres of old hayfields on a windy crest with panoramic views of the Camden Hills in Lincolnville, Maine. Sam Mudge says that most of the active agricultural land in town is located here. The parcel that he and his father jointly farm − Mudge grows grains under the label Grange Corner Farm, and his father markets hops as Ducktrap River Hops − once provided winter feed for their family's sheep herd, which was pastured across the road on what is now a vegetable operation.
In 2010, after working on several Maine farms, Mudge launched his own enterprises on his father's land: He raised pastured pigs and a few beef cattle, selling the meat by the half and whole, while beginning to cover crop a 9 1/2-acre field planned for grain production.
"Seasonal livestock growing was an easy way for me to jump in and start making a little money," said Mudge. At the time the site had no infrastructure, and two-strand electric fence was a doable investment.
Over the next few years, Mudge shifted his focus to producing heirloom grains. The lack of regional production struck him while he was working at a farm that raised grains for both human consumption and for its dairy herd.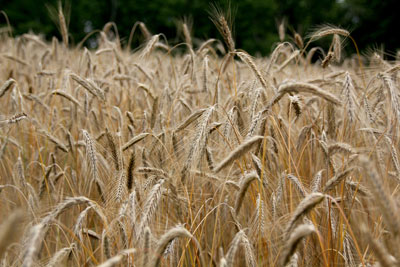 'Danko' winter rye, just before harvest. Photo by Aube Giroux.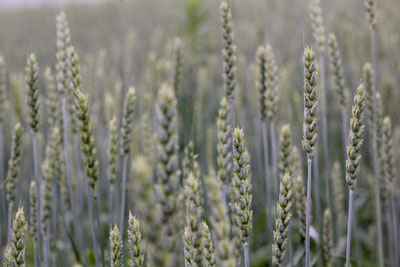 'Sirvinta' winter wheat in early July. Photo by Aube Giroux.
Mudge treated the 2011 season, and his plantings of rye, oats and corn, as a trial. His goal was "to grow the grain, figure out how to harvest it, figure out how to market it."
Which he did. He sold the rye wholesale to Valley Malt in Massachusetts. "It allowed me to bring in a crop; it allowed me to bring back the money I put into the field," he said.
Almost Forgotten Grains
Mudge does not want to plant just any grains. The heart of modern cereal breeding is not centered in northern New England, and Mudge looks to older open-pollinated varieties for better performance in the cool, short growing season of the Northeast. He also says that pre-Green Revolution grains may be better for us. They offer different nutritional profiles and may be easier to digest. "I'm really interested in tracking down these varieties that were grown in the Northeast," he said.
Annually, Mudge plants grow-outs of heirloom grains sourced from small seed companies, exchanges and repositories. "That's a huge obsession of mine," said Mudge. He also looks to cultivars that originate in places with a comparable climate, such as the Estonian wheat 'Sirvinta.'
Another recent trial standout is 'Canaan Rouge' winter wheat, grown from seed supplied by the Heritage Grain Conservancy. Mudge praises Canaan's good ground cover and tall straw, and its ability to withstand lodging on Grange Corner's windy site. Reliable maturation in high summer and a quick dry-down are other desirable traits. He notes that he has yet to test the baking quality firsthand, but trusts the previous farmers who have put in the selection work.
The largest barrier to heirloom revival is seed availability. Most of these lesser-known cultivars are available in quantities too modest for Mudge's medium-scale system. His trials are as much about getting to know a particular corn or wheat as they are about stock seed proliferation.
"I would love to have one to two varieties [for each crop] that I feel are strong," said Mudge. "And grow them out at least until I have several pounds, which is enough to plant larger plots that can be mechanically harvested."
Heirloom seed availability en masse has largely determined which varieties make the cut for Grange Corner's market-scale plantings. This is true of 'Red Fife,' a hard red spring wheat that once claimed distinction as the most widely grown wheat in Canada and has experienced a recent spike in popularity.
Similarly, Mudge has favored 'Early Riser' field corn – a modern-bred open-pollinated variety, selected by Jack Lazor at Butterworks Farm in northern Vermont − for his market-scale corn plot because it is available in bulk. 'Early Riser' does boast agronomic merits in its own right: Chiefly, Mudge is drawn to the strain's genetic variability. The golden-kerneled cobs exhibit both flint and dent characteristics, a throwback to its diverse parental lineage of five different open-pollinated cultivars.
In this respect, 'Early Riser' is more a gene pool than a pedigreed variety − which lends well to on-farm plant breeding. "That's the beauty of a composite variety, where you have all this variability," said Mudge. "If you're selecting seed, you're really adapting it to your exact conditions."
With the help of Mark Fulford, Mudge plans to do "his first true seed selection in the field." He is particularly interested in selecting 'Early Riser' for resistance to lodging, early dry-down of ears, and higher ear placement on the stalk – "just to have an open-pollinated corn adapted right to my location," said Mudge.
From Field to Market
As grain production declined in New England, so did the availability of appropriate infrastructure and equipment. This is another challenge to revitalizing grain growing in the region. And Mudge says equipment is key. Grange Corner relies on a combination of secondhand finds and do-it-yourself ingenuity.
Mudge favors hull-less varieties of cereals and says that corn is the easiest crop to grow with limited resources; harvest and cleaning can be done entirely by hand.
For his first cereal harvest, he borrowed a small Chinese model combine; he has since purchased a used Massey-Ferguson.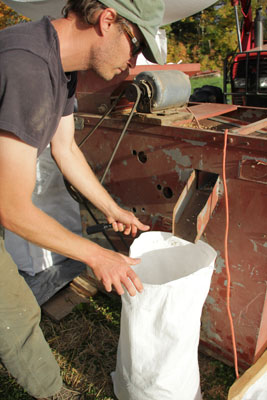 Collecting large straw and weed seed from the top screen of the AT Ferrell seed cleaner. Photo by Aube Giroux.
Mudge combines his larger plots of cereals at maturity − which he determines by sight rather than relying on a moisture-reader. He monitors color and curling and watches the forecast for a stretch of dry, hot weather. The combine mechanically performs the reaping, threshing and basic cleaning. Then the grain is sent through an AT Ferrell Clipper air screen cleaner. He feeds small grains through a hopper, and a pair of different-gauged screens combined with an adjustable fan of air removes straw, chaff and smaller weed seeds. "It's pretty slick," said Mudge. When the grain has dried to 14 percent moisture, Mudge sends a 1-quart sample of each variety to the University of Vermont Cereal Grain Quality Lab. The lab ensures the quality of the grain for human consumption by testing for a Fusarium blight-induced mycotoxin, commonly known as vomitoxin. The FDA prohibits levels above 1 part per million (ppm).
The lab also analyzes the falling number − the percent of grain that has germinated or sprouted pre-harvest. "It's just peace of mind knowing that the falling number is not too low and affecting the baking qualities," said Mudge. According to the UVM Cereal Lab Report, "In general, a falling number of 350 seconds or longer indicates low enzyme activity and sound wheat. As the amount of enzyme activity increases, the falling number decreases. Falling numbers below 200 seconds indicate high levels of enzyme activity and much sprouting damage."
Clean grain is stored in 1-ton tote bags on pallets in an aluminum freight container retrofitted to draw off any residual moisture. A small Jøtul woodstove sits at the container's entrance, adding heat to the air, and box fans circulate that hot air through the shipping container. Inside each tote a long, partially perforated tube and a fan help with aeration.
Mudge harvests his small plots of grain grow-outs by hand or with a mini-combine that the Maine Grain Alliance owns. He then threshes these small lots using a foot-pedaled thresher or a homemade device made from a plastic bucket, chain, metal rod and electric drill. He plans to retool an Amerind MacKissic chipper-shredder for this purpose. The final cleaning step consists of winnowing the grain with a set of box fans.
Farm-fresh Flour
In 2014, Mudge produced some 6 tons of wheat, corn and rye destined for local consumption. Most of Grange Corner's grains are custom-milled by Crown of Maine in North Vasselboro before heading to market. While Mudge does wholesale some flour − to a local baker featuring the 'Red Fife' in a whole wheat loaf, for example − the majority is sold retail.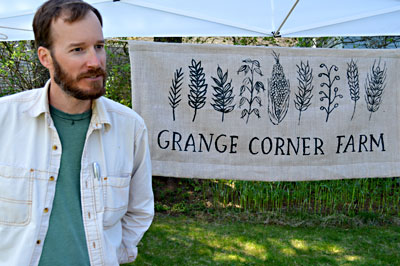 Sam Mudge at the Lincolnville Farmers' Market. English photo.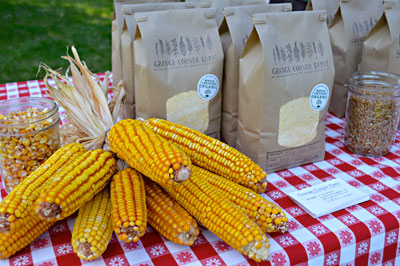 Grange Corner Farm corn and cornmeal at the Lincolnville Farmers' Market. English photo.
This year Mudge debuted 2-pound bags of farm-fresh flour, both wheat and rye, and cornmeal, at the Camden and Lincolnville farmers' markets. "Cornmeal is definitely my big seller," said Mudge. At $3.50 per pound, it sells well even though the price-point is considerably higher than that of cornmeal on a grocery shelf.
This is important, as corn is his most labor-intensive crop. Mudge anticipates refining his overall production by focusing on a couple of special varieties not available as freshly milled flours elsewhere. In specializing in just two crops, corn and spring wheat, he can catch up with obtaining the equipment needed for efficiency. Right now, it's a labor of love. "It's something we're doing because we really believe in it," said Mudge.
This strategy will parlay into marketing, including, said Mudge, "trying to educate consumers to appreciate and understand these older grains that are probably more nutritious for us and that are better acclimated to our growing environment.
"If they want to buy local, this is the stuff to buy."
About the author: Holli Cederholm, a Maine farmer, is general manager of the Organic Seed Growers & Trade Association.
Thanks to Aube Giroux for use of her gorgeous photos. Giroux is an award-winning food blogger at www.pbs.org/food/kitchen-vignettes/.