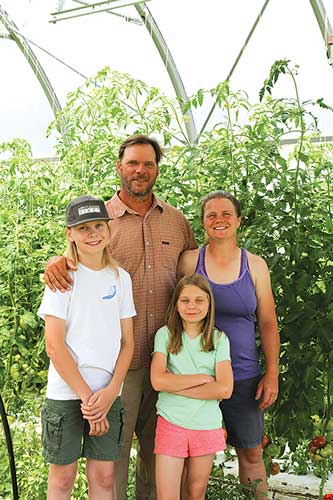 Alexander and Fasching have improved their profits and simplified their farm to the point where they can now take family vacations. Photo courtesy of Jericho Settlers Farm
By Jean English
Christa Alexander and Mark Fasching sell $1 million worth of vegetables, flowers and herbs produced on 30 acres of certified organic land at their Jericho Settlers Farm in Jericho, Vermont. The 150 acres consists of three pieces of land – one of about 30 acres, which is the farm where Christa grew up and where her parents gardened; 80 acres of farmland about 2 miles away; and a 40-acre farm that they lease in neighboring Richmond. Alexander and Fasching described the continuing evolution of their farm during their keynote speech at MOFGA's 2019 Farmer to Farmer Conference.
Starting as Homesteaders
They began with a homestead garden, growing good food for themselves while working off the farm. The garden kept growing, their son was born in 2005, and in 2006 they started farming full time with about 1 acre of mixed vegetables, four to 20 laying hens, 50 meat birds, six pastured pigs, no hoophouses and no CSA. They sold at a roadside table and at farmers' markets.
They now have 1.8 acres under hoophouses, a 150-member year-round CSA program, a year-round self-serve farmstand that is open daily and a seasonal off-farm farmstand. They also wholesale crops year round.
Their 14-member staff includes five full-time employees (including Alexander and Fasching) year round, four H2A employees and five seasonal local hires. The H2A program ensures a steady, full-season workforce. A crew of Jamaican workers has been with them for three years, limiting the need for training new workers.
Making the Jump
They attribute their growth to continuous learning and networking, communicating between themselves and with their customers and staff, working hard and working smart, seizing opportunities and always marketing. They wanted to scale up in order to feed more people good food year round and to show how to grow food and feed communities in a way that differs from the industrial agricultural model.
They also scaled up to access bigger markets. "Our area is very competitive, with a lot of farms and CSAs," they said. "To access bigger markets, we need to sell wholesale and remain profitable; to be profitable in wholesale, we need to improve labor efficiencies."
They found their inefficiencies by collecting data and running crop budgets to check their hunches. For example, they would track everything they did for hoophouse tomatoes for a given season. "The crew writes down every time they do a task, how long it takes. They don't do it every year on every crop but enough to understand what is profitable and where bottlenecks are on certain crops." Then the farmers ask, "Can we fix an unprofitable crop (or enterprise) with mechanization or a change in practice?" They project capital investments and calculate when the labor savings or sales increases will pay off. "Maybe the answer is to not produce that thing," said Alexander. "We've dropped many crops that we couldn't produce efficiently enough at the prices our market will bear."
In the past, "We were much more diversified than we are now," Alexander continued. At one point they raised 1,500 laying hens, 80 breeding ewes producing 100 percent grass-fed lamb, and 40 head of pasture-raised pigs. "As we figured out where our profit centers are, we've been able to reduce costs and simplify the farm. We finally got to the point where we can take family vacations and invest in our retirement."
Key Growth Points
The main growth point was going into year-round production fairly quickly, which drove a lot of investment. Their first CSA was a winter 2005 CSA – partly because of its market potential but also due to a fascination with the physiology of growing plants in the winter. To sell food all winter, they invested in hoophouses, equipment for harvesting, big storage coolers, a new barn for washing and packing, and a reefer truck for distributing a lot of food. By 2009 they had moved to year-round production and had year-round cash flow, year-round customers and year-round employees.
They built their first hoophouse in 2005 and today have 18, including two (soon to be three) with in-ground heat. A couple have propane heaters for short-term use. They no longer have mobile hoophouses because of occasional high winds in their area. If you're thinking about putting up hoophouses, "just do it," said Alexander, since hoophouses pay for themselves very quickly, especially with funding from the Natural Resources Conservation Service (NRCS).
They built their first large walk-in cooler in 2011, followed by four more coolers by 2014. "Investing in good cold storage equals longer crop life, more market flexibility and higher quality product for hoophouse and field-grown crops," they said. Half of the newer, 45- by 85-foot barn is for cool storage with different zones, much of it for root crops – carrots, beets, parsnips, potatoes – and cabbage.
To produce greens, the farmers use the same system in the field and in hoophouses. In 2011 they bought a Sutton seeder and a mechanical walk-behind greens harvester that harvests a whole bed at a time and enables one person to harvest over $1,000 worth of product (wholesale pricing) in an hour. They tried many washers as they scaled up and now have a China Joy greens washer and spinner, enabling them to move 500 to 800 pounds of salad greens each week. They bought the greens washer from China through Alibaba, wiring the money to a bank in Hong Kong – "a scary moment," said Fasching, but the washer showed up in the Port of Boston a couple of months later.
Fasching can now prep, seed (with the same Sutton seeder), cultivate and harvest their 8 acres of root crops (primarily carrots and beets) by himself. The crew hand weeds in-row once or twice. "Early weed control is critical," said Alexander. They've run the numbers and know their costs without good weed control, so sometimes they abandon a crop – as when they had a grass explosion in one field this year. "That's a hard decision to make," said Alexander, "but if you know what your costs are, you can make that decision to start over."
With an FMC Scott Viner root harvester purchased in 2013, they moved to a bin system with roots. They no longer harvest with a bed lifter, top crops by hand, put root crops in crates and then move them on hand trucks. Now Fasching can fill a bin with carrots in about 7 minutes. He can harvest 14 bins, each holding 600 to 800 pounds of root crops, and get them to the cooler in one day by himself. He could probably double or triple that with a helper.
More recently they bought a Nobels root and potato harvester from the Netherlands, which harvests a full bed width all at once, rather than a single row of roots at a time. (They had tried to source this and their greens washer in the United States, but little equipment here is made for their scale.) They use a bin dumper, conveyor and barrel washer for their roots washline. Their next investment will be a root sizer/sorter.
Instead of growing only unheated winter greens and not producing from January until March, they invested in two 40- by 196-foot in-ground-heated tunnels in 2013 and 2015. Minimal heat from wood pellets keeps greens at 28 F at nighttime for quality leaves in January and February, so their CSA members get fresh salad greens every week of the year, even in January and February in zone 4. The second crop of spring greens grows under tomatoes in April and May. An early cucumber harvest starts on May 5, zucchini on May 1 and tomatoes on June 1. Their wholesale and CSA customers love the diverse, early season offerings.
The three warm-season crops require some backup air heat on very cold April nights when the ground heat can't keep up. Alexander and Fasching are now calculating whether they should extend these crops later; i.e., will having cucumbers in fall or early winter be better than greens in a winter hoophouse? They don't want to push the needs of these crops so far that they're relying on huge energy inputs when the greens can grow without that energy.
Key Additions
In addition to upgrading their wash and pack equipment, they added more hoophouses so that they now have 1.8 acres under cover. To finance one of the big greenhouses that has in-ground heat, a restaurant partner who was pushing them to raise earlier tomatoes wrote the $35,000 check, which the farmers paid back, with interest, in product over the next 18 months. Likewise, the University of Vermont Medical Center wanted more winter greens, so it fronted the money for other hoophouses, and the farmers committed the crop from those hoophouses to the center to repay the loan – thus locking in sales as well as receiving financing. The farmers have also worked with their local bank for traditional business loans, and with Vermont Farm Fund, a low-interest, quick-turnaround, revolving loan fund that was established originally to accept donations after a barn fire at Pete's Greens. The NRCS has also helped fund some hoophouses.
They use soil steamers in hoophouses for winter weed control, which had been a bottleneck. The steamers "revolutionized chickweed control and paid for themselves quickly," said Alexander. They heat soil to 180 F for 30 minutes to kill all weed seeds (and moles) within the top couple of inches of soil. The farmers haven't seen any soil fertility issues, so they assume nitrogen-fixing bacteria are returning.
Key Retractions
In 2014 they stopped selling at farmers' market because they wanted to spend weekends with their kids. They replaced the lost revenue with wholesale sales, which have a lower profit margin but greater efficiencies. So they went from 100 percent retail sales to 75 percent wholesale and 25 percent retail (the farm stand and CSA). Of the 75 percent, 90 to 95 percent is local, and 5 to 10 percent goes to distributors. They noted that wholesale markets are increasingly saturated in their area, so that 5 to 10 percent is shipped on pallets to Boston and New York. For their twice-weekly local deliveries, their order minimum is $100 per stop along their route. They are constantly evaluating their markets.
Also in 2014 they stopped raising beef because of its low profit margin and issues with land access and cost. In 2017 they stopped raising broiler chickens, eliminating a spring labor bottleneck. They now purchase broilers from a neighboring farm. In 2018 they stopped raising sheep because of the very low profit margin and because they were stretched too thin by their management. They never made any money with sheep – until they sold them, joked Fasching.
In 2020 they will stop raising laying hens and pigs to reduce management needs, retain a smaller crew, and reduce cross contamination risks between livestock and vegetables. They can access these products from a neighboring farm. As part of their fertility and rotation systems, the farmers kept one of their river-bottom farms in vegetable production for four to five years and one in grazing and forage production for four to five years, then flipflopped. Now, without livestock, they are moving toward producing forage to sell to other farms and to maintain fertility. They grow more cover crops and more legumes in rotations, and they buy some composted chicken manure.
Between 2017 and 2019 they stopped growing many crops that require a lot of hand labor, including anything they had to bunch and most field-transplanted crops. (They still transplant in hoophouses.) They no longer grow bunching parsley, for example, but just grow parsley that they can harvest with their greens harvester and wash and sell loose. This optimizes use of the equipment in which they invested.
Alexander and Fasching cited a few rules of thumb for scaling up. Take risks, but calculated ones, they said. Network, ask for help, use available technical resources such as Extension and other growers. They learned about scaling up by visiting other farms – by seeing "the future us" – and Richard Wiswall's crop budget spreadsheets helped them.
Know your market and change with your market(s), they added. Try to grow what your market likes if you can grow those crops well. Don't race to the bottom to try to move your product and don't be ashamed to be paid for your products. "We work harder than most to produce something of real value. Find customers who value what you're doing. Some customers are more work than they are profit."
They also advised networking, communicating, apologizing, making good on mistakes, and being reliable and consistent. "One of the reasons people [especially wholesalers] buy from us is our reliability and consistency," they said.
Always be marketing, they added. Have a great logo that people will recognize right away. They are selling an increasing number of small bags of produce with their logo on the bags to stores, and they are looking for equipment to simplify this process. Alexander said she constantly asks loyal customers what they're looking for, or she asks them to buy something that is abundant in particular weeks.
Invest and mechanize as fast as possible in areas of calculated importance, they continued. Labor is one of the highest costs of producing vegetables.
Alexander and Fasching said they worked hard when they were young and smart when older. "We're always learning. We do what we love, but understand whether or not it's profitable, so we can do what we love for a lifetime."