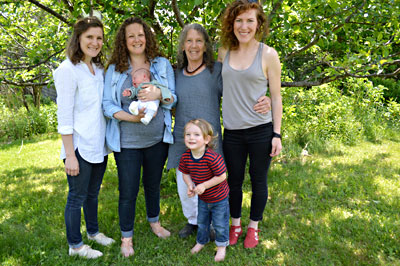 Gail Edwards' four children were born at her Blessed Maine Herb Farm in Athens, Maine. Shown here, under a favorite apple tree, left to right: Belle Hilmer, Rosa Rosario, Edwards, and Gracie Hilmer. Rosa is holding her newborn son, Emilio, while 2-1/2-year-old Mariano is front and center. Edwards' son, Johnny, not shown, lives on Nantucket. English photos.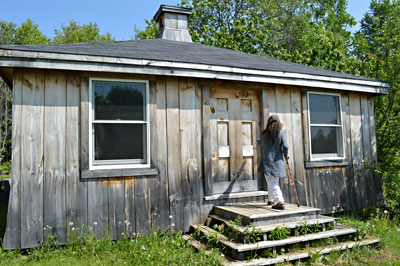 Edwards offers classes on herbs in the schoolhouse on her property (built by her son, Johnny), online, and at various locations worldwide.
By Jean English
Blessed Maine Herb Farm is a small family business "operated with great love, care, attention and intention," according to its website. All that love and care resonates everywhere on the farm – in the shaded, intimate gardens surrounding the new processing and shipping building, in the attached greenhouse with its Mediterranean clime, in the woodland trails being planted to threatened medicinal herbs and in owner Gail Faith Edwards' close-knit, deeply involved family and community.
This thriving, MOFGA-certified organic grower and processor has been cultivating herbs for nearly 40 years on beautiful Chapman Ridge in Athens, Maine, where Edwards and her helpers (two full time gardener/harvesters, an intern, apprentices and family members) grow approximately 4 acres of medicinal herbs and make teas, tinctures, syrups, elixirs, compound formulas and sell bulk herbs from their farm crops, from wild-gathered plants and sometimes from herbs bought from other certified organic growers.
Cultivating Her Place
The enterprise started precipitously, but Edwards' faith in nature – "the most beautiful landscape in the world" – brought her to a deeply spiritual and eventually bountiful place. Originally from Hoboken, New Jersey, Edwards spent the summers of 1971 and 1972 at a yoga ecumenical seminary in the Catskills. Someone there gave her a copy of Euell Gibbons' "Stalking the Wild Asparagus," and from then on she was always in the woods and fields, where she felt that "the plants were beckoning me."
In 1977, she and a friend came to the land in Athens. He soon departed, while Edwards stayed to cultivate a life as if the land and her ancestors were guiding and teaching her, she says.
She spent her first eight years here without power, which was "the most freeing thing; the greatest teacher. It was just me and nature. I could hear the voice of nature so clearly." She started making gardens little by little, using a mattock to break up the soil. Life was not easy.
"Anyone who choses to live close to the land doesn't necessarily have it easy," says Edwards. "But difficulty is not a bad thing. It can be beautiful. Just surrendering to life is when things really come together."
She was interested in herbs, so she began making and giving away teas and medicines, and bringing flowers and herbal oils to some of the local elderly people in nursing homes.
"As they started to smell these, they went from almost comatose to coming alive," says Edwards. "They started talking about their memories of finding plants in the fields and woods with parents and grandparents – goldthread, wild mints and many others. They were rich resources about traditional plant uses."
Much later the Internet appeared, "and my community expanded exponentially."
Between the mattock and the Internet years, Edwards gave birth to four children on the farm, settled into a satisfying rhythm of life with Jack Hilmer, and the whole family was deeply involved in the gardens and the herb business. Hilmer, who, sadly, passed away last fall, built several of the structures on the land; and the family eventually enjoyed the luxury of solar power.
The family is still involved. Son Johnny, who builds houses on Nantucket, does some of the woodwork (including building the School House, and the shingling and cupola on the new processing building); daughter Rosa Rosario is in charge of filling and shipping herbal product and book orders and helps with medicine making. Belle Hilmer and Gracie Hilmer help with herb gathering and more when they aren't at their other jobs. Son-in-law Adam Rosario drives the van that transports the Earth & Spirit tour groups that Edwards brings to southern Italy every year.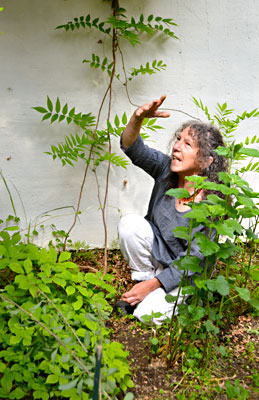 Ginseng grows under a wisteria vine in the greenhouse, where white walls reflect light.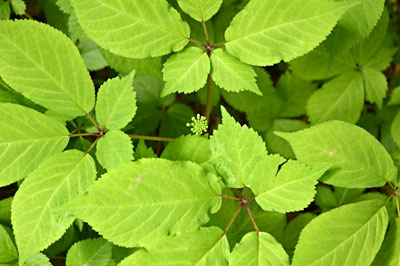 Ginseng about to flower.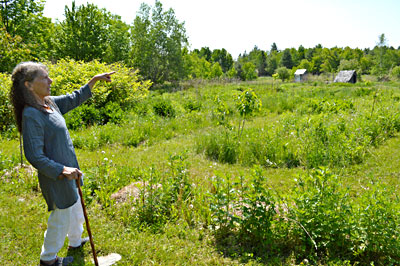 The outdoor herb gardens.
Greenhouse Incubator – A Little Bit of Italy
A greenhouse attached to a white-plastered wall of the herb processing facility and covered with a rigid double-poly material has the feel of Edwards' ancestors' Italy. In this bright, warm, intimate growing space, Edwards can "pay attention" to herbs she is learning about.
Bay laurel (Lauris nobilis), the source of bay leaves, thrives in clay pots set on the greenhouse floor. Codonopsis pilosula, with uses similar to ginseng, climbs a wall and spreads like a ground cover over part of the greenhouse soil. A lush bed of 3-year-old American ginseng plants (Panax quinquefolius), grown from seed obtained from Johnny's Selected Seeds, is flowering under the shade of a wisteria vine and should soon provide seed for outdoor woodland plantings.
Rhodiola rosea, rose root, is a perennial in its second year here. The Native American adaptogen (an herb that increases general resistance to stress) is now most commonly grown in Siberia but may be headed for Blessed Maine's ground as well.
A fig that overwintered in the unheated greenhouse died back to the ground but regrew from the roots. Edwards will give it more protection next winter.
Other plants in this living laboratory include schisandra, chaste tree, gogi berry, lemon grass, licorice, wild yam and more.
Production Gardens
Outdoor production gardens surround the home and processing/shipping building and provide for the dozens of products Blessed Maine Herb Farm sells. Wild marjoram spreads from the edge of one plot to the beginning of the woods. Nettles, echinacea, astragalus, yarrow, hyssop, wormwood, Our Lady's mantle, fennel, anise hyssop, calendula, St. Johnswort, skullcap, Greek mullein … all grow in meandering beds with paths mulched with straw.
Tansy is dug so that roots can be sold to Fedco. "It's now being planted around orchards to attract pollinators to fruit trees and repel harmful pests," says Edwards. She wonders if tansy and other aromatic herbs might repel ticks, as well. "In all the years my gardeners and I have been working in these gardens, we've never had a tick on us [while working here]. I am now researching what plants to grow to help repel ticks" from an area of land, she says.
A small plot of Japanese knotweed (Fallopia japonica) appears to be kept at bay by another small plot of comfrey – both considered invasive by many, but also useful. Edwards makes a tincture from fall-dug roots of knotweed to help control symptoms of Lyme disease.
Fruit trees – apples, plums, pears, cherries – and rose bushes grow among the herb beds. Edwards and her helpers harvest rose petals in June and July to "enliven many tea blends" and to create their award winning Rose & Vanilla Elixir, which took first place at the International Herb Symposium two years ago. Later they harvest rose hips.
Black walnut, hawthorn and linden trees also populate the landscape, and a hedgerow of sumac supports birds and pollinators and acts as a windbreak.
An acre plot of oats will be harvested for milky oats – the grain in the milky stage. This nourishing and revitalizing product is in such demand that Edwards and several other certified organic herb growers in central Maine have formed the Maine Organic Herb Growers Cooperative to collectively fill large contracts for Mountain Rose Herbs in Oregon, which needs a minimum of 300 pounds (dry weight) of any one herb at a time.
"There is no limit to how many milky oat tops we can sell at this point," says Edwards. "It is a great crop for organic farmers, as it enriches the soil and there are two harvests – the milky tops and the stalks, which can either be tilled in for soil food or harvested and used for mulch or tea." The cooperative is growing hyssop as well and hopes to attract other growers. Edwards thinks comfrey (Symphytum officinalis, not uplandica), peppermint and other mints, elderberries, lavender and roses may also be suitable crops for a collective of herb growers.
Some of the herbs that Edwards used to wildgather, such as St. Johnswort and skullcap ("Nature's finest nervous system tonic," says Edwards), are now cultivated at Blessed Maine in order to minimize population declines in the wild.
A shade garden grows Siberian ginseng, goldenseal, black cohosh, bloodroot and other woodland medicinals in ground amended with Living Acres soil mix. Incorporated into the shade garden is a small pond, much loved by frogs and by Edwards' four grandsons.
Witch hazel grows at the edge of the pond, and Edwards says this is one of her favorite plants "because it doesn't do anything it's supposed to. It does what it wants," flowering long after any other shrub.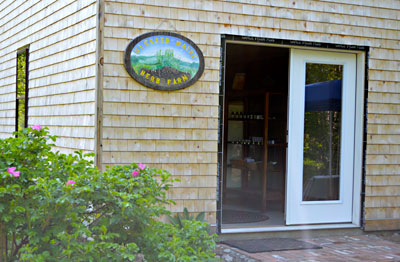 The herb building was constructed to satisfy FDA requirements and with funding help from the Somerset County Economic Development Corporation.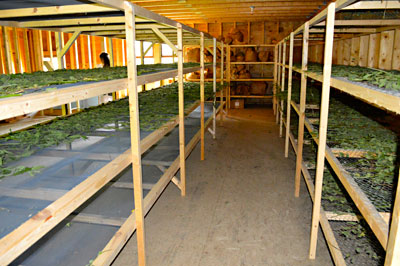 Spacious racks on the second floor of the herb building have made the drying process much more efficient. Racks have different mesh screening for different herbs.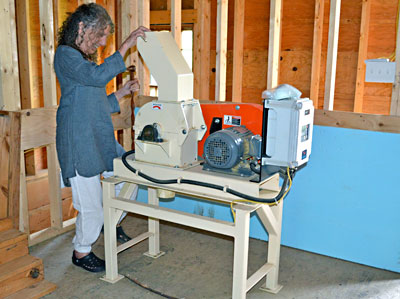 Once herbs are dry, they can be ground in this Schutte Buffalo hammer mill.
A red maple tree that Edwards noticed in the lawn when it sprouted now holds a baby's swing and is large enough to shade the entire family. "I've been connected to it since it was just two leaves in the ground," says Edwards. "Maple trees love families."
FDA Inspires a New Facility
For decades Edwards was able to process herbs in her licensed home kitchen. But FDA's Good Manufacturing Practices rules that went into effect a few years ago required that she have a separate building for receiving, processing and shipping her products. So Edwards matched a $37,000 grant from the Somerset County Economic Development Corporation and had a 30- by 40-foot, two-story structure built, with a large open herb drying space upstairs and a production kitchen, order filling space, small retail apothecary shop and office downstairs. The drying space has been used for two summers now, "and it is simply but beautifully designed and functions perfectly!" says Edwards.
Into the Woods
Moving farther into the landscape, Edwards is now immersed in her "old lady legacy project" – restoring 40-plus acres of heavily cut woodland adjacent to the farm that she bought a couple of years ago. Working with a local forester, Somerset County Cooperative Extension and the USDA Natural Resources Conservation Service, she is developing a plan to reforest the land and to interplant native medicinal herbs, shrubs and trees, cultivating it as a wild medicinal plant sanctuary (especially for threatened species) with well marked food and medicine trails and botanical markers with full descriptions of plants. She has already planted 25 elderberry shrubs, a bed of Solomon's plume and one of Solomon's Seal, and in an attempt to halt road erosion, planted red clover and native grasses.
This forest land extends to the Wesserunsett Stream, a critical salmon waterway and a beautiful place for a picnic or a soak.
"This is what I want to leave to my community," says Edwards, "so that kids will know that the woods offer so much more than trees to cut. There's such a wealth of nourishment and learning available in our precious woodlands. I've been held in the loving embrace of this community for so many years; this is my payback on a grand scale."
Propagating Deep Knowledge

Blessed Maine's gardens are intended for teaching as well as production, as Edwards offers monthly plant walks, classes, bi-weekly apprenticeship meetings and an herbal medicine correspondence course through her Blessed Maine Herb Farm School of Herbal Medicine. The gardens also feature the Rosalia Festival (a day-long celebration of roses), a three-day Community Herbalist Retreat in June and an herbal medicine making day in July.
When Edwards isn't teaching in Athens or online, she is sharing her decades of experience farther afield. Early each spring she escorts her tour participants to the Garden of Minerva in Italy, which is the first medicinal herb garden in all of Europe, originally built to accompany the Medical School of Salerno. In July she teaches in Seattle at the Viridis Genii Symposium, and in August is at the New England Women's Herbal Conference. She was very excited to have been invited to share her observations about the effects of Baltic amber at the International Amber in Medicine Symposium in Kaliningrad, Russia, this September. The following weekend she will be at her booth at the Common Ground Country Fair, as she is every year. She will be speaking in the Herb Tent that weekend as well.
Edwards also shares her knowledge through her writings, including her books "Opening Our Wild Hearts to the Healing Herbs," "Traversing the Wild Terrain of Menopause" and "Through the Wild Heart of Mary." This spring she published "Prayers for the Wild Heart Tribe," a collection of earth honoring prayers from all cultures, belief systems, traditions and geographical locations around the world. She is now reworking a student handbook version of "Opening Our Wild Hearts."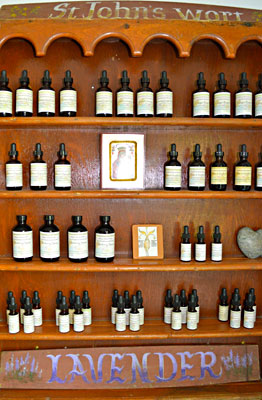 The apothecary display includes tinctures, salves, teas and more.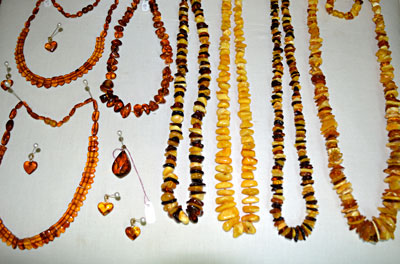 Some of the Baltic amber products sold at Blessed Maine.
Edwards, herself, continues to learn. About a dozen years ago she visited Monte San Giacomo, the village in Southern Italy where her grandmother came from. She returns every year to spend several months during the winter. Just as her early visits to Athens-area nursing homes opened the world of traditional Maine medicinal plants to her, Edwards is now reinvigorated intellectually by the Mediterranean plants she is learning about from locals there – bay laurel, olive, rosemary, malva and more.
Similarly, she learned about Baltic amber when she saw her infant grandchild wearing a necklace of the material to minimize the discomfort of teething. Amber is the resin exuded by pine species, fossilized over millions of years. Edwards' daughter-in-law Kasia Mikolajewska's family is from an area of Poland where large deposits of amber exist, and from which Edwards now orders the material.
Blessed Maine Herb Farm sells Baltic amber tincture, oil, bracelets and necklaces. Over the past half dozen years, Edwards has recorded case studies in which Baltic amber has enhanced the immune system, relieved pain, reduced inflammation, increased vitality, and more.
One woman who previously was too tired to work after lunch now uses the tincture daily and can work well into late afternoon. Another who has tendonitis started wearing a Baltic amber bracelet, and the pain was gone within an hour. The material "balances your energetic body; it positively affects us physically, emotionally and spiritually," says Edwards, adding, "It's also a very protective substance, especially against radiation, and is a proven adaptogen."
In her booklet "Natural Baltic Amber," Edwards says the effects of this material are attributed to its electrostatic properties, which produce health enhancing negative ions, and to homeopathic-level doses of succinic acid that the body absorbs from amber. (Succinic acid is a natural compound produced by all living organisms; Baltic amber contains about 3 to 8 percent succinic acid.)
Don't Hurry; Keep Learning
"I learned almost everything I know about plants from working directly with plants," says Edwards. "It is sacred work, a privilege and an honor, to grow plants for teaching and transforming them into medicine. An herbalist is a bridge, connecting plants to people. I like to talk to the plants, always thank the plants, but most of all I listen deeply to what they have to say."
Asked if she has any advice for young herbalists trying to start a farm and business, Edwards says, "Follow your wild heart. That's all I ever did. Don't worry about money. I love that saying, 'All is in divine order.' Don't be in a rush for anything. Do what you love one day after another, and your life will be beautiful."


Blessed Maine's gardens are open to the public, by appointment, during the growing season. For more information, please visit https://www.blessedmaineherbs.com/.


This article is for informational purposes only. Please consult a health care practitioner before treating medical conditions.