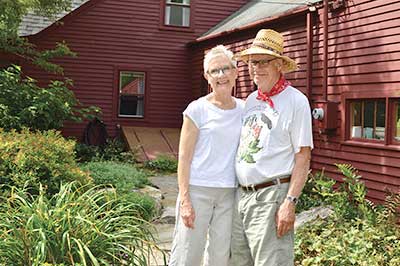 Mort and Barbara Mather have cultivated crops, kids, organizations and theater work in the decades during which they've lived on their MOFGA-certified organic farm in Wells.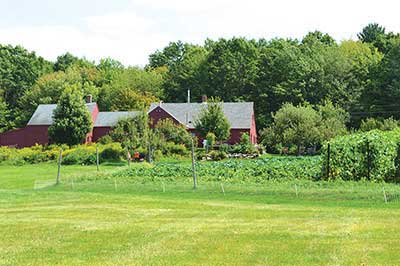 One of the five vegetable garden areas, with ornamentals and fruit trees planted around the house as well.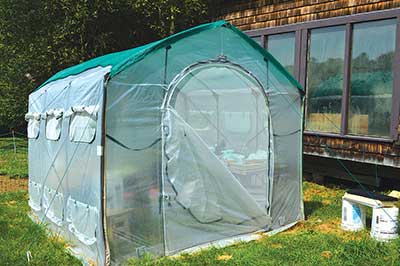 Mort starts seedlings in this small structure next to his equipment barn.
By Jean English
Photos by the author
Like a good crop rotation, Mort and Barbara Mather of Easter Orchard Farm in Wells have had a number of enriching careers and successes, and they have nurtured several groups – including MOFGA – along the way. Among the earliest careers in Maine was the 1-acre market garden that Mort cultivated. Now, some five decades later, he is back to farming that acre with the accumulated knowledge of many years and with a steady market: Joshua's Restaurant and Bar in Wells, owned by Mort and Barbara and their son.
Coming to Maine
Mort was raised on a New Jersey farm, served in the Coast Guard, and earned a degree in theater from the University of Wisconsin. He came to Maine in 1966 as stage manager for the Ogunquit Playhouse where, two years later, he met Barbara, a theater major at Northwestern, originally from New Jersey. Their romance didn't begin until the following summer when they both returned to the Playhouse. They were married before the end of the year "for tax purposes" Mort romantically jokes.
While looking for reasonably priced housing for the playhouse actors, Mort came across an old, rundown house on 100 acres in Wells. When he saw the sunset across the back field, he was sold. He scraped together enough for 20 percent down on the $16,000 property, which turned out to have fabulous soil. Mort and Barbara remodeled the house and raised their two children, Caitlin and Joshua, there.
The MOFGA Connection
Tim Nason, MOFGA's publications designer and website manager, says that the Mathers "have been MOFGA stalwarts for longer than just about anybody." In 1972 they attended the first meeting of the York County MOFGA chapter in Kennebunk with such early MOFGA members as Bill and Jean Noon, Tom and Kate Chappell, and Stacy and Marilyn Wentworth (founders of The School Around Us). The Mathers were among several natural leaders who were good at organizing and sharing, including Charlie Gould of UMaine Cooperative Extension, Chaitanya York, Abbie McMillen, Ken Horn, Jim Luthy and many others. In MOFGA's 40th anniversary book, we called them our organic superheroes. Without them, MOFGA would not have germinated.
Mort served as MOFGA's president in 1974 and in 1982 and 1983, but perhaps his proudest accomplishment was inventing the Harry S. Truman manure pitching contest at the Common Ground Country Fair. Not to stop at that high point, though, in 1997 he began coordinating a capital campaign to help fund our site in Unity – another effort from which MOFGA continues to benefit.
"I consider him a true MOFGA pioneer," says Nason, "and he is still a warm, dedicated and sincere guy. The York County chapter of MOFGA really helped drive the organization in the early 1970s. The Wentworth family was very important to the effort. Their involvement continues now with Frinklepod Farm," a MOFGA-certified organic farm owned and operated by Flora Brown and Noah Wentworth – Stacy and Marilyn's son.
The Market Garden, Take One
Easter Orchard was among the first certified organic farms in Maine, and Mort delivered his produce as well as fudge pies and maple-walnut pies that Barbara baked to southern Maine restaurants. He recalls that the chef at The Hollow Reed – one of the first quality restaurants in Portland's Old Port – was happy to get organic vegetables along with the pies.
At first Mort had no idea how much of anything to grow to supply his developing markets. "I just planted everything. I had a terrible time with weeds, because I had not found the 10-day rule (described below) then. I was using a lot of mulch (which kept the soil cool in spring) and didn't really have much to make it worth delivering until the carrots started coming."
On Mort's second delivery of carrots to The Hollow Reed, the dishwasher asked, "Are these those same carrots?" Mort said, "Yes," and the dishwasher said, "Oh, let me have one!"
Likewise, the Good Day Market in Portland, one of Maine's first co-ops, bought some Easter Orchard Farm carrots. Mort was delivering one day and heard a customer ask the store manager if she could buy all of them. She was told they were so popular that they were limiting sales to one pound per customer. Mort told him, "You can order more!"
On to Nonprofits
After Mort led the successful opposition to siting an oil refinery in Sanford, he was asked to lead Laudholm Trust, which saved a 250-acre coastal farm – now the Wells National Estuarine Research Reserve. A fulltime job directing and raising millions of dollars for Laudholm for 13 years took him away from the market garden, which shrank to a home garden for that period.
He left Laudholm when he thought it "was in good enough shape and could do well and probably better without me." After that he founded the Ogunquit Playhouse Foundation to save the playhouse from development.
Barbara was acting at Oak Street Theater in Portland and elsewhere then, so going back to farming and baking pies wasn't economically feasible for the couple. Coincidentally Barbara saw an ad in The Maine Times. John Piotti, then at Coastal Enterprises Inc., was seeking someone to set up the Farms for the Future program. He hired Mort, who says he had fun visiting farms all over the state and helping them develop management plans. Those connections with such enterprises as Wood Prairie Farm, Goranson Farm, Laughing Stock Farm and others eventually helped supply Joshua's restaurant for a while, says Barbara.
Mort also wrote articles and helped with The Maine Organic Farmer & Gardener; wrote a gardening column for the York County Coast Star for 20 years; he and Barbara wrote a book called "Gardening for Independence" in 1978; Mort wrote "How to Improve Your Life and Save the World"; and in 2016 he published the novel "A Stone's Throw, Orvie's Stories." Barbara wrote and performed the heartfelt "Taking Care of Mom" about the last years of her mother's life, and she wrote a recipe column, "Spoons and Spiders," for The Maine Organic Farmer & Gardener for many years.
Finding Joshua's
Joshua and Caitlin Mather grew up eating garden-fresh vegetables that Mort grew and Barbara cooked. When Mort made deliveries, he took young Josh with him when Caitlin was an infant. "So," says Mort, "Josh grew up going into restaurant kitchens, and from the time he was 14, he worked in restaurants."
As a young adult, Josh worked in a restaurant in Eugene, Oregon. There, within a year, he moved from dishwasher to sous chef, replacing two assistant chefs and supervising a staff of 35. After advancing as far as possible there, he came back East and worked in restaurants as a server or prepping food until he was hired to cook at 98 Provence in Ogunquit. There "he watched the chef like a hawk," says Mort. "That's where he learned about reductions."
Soon after he was hired as executive chef at Five-O Shore Road in Ogunquit, Mort and Barbara felt he was ready for his own restaurant. Barbara was in rehearsal for a show at Portland Stage the day the realtor showed Mort and Josh the building that is now Joshua's. "We knew this was it," says Mort. "We could see the whole thing." In 2004, Mort, Barbara and Josh bought the historic colonial home, built in 1774.
Josh's experience as executive chef at Five-O qualified them for an SBA loan, and after years of living without a mortgage, Mort and Barbara "literally bet the farm on it," says Mort. "We maxed out the [loan on their Wells] property."
The restaurant has been a success. Josh now has another business partner, Chas Beymer. The two solidified their partnership plans while driving to the Common Ground Country Fair together.
Barbara has run the front of the house at Joshua's for 14 years, taking care of reservations, seating people, putting flowers on tables, etc. "People ask if I'm still doing theater," says Barbara. "I say, 'Just every night here at Joshua's.' It's a very similar energy. The curtain goes up at 5, it's a new show, a new audience," and you go on stage, no matter how you feel. "Everything I learned as an actor – training to be ready, to go on stage and make it new and fresh every night – I put to use in the restaurant." In 2018 they hired a front house manager so that Barbara could work less, but she's still a big part of the production.
If she weren't on stage at Joshua's, she says she'd like to grow more flowers. (She now tends all of the ornamentals around the Mathers' house.)
"The problem with farm flowers," Barbara notes, "is that they drop so much pollen. If I could find something that would last a week …" At the end of summer she was using mums because they last and are not too expensive.
Daughter Caitlin is now a mother and dance teacher living in Maryland. Mort and Barbara enjoy visiting her and her family during slower times of the year, and Caitlin and her family come to Maine at least once a year.
The Market Garden, Take Two
Mort has returned to cultivating his acre of MOFGA-certified organic vegetables, but for only one customer now: Joshua's. Most of the vegetables served in the restaurant in August and September come from Easter Orchard Farm, which also supplies some vegetables year-round – including onions, winter squash and radishes even at the low point in March and April. "Watermelon radishes store over the winter beautifully and are still firm and juicy," says Mort. The radishes and other produce are stored in coolers at the restaurant, although Josh is working on a root cellar there. Josh also buys from other local growers, including Two Farmers Farm and the Portland Farmers' Market.
Mort's market garden is divided into five plots, and crops rotate through those plots on schedules ranging from three and six years.
He farms without a tractor, instead using a Troy-Bilt rototiller, two riding mowers that catch grass clippings, a wheel hoe and scuffle hoes.
Each year Mort buys a dump-truck load of compost (about $800 worth) from Benson Farm in Gorham to spread over the acre. That and the grass clippings provide fertility, and the clippings help control weeds and erosion as well.
"I always mow a couple of days before collecting," says Mort, "because green clippings clog the collector. Also, green clippings can get hot enough to burn one's hands if not spread soon. This may be the largest mulch-managed vegetable patch in the state," he says.
Mort never mulches lettuce because of slugs. He controls slugs by keeping the area around the garden mowed, by not keeping mulch on permanently the way Ruth Stout advised, and by rotating between mulched and unmulched crops. He recommends that gardeners who are having trouble with snails or slugs do the same, adding that saucers of beer placed around the garden edges can trap slugs. "Don't put the saucers in the middle of the garden," he says. "That just invites the slugs in."
Mort's employee Bruce Foley is in charge of planting (much done with an Earthway seeder) and harvesting, while Mort does the weeding. The wheel hoe does a wonderful job, "especially when you follow the 10-day rule: You can take care of 80 to 90 percent of the weeds if, when you plant, there are no weeds growing (you've just prepared the bed), and then 10 days later, you cultivate. Eliot Coleman's collinear hoe is great for teaching people that you need to skim the surface and not go any deeper."
He is testing a backpack flame weeder. "If we prepare the ground 10 days before we want to plant and then plant, and flame it a couple of days later, would that be the same as using the wheel hoe?" Mort did that with beets last year with some success, but he's not ready to give up his trusty wheel hoe.
Several years ago a new weed called oakleaf goosefoot (Chenopodium glaucum), a relative of lambsquarters, appeared on the Mathers' land. Mort pulled it from the garden and threw it into the adjacent field. When he mowed and collected grass clippings for garden mulch, he spread the weed seed everywhere.
"I battled it with a hoe one year but then decided that it's a wonderful groundcover. It pulls so easily. Frost kills it. It stays low, so most crops can stay up above it. It smothers other weeds. It's better than buckwheat. I'm not doing buckwheat anymore."
To control witchgrass (quackgrass) on a new piece of ground, Mort tilled the area with his Troy-Bilt, first in one direction and then, 10 days later, perpendicular to that direction. After that a cover crop of oats and peas kept the weeds down. (His Troy-Bilt cannot handle a heavy crop of winter rye.) There will still be plenty of rhizomes to chase this spring, but progress has been made; the older ground is nearly witchgrass free.
The old home garden next to the house now grows primarily herbs for Joshua's. The plants do well except when voles eat the parsley roots. Mort hasn't figured out how to handle this pest yet, which also enjoys beets, carrots and potatoes.
Electric wire-mesh fencing surrounds some plots, to exclude porcupines and raccoons. Mort learned that porcupines like brassicas when he saw one on its hind legs eating broccoli. After a couple of difficult years, which included sleeping in a tent next to the garden and shooting three porcupines when they woke him up eating Brussels sprouts, he found electric mesh fence. That worked well except the year he delayed putting it up until the animals had had a taste of fine food. The porcupines found that if they could get just their nose under the fence, their quills would insulate them. Even with the fencing, Mort shoots about eight nocturnal feeders each year. A motion detector turns on a radio in the house, which wakes Barbara, who wakes Mort, who gets his gun.
Mort tends to plant crops closer than recommended so that they shade out weeds. That made harvesting Brussels sprouts like working in a jungle, so he now alternates beds of carrots with beds of Brussels sprouts because the sprout plants are ready to take off and fill the space just when the midseason carrots are pulled. Alternating rows of peas with summer and winter squash is another way he maximizes space. After the peas are harvested, the squash fills in the space left.
Zephyr summer squash is harvested small, 3 to 4 inches, and used in a vegetable medley at Joshua's. "People love the little bicolored squash," says Mort.
Their favorite lettuces are Buttercrunch and Red Fire – "or as we call it, red and butter," says Mort. The restaurant likes the small leaves of Salanovas, but the chefs are increasingly asking for the "red and butter." Mort also grows Encore lettuce mix, and succession beds of arugula, which the restaurant loves.
Other plots contain tomatoes, eggplant, corn, beets, cukes, a lot of chard, and broccoli (Veronica Romanesco). Spring Treat was Mort's favorite sweet corn for a long time. He can't get organic seed for that now, so he grows Luscious – a few plantings per season to extend the harvest.
One asparagus patch is 40 or 45 years old. Newer patches planted three and six years ago are doing much better. Asparagus is one crop that receives a permanent mulch of grass clippings, which does a good job of keeping weeds down.
He also grows Costada Romanesco zucchini, tomatillos and winter squash (butternut, delicata and kabocha). In 2018 Mort direct seeded his winter squash with no mulch rather than transplanting it into black plastic, as in previous years, and it did fine. He uses row covers to protect summer squash from cucumber beetles, but he doesn't cover winter squash, which the beetles seem to like less.
He sprayed Entrust on one corner of a potato planting where Colorado potato beetles were attacking plants; all of those plants came back and looked great with just one spraying. Dipel is applied occasionally for cabbage moths. Arugula and brassica seedlings are protected from flea beetles with row covers. Aphids are a new problem on his Brussels sprouts for which he is searching for a solution.
Mort gets onion seedlings from Jason Kafka of Checkerberry Farm in Parkman, Maine, who replaced Copra onions with Patterson, which, according to Johnny's Selected Seeds, "has the same firmness and storage qualities as Copra, with a larger size, better uniformity, and higher yield potential."
Mort says he used to plant parsnips late because "who wants one this long?" he asks, holding his hands far apart. "Then I found out they don't like to germinate in hot weather. So I have to have parsnips this long. The kitchen [at Joshua's] loves them, but we need a backhoe to dig them."
Last winter for the first time he grew lettuce, greens, carrots and more, following Eliot Coleman's directions, in a hoophouse made on site with a pipe bender from Johnny's. He later moved it to cover summer crops. "We're great fans of Johnny's and Eliot," says Mort.
Other crops include peppers, popcorn for his grandson, flint corn (a request from Chas), leeks and scallions. All the plots are surrounded by a single strand electric fence at a deer's nose height (about 3 feet) and another strand at a deer's shoulder height "in case the deer looks up and says, 'I don't really know what's going on.'" Mort put these strands on high posts so that he can hook the wires over a nail higher on the post to mow or till underneath, rather than having to move the fence.
The Mathers also grow peaches, apples and pears for home consumption.
Harvest and Sales
The produce washing area is simply a couple of chairs with a board laid across them and an umbrella on the lawn. Some of the produce, such as arugula and lettuce, is cooled and washed in tubs of cold water, spin dried and then comes into an extension of the house to be bagged, weighed and refrigerated until it goes to Joshua's. A remodeled kitchen adjacent to that extension is also used during harvest time.
Onions dry in the field (or on the porch in case of rain) and are then put in mesh bags and taken to the restaurant.
Mort doesn't take a salary from the farm. He does pay Bruce Foley, "my sous-farmer," who works year-round. "He's a great worker with a positive attitude." Two pickers also help when needed. "I don't pick beans or peas if I can avoid it," says Mort. "Hey, I'm 80 years old. I'll pick anything else though."
Mort uses MOFGA's organic price reports to calculate that the 12,085 pounds of produce he grew in 2018 had a retail value of $47,837. He says he probably could have made a living supplying the restaurant from his 1 acre when he didn't have a mortgage and was younger.
In his biography at https://mortmather.com, Mort says, "We lived Barbara Kingsolver's back-to-the-land experience 35 years earlier and for more than a year. Shoot, we are still doing it pretty much, not only at home but in our restaurant, Joshua's." During his decades in Maine, he has helped thousands of others do the same.