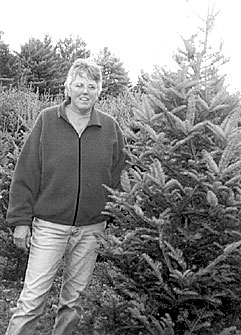 Vivianne Holmes, Ph.D. a University of Maine extension educator, has a small farm in Buckfield where she raises Christmas trees, livestock and various crops. She also helped start the Women's Agricultural Network. Joyce White photo.
By Joyce White
As a result of her innovative thinking and can-do spirit, Vivianne Holmes, Ph.D., has helped birth the first organization in Maine devoted to helping women farmers. Known as WAgN, for Women in Agriculture Network, the program was established in 1997 through the support of Maine Cooperative Extension and now supports nearly 1000 women farmers in Maine and northern New England.
Holmes attributes her inspiration for the creation of WAgN to a presentation Mary Peabody gave about Vermont's Women in Agriculture program. After Peabody's presentation, Holmes said, "We looked around the room at each other and said, 'Let's get started.' Some of us were farmers, some worked for agencies, some did both."
Several groups that were represented that day became involved in WAgN's organization: RC&D (Resources, Conservation and Development); MOFGA; The Heifer Project; NRCS (Natural Resources Conservation Services); the Western Mountain Alliance; several people from the USDA and Extension offices as well as individual farmers.
Holmes, an educator in the Androscoggin-Sagadahoc Extension office, has worked for the University of Maine Cooperative Extension since 1981. She knows about the hands-on part of farming, because she is also an active, hands-on farmer.
On-Farm Meetings Spur Networks
The first WAgN meeting was a festive event on the Orono campus. Subsequent meetings have been held each year in different parts of the state. "We got people to travel to other parts of the state," Holmes says, "by having two-day tours." One year they visited four farms in Aroostook County, the next year, four in Washington and Hancock Counties. They incorporate educational programs, and the 14 to 22 participants network as they travel. An added bonus, Holmes says, is the sense of camaraderie that develops from spending two days together and sharing rooms at night. "These on-farm, networking meetings are key to who we are."
From the beginning, Holmes recalls, "we knew people wanted to see what other farmers were doing," so in addition to the annual two-day tours, they have arranged other, usually day-long, farm tours. The usual plan is to meet at the selected farm at 10 a.m., when participating women briefly share who they are and their farming interests and plans. The host then discusses her farm operation in depth.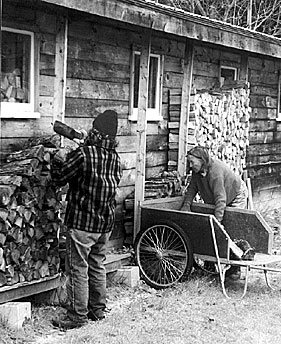 At a work day of Daughters of Yarrow, Claire Gelinas (left) and Deborah Crump help stack wood at Grandmère's Farm. Joyce White photo.
Lunch follows with networking and further discussion of farming, then a walking tour of the farm. Sometimes educational programs with guest speakers are planned – on fencing or insurance, for example.
Grandmère's Diverse Farm
Holmes lives on 15 acres in Buckfield on Grandmère's Farm, named to honor her grandmother. "Over the years," she says, "I've done all the typical livestock – pigs, goats, sheep, beef cattle, poultry, including geese, ducks, guinea hens and chickens." All the farm produce is bartered or goes into her own freezer.
Sheep, goats and one alpaca presently keep the pasture grass cropped and well fertilized. Holmes moves her fence every day. She determines the size of the grazing strip by the amount of forage the animals will need for one day – a smaller strip when grass grows fast and lush early in the season, larger areas by the end of October. Then that strip is not used again for almost a month, allowing the grass to grow. With rotational grazing, her pasture can support more animals. In fact the grass grows so well, she boards 18 to 22 sheep in addition to her own goats, a herd of mixed breeds, which she expects to number nine by spring. An open shed allows them freedom to come and go during the winter.
The one alpaca is a long-term boarder from Gloria Varney's Nezinscot Farm in Turner, which has a surplus of male alpacas. In Holmes' pasture, the alpaca acts as a guard animal, challenging any strange animal that should stray into his territory.
A Christmas tree plantation is part of Holmes' 8-acre woodlot, a plantation of 600 trees staggered at three-year planting intervals, 200 trees in each planting, which she began in 1988. Holmes does her own pruning and uses no chemicals or fertilizer; she mows to control undergrowth and pests. Timber stand improvement practices keep the whole woodlot manageable and healthy.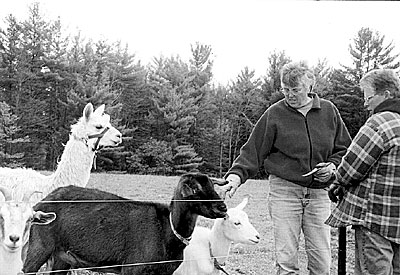 Holmes and Mary Ann Haxton visit a boarding Alpaca and his pasture-mates at Grandmère's Farm. Joyce White photo.
Holmes doesn't sell many of these natural-grown balsam fir Christmas trees, though they have healthy color and beautiful shape. Instead, she takes pleasure in brightening the holidays for many by donating her Christmas trees to needy families and to church and community organizations. She is gradually reducing the planting, down to about 300 trees now, and plans to eventually reclaim that section of the woodlot for pasture.
Local WAgN Groups Work Together
When I visited Grandmère's Farm in late October, two women – part of a group called "Daughters of Yarrow" – were rolling fence wire onto a large wooden spool to store for the winter and two others were stacking wood. Holmes, a founding member of "Daughters," explains that "affinity groups" have formed as an offshoot of WAgN in several parts of the state around different areas related to farming – herbs, for example, or spinning. Daughters of Yarrow, one such intentional group, meets monthly at farms mostly in the vicinity of Grandmère's. Members share ideas, inspiration and support during a morning meeting. Discussion continues during a hearty lunch. Then comes the work detail, a unique aspect of this group. Everyone helps with whatever chores the host farm requests. On this day, women could stack wood, roll fencing, repair steps or muck out the barn. All but the mucking got done by six cheerful women working enthusiastically for an hour!
Holmes describes a chainsaw safety program that Daughters of Yarrow organized. "A forester and chainsaw specialist taught us to take them apart, sharpen them, change the oil, adjust the running parts and put them back together. Six of us were sitting on his workshop floor with our chainsaws in pieces in front of us, a wild scene, not what you expect to see women doing. The fellow was fabulous, a good instructor, and he treated us as equals."
The follow-up to the workshop took place at a group member's woodlot, where the forester showed how to fell trees, how to handle the saw to prevent kickback, how to limb trees and the use of proper safety equipment. Another day, they went to the farm of a member who needed trees felled and did a work detail cleaning up some ice storm damage.
Spreading the Word about Women Farmers
At the Androscoggin-Sagadahoc Extension office, Holmes gets calls requesting WAgN's help for many issues: "How do I go about starting a farm or a farm-related business? Where do I look to find loans, grants, the money-support part? Who do I talk to who's already done it?" She gets at least one call a week asking for support, and WAgN puts callers in touch with people who know how to meet their particular need. Women who are already farming call to find out where they can find canning jars or other supplies, who else is raising goats or who shears sheep.
Both Holmes and Mary Peabody in Vermont get a lot of requests for interviews, because the media is finally realizing that the phenomenon of women in agriculture is a newsworthy trend. Many new women farmers left or are leaving jobs to pursue a passion for the farming life. Increasing numbers of women are graduating with college degrees in agriculture.
Last October, Holmes was honored by the Maine Women's Fund (MWF) at its "2003 Evening to Honor Maine Women and Girls." The Fund aims to enrich the lives of Maine women and girls through grants that support educational social action programs around the state. The fund honored Holmes for her pioneering work in support of women farmers in Maine and Northern New England. Holmes said it was her pleasure to be able to donate the $500 check from the Award to WAgN.
A recent issue of the Maine Department of Agriculture's newsletter Agriculture Today (www.maine.gov/agriculture/newsletter/) says that, in addition to supporting "nearly 1000 current women farmers, WAgN also serves as a model for aspiring women farmers and young women whose love of the land, belief in collaborative relationships among women, and passion for sustainable agricultural practices manifest a powerful momentum toward purposeful social change."
As a testimony to Holmes' style of shared leadership, the article continues, "the WAgN program is now undergoing an organizational change where regional women's leadership councils and a statewide council will emerge. They will carry out the ongoing work of continuing education, mentoring, business management skills building, and the organizational sustainability of the Network."
Holmes and Peabody now serve on a committee to organize a national Women in Agriculture Conference to unite similar groups. "We're trying to pull us all together. It's a great movement, so neat to be a part of it."
About the author: Joyce is a regular writer for The Maine Organic Farmer & Gardener. She lives in Stoneham, Maine.