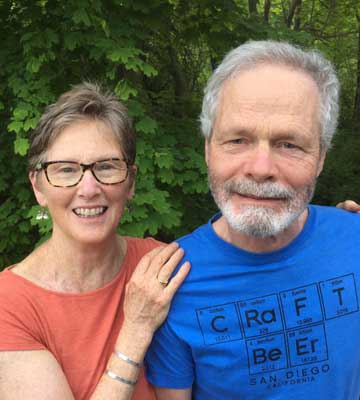 The author with her husband, Charlie Allen. Photo by Myles Allen
By Lynn Hower Allen
In 1975, the year we met, my then husband-to-be, Charlie, bought a derelict house and 10 acres of land in Union, Maine. The long, rectangular property stretched across a south facing slope at an elevation of 600 feet and had a large middle field that the previous owner had picked clean of rocks. We married, fixed up and sold the old house, and settled into a new, passive solar house to raise our two boys and lots of vegetables in a (briefly) MOFGA-certified organic garden. My husband taught school; I worked part-time and stayed home with the kids – precisely the life we had wanted. Our kids grew up with lots of good organic food, summer days haying with the neighbors, big pumpkins for Halloween, sledding down our long driveway in winter.
In June of 2008 my husband retired from teaching, a bit early because he hadn't been feeling just right. In November of that year, he was diagnosed with Parkinson's disease.
We had always thought we would make a shift in our lives once our kids were on their own. My husband had Irish citizenship and an EU passport. We thought we might try living and teaching in another country for a while – or, at the least, living in a small town, where we could walk everywhere after years of driving to do just about anything.
Charlie's diagnosis tipped the scales in favor of a massive shedding of material goods and a move to a one-floor house in a more "urban" location. This didn't happen overnight. Following his diagnosis, I worked in the local school system while he kept the home fires burning and did occasional volunteer work. But as his stamina, muscle tone and memory decreased, the garden shrank each year, the sumacs began to encroach on our field, fallen trees in the woodlot went uncut. It was painful to see the property decline. Our house was no longer new and required upkeep that Charlie could no longer perform. Our boys, as much as they loved the home they had grown up in, wanted us to move somewhere less demanding, where driving was optional; someplace where they wouldn't feel anxious about our safety, living in a house heated with wood located up a 525-foot-long driveway.
We decided to look for a place in Rockland, knowing from the beginning of our search that some compromise would be needed. Moving from an isolated 7 1/2 acres to living with neighbors on all sides would be a huge adjustment. Finding an interesting older house that didn't need a lot of work was impossible. And there was Beamish, our cat, who knew no life but the great outdoors (apart from his nights by the wood stove). In the end we found a homely (I do mean homely) '70s-era ranch with vinyl siding on a quarter-acre corner lot. Eeeeew.
On the plus side, behind us lay 15 acres of city woods, and our neighbors were hundreds of feet away. After 40 years of shoveling out the car after snow storms, we now had a two-car garage. A healthy 1-mile walk brought us to The Strand Theatre; shorter walks, to the library or Good Tern Coop. Sitting on our back deck in summer is like being in a little tree house with branches nearly close enough to touch. Apart from the occasional fog horn, train whistle or ambulance siren, it's quiet here. Really. Beamish the cat loves being in the 'hood, watching kids on their scooters and neighbors walking their dogs.
Before we moved into our new home, we removed all the electric baseboard heat, a Rinnai direct-vent heater, and the "cozy" heater in the basement. A friend installed one heat pump on the main floor and one in a basement area that I planned to use as workshop/studio. We had foam insulation applied in the basement and more insulation in the attic, bringing the R value from 19 to 49. In October 2015 we sold our rototiller and riding mower and moved to Rockland. In March 2017 we had a solar array installed on the garage; it generates 40 kilowatt-hours on a sunny day. The house came with a wood stove, and we use it. It always feels optional, but once you've heated with wood, it's hard to do without that hot spot on a cold morning.
Moving to "the city" didn't change who we were or what we valued with respect to growing our food or stewarding what little land we now owned. But we had our work cut out for us, even with a quarter-acre. The previous owner was an avid gardener but of a decidedly different philosophy. The garage was empty when we moved but for the remains of several containers of pesticides and a sprayer. Before moving in, I arrived with a load of boxes one morning to find signs all over the lawn announcing "Caution! Pesticide application! Keep off until dry." A call to the pesticide applicator confirmed that regular applications had been made for the past seven years, beginning with a blanket application of the herbicide Escalade. Darn. More recently, I was assured, only "spot" applications of this herbicide had been made along with an "all natural" fertilizer. We canceled the service and now wait for the pesticides to degrade.
Our Rockland home had mature plantings of invasive species long favored by nurseries: burning bush, Japanese barberry, goutweed and, the worst from my perspective, Houttuynia cordata (chameleon plant). The shrubs around the foundation were too large, too close to the house and visually boring. To capitalize on our small space, I planned to replace many of these with plants that would, in the words of entomologist Doug Tallamy, feed the caterpillars. A friend had introduced me to Tallamy's books, which changed forever my approach to landscaping. Tallamy emphasizes that to create the landscapes we need to support life, sequester carbon, clean and manage water, enrich soil and support pollinators, we urban/suburban dwellers need to reduce the area in lawn and transition from alien, invasive ornamentals to native ornamentals. Adding insult to injury, behind our property, bittersweet, multiflora roses and escaped goutweed were having their way with the woods.
Our first winter in Rockland, we learned that our basement had major flooding issues. This made for a disruptive holiday season, but on the plus side, the following summer we had proper drainage done around the foundation, which required removing the annoying shrubs! And the tree guy ground the trees and left the chips for future use.
Our first fall in Rockland, I hastily threw in an 12- x 20-foot garden on our largest available patch of ground. I layered cardboard, leaf mulch and grass clippings topped with soil and manure. This happy pile settled over winter and by spring was ready to go. I immediately began expanding the garden, edge by edge, in the same way, with an eye for the following season. Having less space, I planted carefully, with fewer experiments than usual and forgoing some things I'd grown in the past. I cleared a south-facing flower bed next to the garage for a kitchen herb garden and learned during the first season how little of some things I really need. In the past I'd always had long rows of parsley and basil, much of it wasted. This year I planted less and used it all.
That first spring I planted Mammoth sunflowers, which grew to truly mammoth heights. Neighbors who passed by on the way to an area above our home where they could leave their lawn clippings for the town to pick up admired our sunflowers and winter squash.
"I always wanted big sunflowers," exclaimed one woman. "How do you get them so big?"
"Lots of shit," I assured her.
I posted a sign asking for people's grass clippings and soon had a good hot pile for the compost. And, walking past a house on my way to town one spring afternoon, I stopped and asked if I could take away some of that (lovely) old banking hay. No problem. At the end of the season, I shared some garden bounty with my benefactor.
Living in town meant having city water for the first time in 40 years – water we had to pay for. I got a rain barrel from the local extension sale in the spring, and it was full in a week, even during the dry 2016 summer. I made good use of this resource that first summer as donations of perennials from friends' gardens for my new foundation plantings needed to be watered consistently after transplanting.
Over time I put in four highbush blueberry bushes, two apple trees, two kinds of hops, a peach tree and a short row of raspberries. One of my new neighbors bestowed upon me some rhubarb from her extensive garden. I also planted witch hazel, serviceberry, joe pye weed, spicebush, elderberry, beach plum, winterberry and bayberry.
The previous owner of this property probably would hardly recognize her former home. What I see is a wee, urban homestead in the making: firewood drying in the driveway, garden thriving in the side yard, a tight, efficient home in the winter. Getting here was the hard part. Living here is just fine.