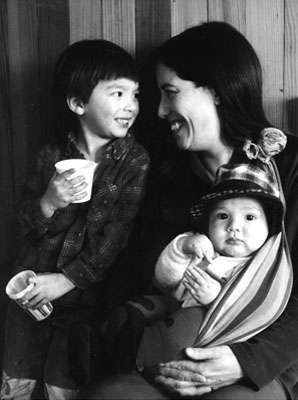 Sean, Toki and Jamie. Toki is a mother, artist and musician with a great love for life in the country.  Her cheerful illustrations enliven The MOF&G. Pranio Photographics photo.
By Lynn Allen
For regular readers of The MOF&G, the scratchboard art of Toki Oshima has come to embody the very look of MOFGA. Her whimsical animals and people, her perky bugs and vegetables are used throughout each issue as subject headers and for spot art, and since March 1992, her cover illustrations have depicted the seasonal activities of country life for each MOF&G issue.
Toki, her husband John Pranio, and their two sons Sean, 4, and Jamie, 9 months, live on a country road (that means dirt) in North Whitefield. The couple keeps a small garden, but Toki laughingly suggests that she truly enjoys the farming life more "by association" with her many friends and neighbors who have animals and large vegetable gardens. She does have a variety of perennials from her mother, an inveterate gardener who runs a biodynamic herb farm in New Mexico.
Toki arrived in Maine by way of Alaska following a childhood in the outskirts of Boston. Her dad is American, born of Japanese parents; her mother is "DAR" with roots in New York state and the south. Growing up in suburbia, Toki recalls that her mother's interest in biodynamic gardening meant that they were the "freaky family with a compost pile" and a garden amid neighbors with lawns of "astroturf perfection." As she grew she drifted away from the city and suburbia and ultimately to the wilderness of Alaska.
Following eight years in Alaska, where she did a variety of work (including a stint waitressing at Hogg Brother's Cafe in Homer), she moved to Portland in 1986 to attend the Portland School of Art. While a student she began doing illustrations for the then new publication, The Casco Bay Weekly. In order to add variety to her black and white work for the paper she started to work in scratchboard, the medium she continues to use in her illustration work and for her greeting card business.
During the summer of 1988, Toki met her husband while they were both attending a fiddle and dance camp in Ashoken, New York. The duo decided to continue to make music together, and in 1989 moved to land Toki had purchased in North Whitefield. Toki commuted her final year to school in Portland, receiving her degree in Graphic Design ("which I don't do anything with") in 1990. John went to work for the Spurwink School in Randolph, a school for special needs children. They married in 1991.
Music remains important to both John and Toki, living as they do in the heart of "contradance country." Together they have played fiddle (John) and guitar (Toki) as a duo or in groups. John plays regularly with a group called The Usual Suspects, and both have been part of the group called Calliope. For years they have made music at the Common Ground Fair at various venues from the fiddle contest to presentations as a duo and at the contradance following the fiddle contest. Most recently they have played in the Children's Area at the Fair, which Toki describes as a "new area of interest!"
For a thesis project her final year in school, Toki created a book entitled Living in the Woods in which she described her change from city life to her home in the woods in North Whitefield, and which included some "observations moving through the seasons." In the introduction she notes that the city is active and stimulating but that "living in town makes me feel confined and it does not seem right to have to call up a number to find out how the weather feels."
Later she describes how, living in North Whitefield, she "came to love the blackness of the night sky and the subtle colors of autumn fields. In this landscape there is more room to think, to slow down and appreciate small events of the day. Here the woods are daily moving."
Toki's work is imbued with this appreciation for life in the country, for the natural world and the creatures, human and non-human, that live there. Her cover illustrations are frequently oriented around a primary activity involving one member of the family, while others enjoy related activites alongside. In the foreground of one illustration, mom plants flowers, while in the background dad turns the compost, junior plays with the dog, and the chickens look on with interest. Her use of scratchboard, in which ink is applied to a special clay-coated paper and then removed with a sharp tool, brings a liveliness and an energy to her subjects, even when she is depicting a clutch of carrots or a shelf of books.
Toki's work for MOFGA began when Tim Nason, who is in charge of design and production for The MOF&G, saw some of Toki's illustrations and cover art for The Casco Bay Weekly. He was struck by many qualities of her work – the humor, the colors, the special characteristic of scratchboard art. He subsequently met her through his typesetting business and asked her to do the MOF&G cover illustrations.
"I wanted that hand-hewn look for the paper," he remembers. "I really encouraged her to be as 'rough' as possible."
Eventually he asked her to create artwork for column headers throughout the paper as well as small pictures for fillers. He hopes to have her do illustrations to accompany specific articles in the future.
Toki's studio area is in an upper corner of the house. When she has a big job to complete she sequesters herself away on a weekend, letting John take over the parenting detail while she "comes out from time to time for breastfeeding!"
"Fortunately the work usually goes quickly," she notes. She sometime works evenings after the children's bedtime.
Aside from her work for The MOF&G, Toki does illustrations for magazines and other small publications. She contributed illustrations for The Garden Parade Coloring Book and Sewing Instructions and illustrated Days with Cedar Whitewater, a book by Tim Nason. Illustrations she did for the Journal Tribune won her an Associated Press award.
She has a small home business selling cards, calendars and mailing stickers of her own design on recycled papers, which she hopes to expand in the coming year. Her designs reflect her pleasure in the details of country life, and frequently include people and animals together in happy celebration. The tone of her work is warm and funny, invariably "up", which is, in fact, a lot like Toki herself.
About the author: Lynn lives in Union with her husband and two sons and large garden.