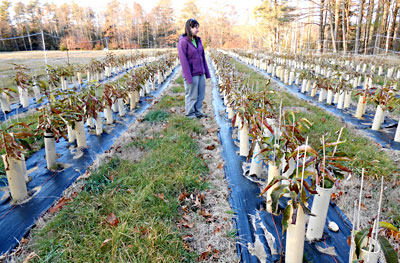 Kendra Gurney, The American Chestnut Foundation New England regional breeding coordinator, with chestnut seedlings after one year of growth, in a seed orchard in Winthrop. Photo by Eric Evans.
By Jeanne Siviski
Renowned Maine poet Henry Wadsworth Longfellow implies resilience with his words, "Under a spreading chestnut tree." Folklore tells of a squirrel byway from Georgia to Maine, made from the spreading limbs of the American chestnut. Profusions of white flowers, blanketing the eastern mountains when the tree was in bloom, looked like snow in summer. We still sing songs of roasting chestnuts. These traits of American chestnuts have slipped into legend as the tree itself began to disappear.
Before chestnut blight was discovered in 1904, American chestnuts numbered 4 billion, or one-fourth of the trees within its range between Alabama and Maine. The American chestnut tree was an abundant supplier of nuts and of durable, straight-grained wood. Wild turkey, bear and even the now-extinct carrier pigeon relied on it for mast.
A rapid grower, American chestnuts could reach 150 feet with a 10-foot circumference. The first 50 feet often grew unobstructed by branches, ideal for lumber. It was used for facets of home construction from exterior shingles to flooring and furniture. Post and rail fences built from American chestnut have endured half a century. Devastation of this overwhelmingly vital tree by blight is sometimes called one of the worst ecological disasters of the 20th century.
American chestnuts were well established within their range for approximately 2,500 years before chestnut blight arrived in North America as a guest of imported Asian chestnut trees. This bark fungus cuts off the flow of nutrients by encircling beneath the bark. Because it does not affect the root system, some American chestnuts remain in the woods as stumps topped with a spray of shoots. Without the ability to grow taller and reproduce, the species was clearly approaching extinction by the 1950s.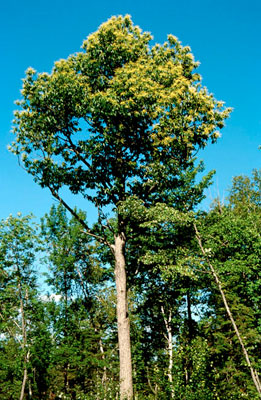 An American chestnut in full bloom in Atkinson, Maine. Photo by Amy Campbell.
If not for the efforts of The American Chestnut Foundation (TACF), the American chestnut might remain a memory marked by imported chestnuts substituted for roasting during the holiday season, or salvaged wood products made from old barns and long-dead wood prized for a "wormy" patina. Now, just 30 years since TACF's formation, chief scientist Fred Hebard has introduced hope by stating, "We are on the verge of really restoring the species."
Restoration Chestnut 1.0 trees are a line from TACF's breeding program that shows statistically stronger resistance than the native version, Hebard reports. "We have some that may be good enough to reproduce on their own," he adds. "Hopefully it will be better than that. But that in itself will be a start."
To combat blight, TACF hybridized American with Chinese chestnuts, the species that initially spread the disease and is blight resistant. Subsequent backcrosses with American chestnuts ensure that TACF's Restoration Chestnut 1.0 seeds inherit desirable native traits: a timber-type tree able to thrive in North American forests and a sweeter tasting nut.
Capturing adaptations to regional environments and preserving a high degree of genetic diversity are paramount to TACF's breeding program and are actively carried out by its 16 state chapters. In response to tree damage incurred by the Ice Storm of '98, Maine formed its own chapter (ME-TACF). Maine, the northern border for native chestnuts and a tension zone between boreal and temperate forests, has a high percentage of chestnuts that have escaped blight in isolated pockets. A 95-foot American chestnut, believed to be the tallest in its native range, was discovered in Hebron in 2012.
Maine currently has 12 breeding orchards and seven seed orchards located in Searsport, Phippsburg, Winthrop, Hartland and Stetson. Trees that make it to breeding orchards are 94 percent native, the result of the initial cross and three backcrosses. Once they have undergone culling for blight resistance, which involves inoculating 6- to 8-year-old trees with lab-grown fungus, remaining trees with desirable "American" traits are intercrossed, allowing for inheritance of blight resistance from both parents. Seed orchards are then created from that fifth generation product. Nuts produced by trees remaining in seed orchards after culling will be sixth generation Restoration Chestnut 1.0 nuts.
The first seed orchards in Maine were planted during spring 2012. Sites were chosen carefully to give saplings every advantage: They favor well-drained Plaisted soils, a soft premium sand/soil blend found on glacial drumlins and till ridges in Maine. Forest soil is added to the planting holes to provide the best mycorrhizae for rapid establishment. Seeds are placed one per foot in rows spaced 7 feet apart. One-acre orchards are systematically divided into 20 plots of 150 seeds each.
"It's a numbers game," says Eric Evans, cofounder of ME-TACF, speaking of orchard planting strategies. The plan is to have planted a total of 60,000 trees into seed orchards over the next 10 years. Within each plot of 150 trees, all but the single best tree will be eliminated.
The ME-TACF has no paid employees. Volunteers do the work in Maine, from planting to hand pollination and harvesting. Like the tree they are trying to restore from near extinction, these volunteers are a resilient lot. Eric Evans spends from 5 to 30 hours every week; total volunteer hours for the group equal approximately 5,000 per year. Partnerships play a big role. Maine's new seed orchards are on property of the University of Maine, The Nature Conservancy, Small Woodland Owners Association of Maine and Penobscot County Conservation Association.
"Being on the verge" of potential restoration, Hebard stated, "is not being there yet." Formal testing of Restoration Chestnut 1.0 trees from TACF's research farms in Meadowview, Virginia, began in 2008 at National Forest sites in three southern states. Plans are underway to plant 14,000 hybridized chestnuts on strip-mined lands down south, with all costs incurred by the mines' owners as per federal law.
While TACF members at the "Chestnut Leaf" level and above are eligible to receive Restoration Chestnut 1.0 nuts (www.acf.org), supplies are limited. Currently there is no guarantee of sufficient blight resistance, and they will likely remain at the testing level through 2020.
The Maine chapter's breeding program will begin producing potentially blight-resistant chestnuts in 2020. For several years most of these seeds will go into special forest trials to evaluate blight resistance and American characteristics. The Maine chapter will be looking for a variety of sites on both private and public lands for these plantings. Release of Maine Restoration Chestnut 1.0 trees for general sales will depend on the results of these trials. Meanwhile pure American chestnut seeds and seedlings are given to new ME-TACF members and can be purchased from ME-TACF and Fedco Trees. These will often grow and produce nuts for many years before they succumb to chestnut blight.
"Restoring a foundation species throughout its native range is unprecedented," Evans comments. That is a task of enormous proportions, given a range of 200 million acres. It could take 100 years, should things go according to plan. A lot of unknowns exist. The full extent of blight resistance remains to be proofed, and improvements are still being made. TACF's goal is for the Restoration chestnuts to have enough blight resistance so that they can co-evolve with the blight and other threats in the coming decades and centuries.
Given that the American chestnut has become legendary, reclamation efforts suggest an epic journey. With restoration potentially around the corner, that journey is at a pivotal point.
About the author: Jeanne Siviski is a freelance writer and is very active with the Maine chapter of The American Chestnut Foundation. She often staffs the booth of the Maine chapter at the Common Ground Country Fair. Read more about the Maine chapter at www.me-acf.org/Home.html.
---

American Chestnuts at MOFGA's Common Ground Education Center
The Maine chapter of The American Chestnut Foundation has planted several American chestnut trees on MOFGA's grounds in Unity and Thorndike. Two Restoration Chestnut 1.0 trees were planted on the edge of the Sunflower Common in spring 2012. Wild American chestnuts grow at the intersection near the north entrance, including one that the Maine chapter planted the first year MOFGA was in Unity and that has bloomed for a few years; one near the blacksmith shop; and others in MOFGA's forest and by the south parking lot. All of are growing well.