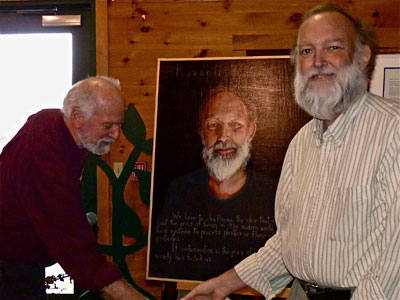 Robert Shetterly unveiled the latest in his "Americans Who Tell the Truth" series of paintings at a November 1, 2012, celebration of Russell Libby's tenure as MOFGA's executive director. Russell's truth quoted in this painting: "We have to challenge the idea that contamination is just the price of living in the modern world. Our bodies don't have systems to process plastics or flame retardants or pesticides. If contamination is the price of modern society, modern society has failed us."
By Heather Spalding
If you've paid attention to any media outlet in Maine over the past couple of months, you've certainly heard that our esteemed leader Russell Libby is moving to a new job at MOFGA. At its October meeting, the MOFGA board of directors appointed Russell senior policy advisor. This change will allow him to shed lots of day-to-day administrative duties and afford more time to focus on what he loves best – thinking big thoughts and coming up with creative solutions to vexing problems in organic farming and gardening.
Russell started as MOFGA's executive director in 1995 after more than a decade of service on its board. At the time, he worked with just five other employees in an office on Water Street in Augusta. The biggest challenge Russell faced when he joined the staff was to direct the search, purchase and development of a permanent home for MOFGA. Now he works with more than 30 employees at MOFGA's 400+-acre Common Ground Education Center in Unity.
Russell has been a leader in food and agricultural policy at the state, regional and national levels for more than 30 years. His new role will allow him to focus more deeply on policy initiatives and provide advice to the MOFGA staff and board on approaches to current and emerging policy issues.
A founding member of numerous organizations and coalitions focusing on local and organic food production, Russell continues providing wisdom to the Agricultural Council of Maine, the University of Maine Board of Agriculture, Maine Farmland Trust, the National Organic Coalition, the Eat Local Foods Coalition, the Maine Food Plan, the New England Food Vision, Slow Money Maine, the USDA-NRCS State Technical Committee, and Maine's Own Organic Milk Company (MOOMilk).
Russell has helped MOFGA become the largest organic association in the country. Under his leadership membership has more than doubled, and the staff and budget have more than quintupled! He has been a wonderful supervisor to the staff, the assembly of which he counts as one of his greatest accomplishments. Still he is happy that MOFGA hasn't lost its core volunteer culture. Russell never forgets a face or a personal story shared by any member of the MOFGA community.
In the face of continuing cuts to government-funded technical support for farmers, Russell is most eager to focus on innovative, farmer-based research strategies. MOFGA has always embraced peer-to-peer learning models. With so many new farmers settling in Maine, the need for shared knowledge, research and experimentation will only grow larger.
MOFGA's farming community has an exceptional wealth of farming know-how. Russell wants to keep bringing people together around the idea that it is possible for Maine to be a national leader in creating a more local, more organic food system.
MOFGA's board appointed Heather Spalding as interim executive director. Heather joined MOFGA's staff in 1997, after 10 years of working with environmental organizations in Washington, D.C. She will work closely with MOFGA's board and staff to coordinate a search for the organization's next executive director. Recruiting will begin in the new year.