Reclaiming Onions
By Mary Anne Libby
What comes first is carting the oldest to one of her jobs

necessary for a trip to France, and for college;

And the youngest one to the village for a swim

to renew her spirit and laugh with friends;

The fiddler to her latest dance gig,

a payment down on the Cape Breton music tour;

A mad run for pipe cleaners, wiggly eyes, many-hued pom-poms

for tomorrow's Anansi stories at the library.

But come twilight, everyone in her place for a time,

a few steps into the garden and past the sunflowers,

I find those onions you planted when I was – elsewhere,

secreted among grasses and lamb's quarters and volunteer poppies.

I'm halfway down the patch, tugging milkweed, before I am quite aware:

this is too little, rather late. When you arrive you will say – it is enough.
---
Poetry: The Garden of Language
By Sylvana Costa
Just as gardens are solace from the hum-drum of the material world, poetry uplifts us from the banality of lifeless language. It takes notice of things such as squash bugs, and asks the reader to participate in such moments of timelessness and potential. The poetic experience is as individual as it is universal. Each reader brings her/his own intention to the page, different from the poet's even, revealing the poem's multifolds of meaning.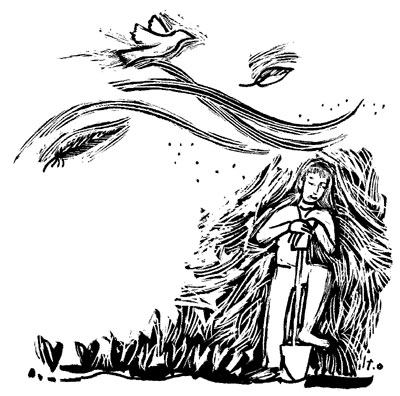 Illustration by Toki Oshima.
The Lovers
She brings autumn to her lips
whistles through feathers
fallen leaves and the sound carries
to his garden on a wisp
of crow-blue wind.
He hears this song rattle
pole beans, vine-ripe tomatoes
while he pulls weeds, harvests basil
plants chrysanthemums.
They are seasons apart
her hands the wings of a magpie
his rooted in garlic
yet they give themselves
to each other like rain.
Her voice thunder,
his as soft as lemons.
While in the physical reality this poem is about the relationship between male and female, fertility, gardens, songs, seasons, separation and sense, something powerful is happening through the poem on a meta-level. In this way, the pro-nouns she/he become metaphor for the balance necessary to create world harmony – the love they share a universal one for all creations. Similarly the image of thunder in the poem is used to expose the hidden or unrealized beauty in destruction and negativity. It is up to the reader to find this beauty and manifest it outward.
About the author: Sylvana Costa is a poet who lives in Thorndike, Maine