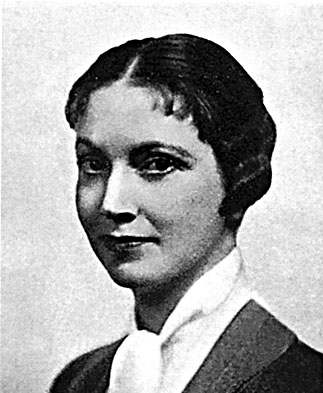 Louise Payson
She is considered a pioneer of American landscape architecture. Her prominence in the "Golden Age of American gardens" was acknowledged in some of the leading publications of her time. As a woman practicing in what historically had been a male-dominated field, she helped redefine the character and qualities that established the distinctiveness of American gardens and estates.
Ellen Louise Payson, better know to friends as Louise, was one of a small group of women credited with a legacy of design excellence in American landscape architecture. Her artistry and creativity earned her praise from colleagues and clients alike – and, more recently, from those engaged in the revival of classical American landscape design.
A recent donation of Payson's professional designs will elevate her profile among students, historians, professionals and hobbyists with the creation of the Ellen Louise Payson Collection at the University of Maine. The collection will complement other research and educational endeavors conducted through the university's Landscape Horticulture program, including a collaborative project being undertaken in Bar Harbor, Maine, based on designs of the legendary Beatrix J. Farrand.
The Payson collection, currently being catalogued, will be housed in the Special Collections section of the university's Raymond H. Fogler Library.
Born in Portland, Maine, in 1894, Louise Payson gained widespread recognition during the 1920s and '30s as an accomplished landscape architect and as a professional who, by virtue of her gender and the times, challenged and changed the nature of her profession. In 1933, she and five other women were honored as "Hall of Fame" members by House & Garden Magazine, which selected Payson "for the soundness with which she applies to her gardens the principles of landscaping and architecture … and for the sympathetic feeling for varying material which her work always shows."
The Payson name is well known in Maine. Since the mid-1800s, family members have been prominent in medicine, finance, religion, commerce and philanthropy here.
For decades the whereabouts of many of Payson's original plans, drawings and other works were unknown. Shortly after her death in 1977, however, family members discovered a sizable collection of originals stored in a large chest at a family home in Portland.
Through the generosity of her family, much of Payson's work will soon be available to those interested in understanding her influence on American society. In June, Dr. Hugh Payson Robinson of Falmouth, Louise Payson's nephew, and his wife Patricia, donated over 500 of Payson's original drawings, blueprints and photographs to the University of Maine. The works will be of special interest to those in the university's Landscape Horticulture program, which is studying and recreating the American-style landscape architecture of another pioneer in the field, Beatrix J. Farrand (1872-1959), who, like Payson, worked and resided for part of her life in Maine.