By Heather Spalding
After nine years working as a member of MOFGA's staff, Dave Colson has retired to the greener pastures of his beautiful farm in Androscoggin County. Dave joined the MOFGA staff in July of 2011 serving as the director of our agricultural services program. He led the program for eight years, providing leadership to an evolving staff and sharing the wealth of knowledge that he had gained through decades of organic farming in Maine. In 2020, Dave started scaling back from management responsibilities at MOFGA and narrowed his work focus to providing technical support for farmers.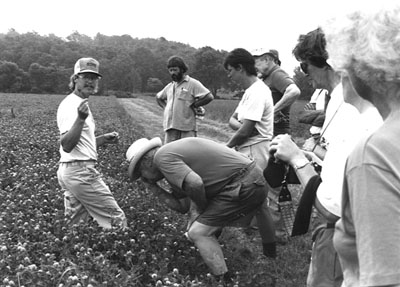 Dave has been a huge part of the MOFGA community for many, many years dating back to 1985 when his family's New Leaf Farm in Durham first became certified organic. The farm was a source of organic vegetables, fruits and herbs for markets and restaurants in the greater Portland area. Dave dove into the MOFGA world, joined the board in 1988, and stuck right with it for nineteen years, through MOFGA's tremendous growth and transition to the organization's permanent home, the Common Ground Education Center in Unity. Dave served as president of the board for many years, spending countless hours serving on various program committees, helping develop MOFGA Certification Services, LLC, and sorting out traffic and parking challenges for the Common Ground Country Fair.
Through the years, Dave served MOFGA in just about every imaginable role which gave him great perspective to build on his knack for bringing people together to solve problems and make things better. Dave's kind heart, wisdom, clear thinking and sense of humor helped MOFGA through some big challenges. Dave has worked with people in all reaches of the MOFGA community for so long. It's hard to imagine day-to-day MOFGA life without Dave's positive energy. We are going to miss him on the staff, in the fields, at workshops and conferences, and, of course, on Zoom.
Everybody knows and loves Dave! Several longtime MOFGA staff, board members and allies share some memories and offer best wishes to Dave.
"New Leaf Farm was the first commercial-scale organic farm I toured in Maine when I became editor of The Maine Organic Farmer & Gardener," says Jean English. "I was so impressed with the farm and with Dave's easy-going way of imparting agricultural information. Shortly after that a friend in Massachusetts told me she'd gone to a talk by two very smart and very kind guys from MOFGA; no surprise that they were Dave Colson and Eric Sideman. When Dave later joined the MOFGA staff and while I was still editor of The MOF&G, he became an invaluable resource for me about agricultural policy. Likewise, his insights when we visited farms in Aroostook County helped with articles about those farms. I look forward to getting together, post-pandemic, at the first meeting of the MOFGA retirees chapter! Meanwhile, I wish Dave and his wife, Chris [Colson], all the best in this next, wonderful chapter in their lives."
"Dave and I have been close friends for many years," says Paul Volckhausen, of MOFGA-certified Happy Town Farm in Orland. "From the early days on the MOFGA board and attending conferences with Eric Sideman up through many years as parking coordinators at the Common Ground Country Fair, I have looked forward to getting together with Dave to share our successes, trials and tribulations of farming and life in general. I wish Dave good luck in this next chapter of retirement, and I look forward to joining this new retirement chapter in the near future."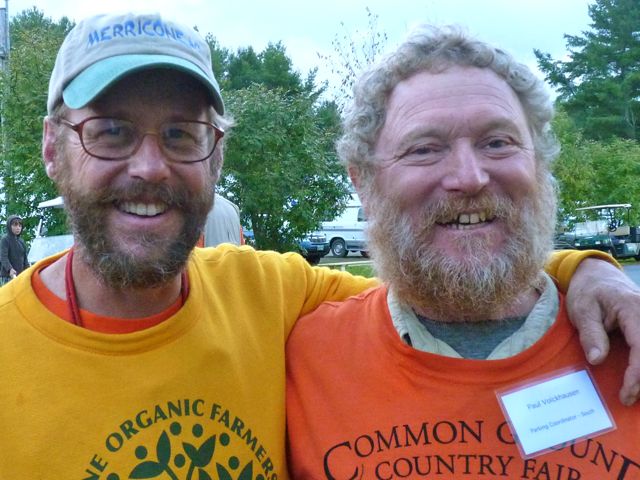 "Like Paul [Volckhausen], I am so glad that I got to know Dave," says Eric Sideman, MOFGA crop specialist emeritus. "I counted on our friendship from my very early days at MOFGA, not because I ever had hard times at MOFGA, but because it was such a natural and real friendship. Dave and Paul were among those MOFGA farmers I got to know early in my time there that taught me so much about farming. I am living the good life now, rarely leaving the farm, and yet still I miss those good old days with Dave and Paul going to conferences, listening to Jim Gerritsen on the certification committee, and simply visiting their farms."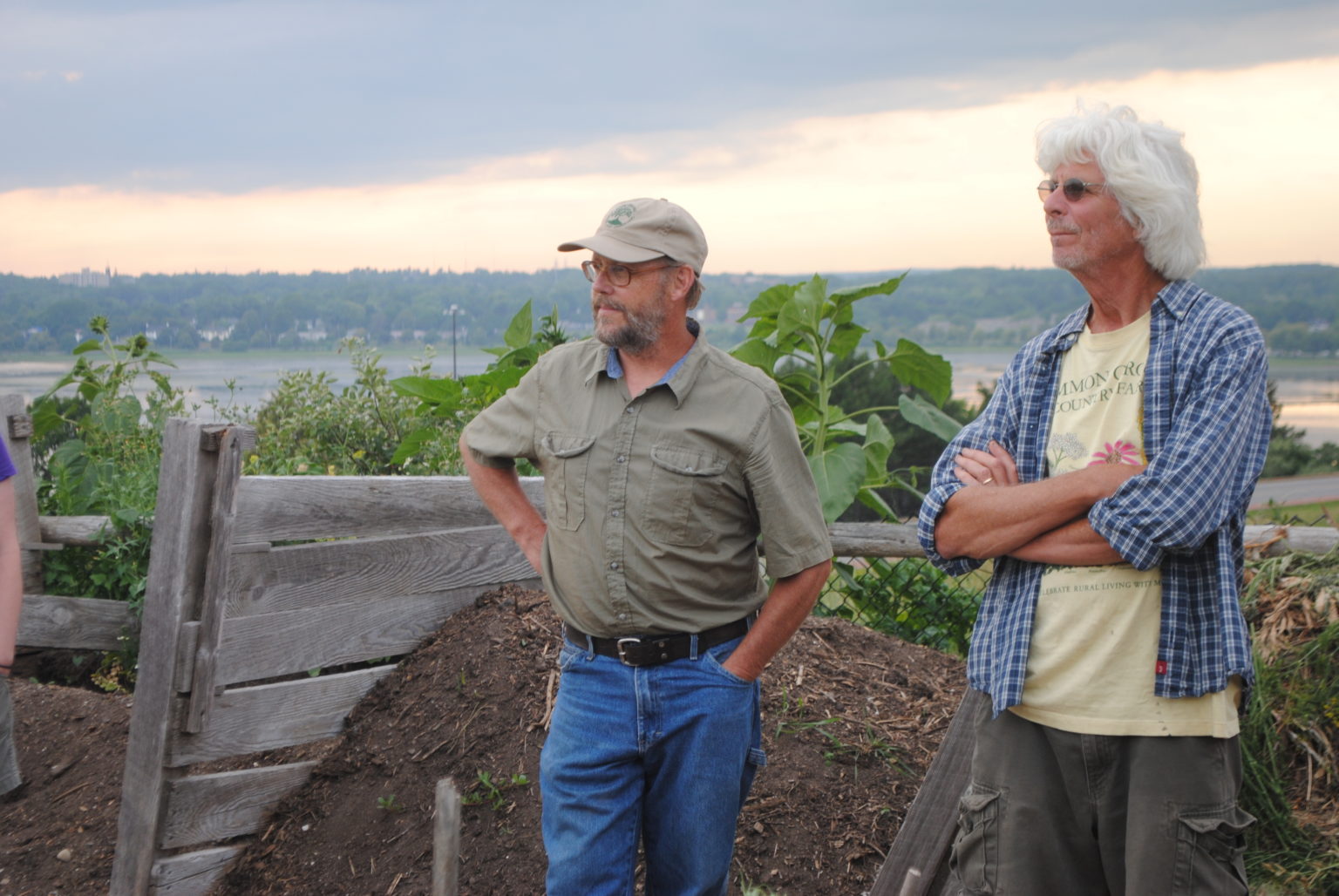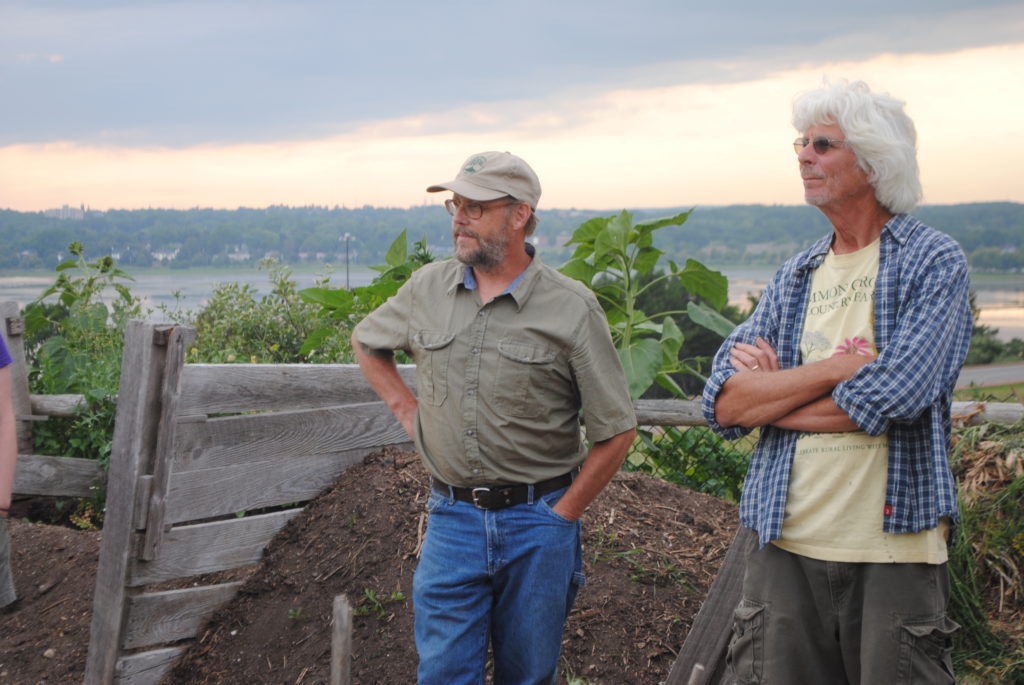 "Dave was a great fellow to work with in all his positions at MOFGA," says Diane Schivera, MOFGA's recently retired organic livestock specialist. "When he was on the certification committee he was balanced, thoughtful and helpful when I was considering different issues. He carried those same qualities forward as a boss. He and his wife Chris are great friends as well!"
"Dave has been a mentor to me and a wise voice in the collaborative work of the National Organic Coalition," says Abby Youngblood, executive director of the National Organic Coalition. "We will miss Dave's presence in important organic policy discussions and on issues of how we govern ourselves to ensure a strong, inclusive voice that balances the needs of diverse stakeholders. Dave Colson has been an important part of the heart and soul of our coalition work to protect the integrity of the organic program. We are grateful to have benefited over many years from Dave's deep commitment to organic principles. I look forward to staying connected, Dave, as I know you will continue to dedicate time and energy to advancing organic integrity beyond your retirement from MOFGA!"
There is a really long list of people who, through Dave's generosity of spirit and wisdom, have gained a deep understanding of organic management practices. On New Leaf Farm, Dave and Chris hosted dozens of apprentices, many of whom went on to start successful organic farming ventures of their own. Dave has been a source of inspiration and encouragement for farmers, gardeners and homesteaders right along.
My own introduction to MOFGA happened because of Dave and, for that, I will be ever grateful. I worked as an apprentice for Dave and Chris and, soon after the growing season, started working on the Common Ground Country Fair. I feel so fortunate to know Dave and his wonderful family, and I wish Dave many happy days in his beautiful gardens at New Leaf Farm.