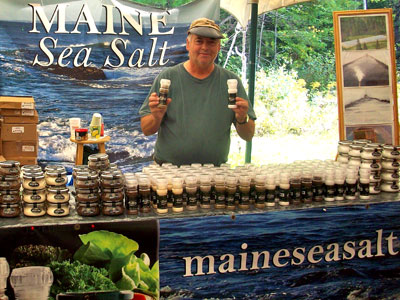 Steve Cook in his booth at the Common Ground Country Fair in 2011. Betsy Garrold photo.
By Betsy Garrold
"Salt is born of the purest of parents: the sun and the sea."
– Pythagoras (580 BCE to 500 BCE)
Founded in 1998, when Steve Cook closed his restaurant in Florida and moved back home, Maine Sea Salt Company began in the aisle of a health food store. This is where Cook first noticed high-end "gourmet" salts, and things suddenly fell into place.
With his background in the lobster business, he started by selling small packets of salt to make "instant sea water" for cooking lobster. At first he boiled small batches of seawater on his stove but soon realized this depended too much on fossil fuels. He knew that solar was the way to go. This limits production to Mid-March to October, when the sun is high enough in the Maine sky to provide effective evaporative power, but Cook feels good about the process and its limited environmental impact. Other than the truck that hauls ocean water from the Atlantic to the evaporation houses and the pumps that move the water from the four settling houses into the finishing houses, little fossil is fuel used.
Cook likes to think of his evaporating greenhouses as giant solar panels. He hopes soon to have photovoltaic in place to run the pumps, eliminating even more of his petroleum dependence. The final input is mostly muscle power, as the finished salt is shoveled by hand into the handmade sifter, the next step in the refinement process. The salt then goes into the Cuisinart for a final grind and is ready for jars.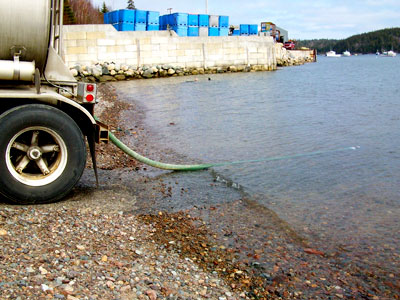 Pumping water at Bucks Harbor. Betsy Garrold photo.
Cook and his wife, Sharon, have six greenhouses in production at their home in Marshfield, Maine, for a total of 12,000 square feet of evaporative surface area. By mid-June of this year, however, they plan to have six more greenhouses up and running to double their productive space. Steve says soon the discussions around the dinner table with Sharon will change from, "Where are we going to get the salt to fill all these orders?" to, "Where are we going to find new markets for all this salt?" As he says, this will be a nice problem to have.
The salt making process is simple yet elegant. A local trucker drives to the cove at Buck's Harbor at high tide and pumps (through a special, filtered hose) cool, clear salt water into the tanker for the journey up the hill to the Cooks' home. Steve and Sharon moved Down East because the large tides there cleanse the water twice a day. They avoid clam flats or anything else that would "muddy the water" and affect the taste of the finished product.
The water is then pumped into one of four (soon to be eight) settling houses, where it is allowed to evaporate up to 80 percent. Then any large impurities the first filter may have missed have settled to the bottom of the evaporation floors and are left behind when the water is pumped to the finishing houses. Any foreign material that may remain is removed during this process as the water is passed through a 5-micron filter.
What is left after the final evaporation is pure salt with the taste of an ocean breeze. And as Steve points out, pure salt is white. The colors of imported gourmet salts – gray, pink, brown or green – are imparted from the clay-based evaporation pools in which those salts are produced.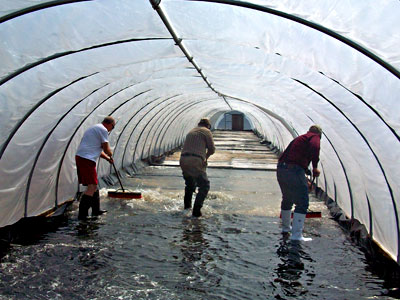 Sweeping water down the greenhouse. Betsy Garrold photo.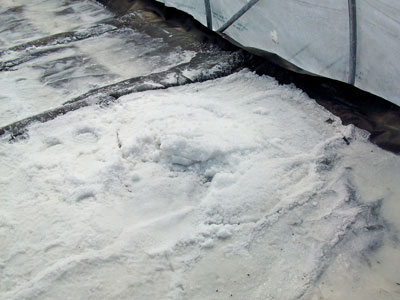 Finished salt. Betsy Garrold photo.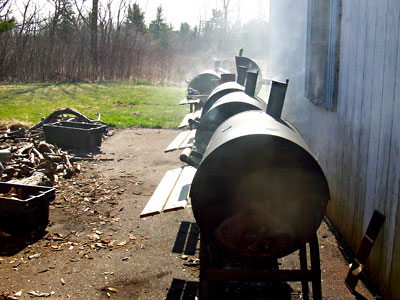 Salt smokers. Betsy Garrold photo.
Sea salt differs from commercial table salt in many ways, but one noticeable difference is that it is slightly moist. Commercially produced salt has drying and anti-clumping agents added so that it flows well from a shaker. Maine Sea Salt adds none of these things – but will smoke the salt for you.
Steve began experimenting with several smoked flavors after a buyer from Brown Trading Company gave him some Viking Salt from Norway and asked if he could duplicate it. Always game to develop new products, he experimented but could not replicate the flavor or color exactly. When he took his version back to the buyer, the buyer liked it better.
Steve now uses his own process, discovered by much trial and error, in five outdoor smokers to produce hickory and apple smoked salts. He has tried mesquite and maple, but the need to constantly turn the salt and feed the fires is so labor intense that the Cooks keep the smoked varieties at a manageable number for now.
In developing their line of herbal salts, the Cooks debated which taste should predominate and finally decided to stick to the philosophy that Maine Sea Salt is salt; added herbs are for flavoring only. They try as much as possible to source herbs and other ingredients locally and organically.
Don't be fooled by sea salt sold by other companies and advertised on the Internet as "organic." No U.S. body certifies salt as organic, because it is a mineral product.
Working for himself and being independent is important to Steve, but more important is doing something he can feel good about and producing a product that, as he says, "is appreciated by a lot of people."
Maine Sea Salt is distributed throughout Maine and New England by several distribution companies, including Crown of Maine, Associated Buyers and Native Maine Produce. Look for its products at your local co-op or health food store, at www.maineseasalt.com, or at the Maine Sea Salt Company, 11 Church Lane, Marshfield, ME 04654; (207) 255-3310; [email protected].
About the author: Betsy Garrold grows apple trees and honeybees but no snow-white turtle-doves on her farm in Knox, Maine, and she blogs about the politics of agriculture at thepopulistfarmer.wordpress.com.