By Holli Cederholm
Through art, Kathryn Cody Russell of Limington, Maine, finds clarity under pressure: She started sketching her winning design, which reimagines MOFGA's tree logo with the inclusion of fruits and vegetables significant to Maine agriculture, just days before the 2021 Common Ground Country Fair art contest deadline.
"Art, for a very long time, has been an important piece of my life," she says. For Kathryn, who works as the director of the Mercy Center at St. Joseph's College in Standish, artistic expression is a kind of prayer and meditation – "journaling in picture form," she calls it – and she derives both comfort and energy from her practice. That combination is pretty unique, she says.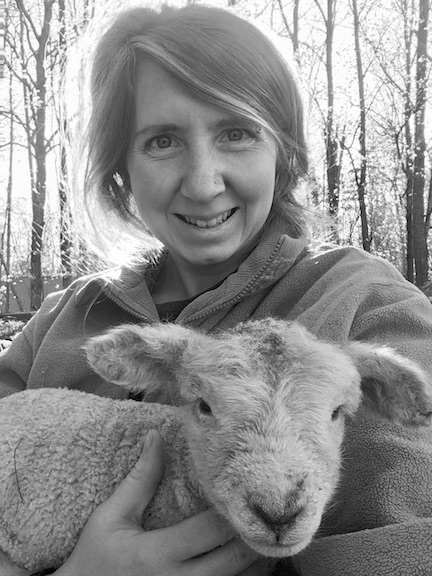 "From a young age, I loved to draw, I loved to paint, I loved to create," says Kathryn, who took every art class her high school offered. She reveled in the freedom that she found in art, "in what you can create and also what you can say."
In college, she double-majored in religious studies and studio art, focusing on drawing and printmaking. Around this time, she also started painting murals and has created a mural in every place she has since lived. "I've left behind murals in my parents' dining room in Lakeville, Massachusetts; my old apartments in Ashland, Montana, Westbrook, Maine, Standish, Maine, and Steep Falls, Maine; and I've done a few murals for my nieces' and nephews' bedrooms in Hinesburg, Vermont, and El Cerrito, California," says Kathryn. She likes that murals are both temporary (they can be painted over) and permanent (the canvas often has structural significance, i.e., as the wall of a building, and remains intact). She also likes how the brushstrokes of a mural become layers of a story.
"Art has the power to awaken our imaginations," she says. This is true from the perspective of creator and beholder. "Art isn't just about my intention or the artist's intention. Once you've created the work, it's no longer yours. It belongs to the viewer," says Kathryn. Every individual who views the art sees it differently – their own depth of life experience and emotion influencing their interpretation. In that way, Kathryn says art becomes an unintended conversation between two or more people.
Kathryn's end of the conversation sometimes focuses on the natural world and her environment – which happens to be an 11-acre farm overlooking a historic apple orchard.
At November's Harvest Farm in Limington, she and her husband Michial Russell grow mixed vegetables with minimal off-farm inputs and also raise pigs, sheep, goats, rabbits and chickens for meat. Their products are available at farmers' markets in Steep Falls and Waterboro, and they offer a Community Supported Agriculture (CSA) program consisting of farm-fresh produce with an optional meat share add-on, called "Our Answer to the Omnivore's Dilemma" after Michael Pollan's book.
Their dream, she says, is to make the farm their livelihood. To that end, the Russells continue to add new enterprises, from goat's milk soap to maple syrup – which they became licensed to sell in 2021. Kathryn says they're considering opportunities for eco-spiritual retreats as well. They like the idea of sharing the skills they have learned while opening up their farm as a place to get away. She says, "We're just dreaming and having a lot of fun."
The Russells are involved in promoting agricultural skill-sharing off the farm, too. Together they co-coordinate the agricultural demonstration area of the Common Ground Country Fair, reviewing speaker and exhibitor applications, creating the schedule and serving as point people during the Fair. Michial has been volunteering at the Fair for over a decade, and Kathryn credits him for her involvement. She has volunteered at the Fair for the last 5 years – which is how long she's been submitting artwork to the Common Ground Country Fair art contest.
Kathryn considers herself a "longtime admirer" of the Common Ground Country Fair posters, and the Fair itself. Submitting artwork to the contest combines her joy in creating art with an organization, MOFGA, that's deeply important to her. "It's a beautiful marriage of two things that I love," she says.
When submitting to the contest in years prior, Kathryn had drawn livestock, including turkeys, pigs and alpacas, noticing these animals hadn't been represented recently. "Funnily enough, the year I drew turkeys a drawing of chickens was chosen for the 2017 poster, and the year I drew pigs a drawing of pigs was chosen for the 2018 poster. I guess I was on the same wavelength as the selection team," says Kathryn.
For the 2021 contest, which marks the 45th year of the Common Ground Country Fair and MOFGA's 50th anniversary, Kathryn took a different approach. A week before submissions were due, Kathryn started mocking up her design in colored pencil, which offers the brilliance of color while allowing for exacting precision similar to graphite pencil – another of her favorite mediums. She likes working under a deadline and calls the contest a reason to get creative. Kathryn studied past poster designs and conferred with her husband for inspiration. They both noticed that it had been awhile since vegetables were showcased by the Fair poster, and Michial suggested that she draw an animal composed of individual vegetables.
Kathryn played with the idea on the page, but kept coming back to trees. For Kathryn, a tree summons a "feeling of life." She says of her artwork, "I've always been really drawn to trees and the imagery of trees."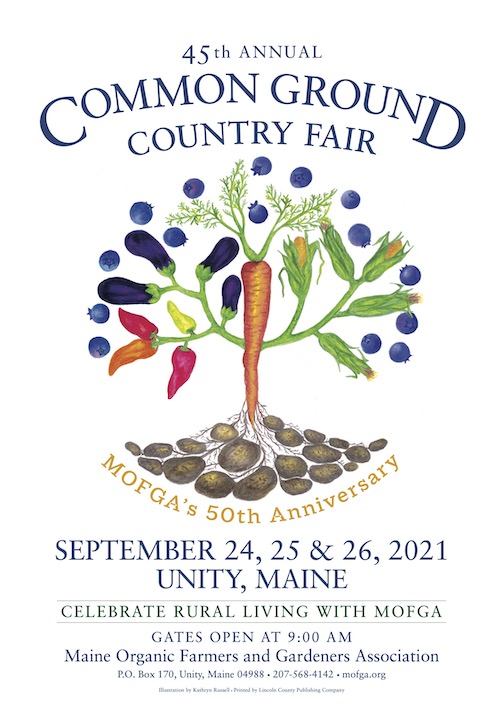 "I used the MOFGA logo – the tree logo – as the framework for the design itself." An orange carrot became the main trunk, with branches of ripening peppers, glossy purple Italian eggplants and plump ears of golden corn. Potatoes extend from the tree's roots underground and blueberries fill out MOFGA's reimagined logo. Due to their importance to Maine agriculture, Kathryn wanted to make potatoes and blueberries really stand out in her illustration.
She praises the Fair, along with MOFGA's Farm and Homestead Day, as being huge assets to anyone interested in farming, regardless of your background or knowledge base. The Fair, she adds, is a great first step to get people excited about more sustainable living practices. Kathryn emphasizes how important such skills are – especially now with the earth in a time of crisis.
"I love being there … and being around people who are excited about taking big steps towards working with the earth instead of against it," says Kathryn.