By Jacomijn Schravesande-Gardei, Associate Director of Crops, MCS
Many of MOFGA Certification Services (MCS) clients know Joan Cheetham as the "very nice lady." Unfortunately for all of us Joan is retiring. Over nearly 20 years, she has reviewed many client files and inputs and has also performed many inspections. The work of a certification specialist can be very complicated but Joan has always done it with grace and great calmness. I am not the only one who thinks that. Marta Łaskiewicz, MCS operations assistant and inspection coordinator, notes that Joan is "just so unbelievably kind and patient," and Grace Keown, operations and information management coordinator, says she is "just so unflappable and calm, always steady in a storm."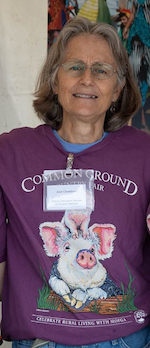 One year we decided to test how calm Joan is and adorned her cubicle with a ridiculous amount of Christmas decorations — she could not even sit down — but again she stayed incredibly calm and just admired the decorations!
Tom Cheetham, Joan's husband, says, "It's hard to imagine a better way for her to spend her life, with like-minded plant lovers, and mucking about on farms across the state. It has been a very happy arrangement for years. When people ask what she does for a living I know she's always proud to be able to say she works for MOFGA."
Joan's son Benjamin Cheetham, when asked about his mother's work for MOFGA, says that "having a mom who's a MOFGA farm inspector is a wonderful thing." He adds, "As a kid, I remember traveling to farms with her during the summer and learning about her work and what it means to be organic. As I got older, she helped me understand the importance and promise of sustainable agriculture for our future. And of course, I could impress my like-minded friends who ask what my mom does for a living!"
Joan's daughter, Amy Cheetham, says the following: "Long ago my mom told me that there were two sustainable options for a career: either you get a job that pays the bills with enough freedom to do things you're passionate about outside of it or, if you're lucky, you find a job that you love enough to make it your passion. Anything outside of those two would make you miserable. I think about that comment often and am so proud to have a mom who found the latter: a job she loves so much she can't even fully retire!"
I have a lasting picture in my mind of Joan crossing out things on paper so that she could use the other side, which sometimes made for complicated matters for the rest of us! But it really showed how much she cares about the environment.
Joan grew up on a small dairy and sheep farm in Southern Maine, tending her first garden plot at age 5. She studied botany and agronomy in college and holds a doctorate in crop physiology from Iowa State University. Before MCS Joan worked on agricultural research farms in Connecticut and Iowa, and she taught biology, agronomy and environmental studies at Wilson College in Pennsylvania for eight years. Along with her work at MCS Joan has served on the board of directors of the Good Life Center in Harborside, Maine, and is on the board of the Landmark Heritage Trust, which serves northern Waldo and southern Penobscot counties.
Her husband Tom says, "The retirement that we are commemorating isn't something she is longing for as a release from the bondage of some awful, meaningless job, and we'll not soon be moving to a condo in Florida. She'll just go on doing what she has always done, spending time with friends and farmers who live in the company of plants, and filling the world with green and growing things." As Amy says, thankfully, Joan will not yet fully retire as she has agreed to do inspections for MCS on an ad hoc basis.
MCS Director Chris Grigsby, who has worked with Joan throughout his six-year tenure, says, "Joan has been an incredibly consistent, knowledgeable and dedicated staff member of MCS and MOFGA, and retires as the longest-tenured staff person at MCS to date. I'm thrilled that we will get to work with her as a contract inspector moving forward, and wish her all the best in her retirement, and hope she has lots more time for the things she loves!"
We wish you many days of tending your gardens, Joan. Thank you so much for all that you have contributed to MOFGA through the years.
This article originally appeared in the spring 2023 issue of The Maine Organic Farmer & Gardener.