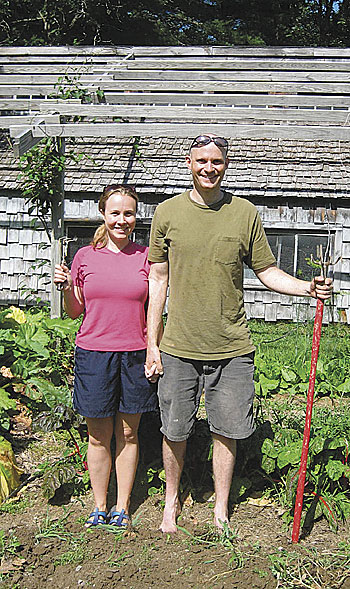 Jessica Garrett and Ben Ligon in Garrett's father's vegetable garden before the wedding. This photo was used on a welcoming program of events. Garrett photo.
by Jean Ann Pollard Garrett
When our daughter, Jessica Garrett, and Ben Ligon from Massachusetts decided to marry, they wanted their commitment to each other to reflect their commitment to the planet – through a "green wedding." They also wanted an elegant affair with lovely tables, delicious food, many guests, flowers and dancing.
Jessica had always dreamed of being wed on our lawn under a white tent, surrounded by woods and fields, next to the family vegetable and flower gardens. Yellow tablecloths would mirror sunflowers bordering the lawn; blue glass vases would hold locally-grown blossoms; place cards would be printed with Maine's flora and fauna; and a vegetarian feast of locally grown, organic delights would satisfy even the fiercely carnivorous father-of-the-groom.
What was needed was some way to compensate for the carbon footprint that would result from all the traveling and arranging, they decided.
Home weddings, while perhaps easier on the pocketbook, demand a lot of extra care and attention. Host families are responsible for the rehearsal dinner, wedding ceremony and day-after brunch, as well as manicured lawns, gardens, home decorating (with possible improvements!) and arrangements for parking, lighting, and possibly extra laundry and meals for houseguests.
This wedding was to be a Friday-through-Sunday event in August, with more than 200 guests from four countries and several states. Could it be "green" as well as elegant?
We began planning in January. We rented a tent, tables, chairs, place settings and portable toilets. Through spring and summer, the couple created elegant invitations; arranged for guest accommodations; chose flowers, a band, clothing, rings; and determined the logistics for Friday's rehearsal party, Saturday's ceremony and Sunday's brunch.
Things seemed well in hand until Friday, when lightning struck our deep-well pump (which we promptly had fixed) and torrential rain soaked the lawn (which Peter vacuumed!). But on Saturday the sun came out and joy took over. Bride and groom asked their parents to walk them down the garden aisle to the tune of "Somewhere Over the Rainbow" and "It's a Wonderful World." They exchanged vows under the big tent; friends and family offered blessings; then everyone paraded onto the still-damp grass to share gentle, community-building games, which made for a rich, relaxed reception followed by dancing in delighted – if slightly damp – abandon.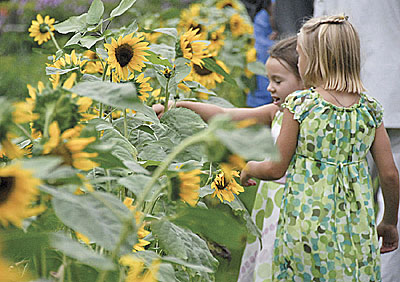 Garrett got her dream wedding, which included a long line of sunflowers bordering our vegetable garden.
Sunday offered a surprise – tree planting (#10, below). The couple agreed that committing themselves to each other and the planet during a sample of lively Maine weather made the wedding meaningful, magical and very, very green!
Here are 10 activities that made this green wedding a success:
1. Invitations – For expediency and economy, the couple emailed invitations as beautiful as paper ones. "Our guests could e-mail back with RSVPs and questions, and we could easily send updates about the forecast of four straight days of rain!" said Garrett. Ten invitations on post-consumer waste paper were snail-mailed to people without computer access.
2. Guest accommodations and parking – In January, we reserved block bookings at local motels and B&Bs, and offered to arrange carpooling. Guests could choose from an e-mailed list. With so many cars expected, we were lucky to be loaned the big, dry, slightly sloping lawn of the Frederick Eames farm next door for parking. Candles in dozens of quart canning jars turned a dark driveway into firefly heaven, compensating for the lack of streetlights.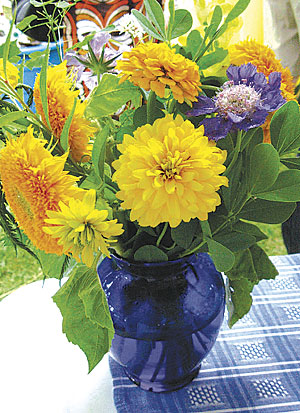 Despite rain, each table under the tent was brilliant with bouquets of sunflowers and scabiosa in cobalt blue vases.
3. Tent, accoutrements and portable toilets – We purchased fairy lights to decorate the 100-by-40-foot tent rented from Are You Ready to Party? in Waterville, which also supplied chairs, tables, tablecloths, napkins, dishes, glassware and silverware. The company erected the tent and checked electrical connections (as did the Portland band Retrospecticus). We rented three extra-large portable toilets with hand-washing facilities from A.A.A. Portable Toilets in Albion. Although expensive, they were perfect for the large gathering.
4. Food – Comestibles for the vegetarian, buffet-style, sit-down wedding dinner were locally grown, seasonal and MOFGA-certified organic.* Monica Murphy of Crosstrax Catering in Unity provided tasty hors d'oeuvres of vegetarian spring rolls with peanut sauce, fruit kabobs, and assorted cheeses with bread or crackers, followed by a main meal of Warm White Lasagna with spinach or zucchini; Grilled Vegetables drizzled with olive oil; Green Leafy Salads (from our vegetable garden), Two-Potato Salad (half white and half purple) and Three-Bean Salad. We chilled drinks in an ice-filled canoe (a real hit). All leftovers, including cups and bowls made of corn (from Sunday's brunch), were composted.
5. Flowers – I bordered my perennial flower gardens with yellow marigolds, and my husband, Peter, lined his vegetable garden with rows of golden sunflowers. 'Teddy Bear' sunflowers and blue scabiosa for tables came from local flower-farming friends Paul and Elizabeth Cates of East Vassalboro. They also arranged the bride's bouquet, boutonnieres for groom and minister, and five huge vases of gladiolas in earthenware pots for tent decorations. Small white blossoms in the bride's hair came from one of my petunias, and three beautifully iced wedding cakes – chocolate, carrot and white, baked by Jennifer Winslow of Waterville – were decorated with yellow flowers.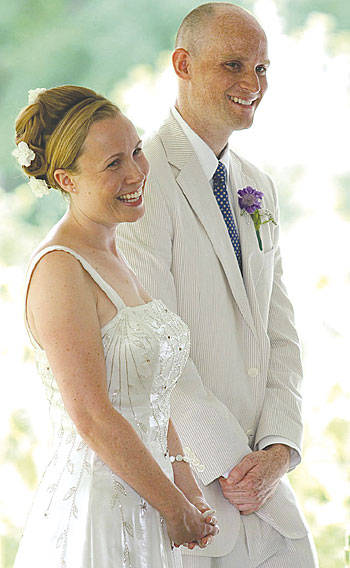 Garrett and Ligon at their green wedding last August. The gown came from a consignment shop; rings were family heirlooms; and flowers came from the author's garden and a nearby flower farm.
6. Arbor – The ceremony took place under an arbor of birch saplings made by Tom Vigue of Belgrade and was decorated with ivy and hanging pods from our honeylocust tree.
7. Bridal gown – A gown of sheer white organza embroidered with hundreds of beads and sequins in a graceful tree-growth pattern (perfect for a green wedding) came from a consignment shop for much less than its original price. Taken in and shortened, material from the hem was sewn into straps for comfort and security while dancing.
8. Rings – With an affection for history and the desire that no new metals or diamonds be mined, Garrett's engagement ring was the groom's grandmother's, her wedding band came from an antiques shop, and Ligon's ring was one that Garrett's dad had lost, then later found – but only after I had purchased another to take its place!
9. Gifts – The couple registered for sustainable items with companies committed to the environment, including Gaiam, Crate and Barrel, and Ten Thousand Villages.
10. Carbon footprint – The couple calculated the amount of carbon released from guests' traveling and the wedding itself, and found that a tree would use one ton of carbon dioxide in its lifetime. After Sunday brunch, they and their friends planted over 600 pine seedlings from Western Maine Nurseries in Fryeburg on our Winslow property – in pouring rain, of course! Some guests took their wedding-favor seedlings home to plant.
*For a list of MOFGA-certified organic growers, visit www.mofga.org and click on the Certification tab.