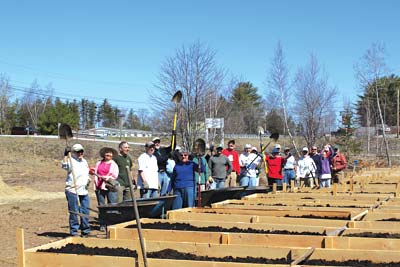 Raised beds built and filled by Gardeners Growing Healthy Communities in South Paris. Photo by Anne Stuer
By Joyce White
On a sunny Thursday afternoon in mid-September, about 15 volunteers are engrossed in a variety of garden-related activities – harvesting kale and cabbage, dividing a big bowl of 'Sungold' cherry tomatoes into separate baggies, weighing and recording harvested fresh vegetables from these first-year raised beds and weighing donated produce. These activities are taking place at Gardeners Growing Healthy Communities (GGHC) on Route 26/Park Street in South Paris.
Volunteer Barbara Murphy finishes weighing and recording cabbages and then talks with me while she picks Provider green beans from a third planting of still-lush, dark green plants. She tells me that all this produce that the friendly and industrious volunteers are dividing and organizing will be moved to the First Congregational Church in South Paris for distribution to about 65 families for 135 family members. Thursday evenings at 6, she said, are times of celebration as people gather in friendly community to distribute and receive fresh garden produce.
Murphy worked for the University of Maine Cooperative Extension for Oxford County for 23 years before becoming involved with GGHC, and she taught the Master Gardener program for those 23 years.
While with Extension, she learned the skill of enlisting volunteers while working with "Plant a Row for the Hungry," "a fabulous program," she comments, that encourages gardeners to purposefully grow one row of their gardens for donation. "PAR grew slowly," she explains, "expanding from serving a dozen or so families to a high of over 100 families coming weekly to the [Oxford County] Extension office to share food and companionship.
"The program was also very successful with the volunteers who wanted a way to use their gardening skills to help others in the community."
Master Gardener graduates were expected to volunteer to use skills learned from the program, so the new GGHC nonprofit resonated with many of them, Murphy said. "We started very slowly, took a few years, and now have all these dedicated volunteers." People from surrounding areas are welcome, and recipients also help, so 10 to 12 people work in the gardens every week, and about 15 to 20 work at distribution.
Volunteer Becky Armstrong said she likes working with senior citizens. "I see a need and we [referring to the weekly food distribution] can serve as an outing for the participants. Some actually cry at the end [of the season] when they can no longer look forward to their 'Thursday night party.'"
Another bean-picking volunteer, Maureen Howard, said, "When I read in the paper that Barbara was starting this GGHC project and looking for volunteers, I wanted to be involved." She had taken Murphy's Master Gardener training six or seven years earlier, and "I knew that whatever Barbara was leading would be worthwhile and I wanted to be a part of it."
Murphy said emphatically, "What makes this project successful and a joy is all these volunteers to work with. Support from farmers, gardeners and community members with tools, time and cash lets us know we are on the right track. They don't come any finer than these folks. For example, Suzanne Grover just delivered 122 dozen eggs as a one-time donation. The eggs will be helpful in providing protein for our people."
Cooking Demos
Every other Thursday evening, Anne Stuer and other volunteers on the GGHC Healthy Eating Committee demonstrate ways to prepare vegetables that community members may not be familiar with, such as eggplant, and how to freeze extra produce. She has demonstrated making zucchini fritters, fresh cucumber salad, turkey chili and summer succotash. Recipes are available as handouts and on the GGHC website. One person liked the zucchini fritters so much that she told Stuer she had made them three times in one week.
Previously Stuer had been involved in cooking demonstrations about healthy eating for the Eat Well program at Oxford County Cooperative Extension, where she, with help from volunteers, showed participants ways to use the food they got, making salad dressing from fresh herbs, for example, or using leaf lettuce rather than the iceberg variety they were accustomed to.
A Nonprofit Germinates
Phoebe Call, volunteer and GGHC board chair, got her gardening knowledge from Murphy's Master Gardener training. After the Plant a Row program ended in Oxford County, a group of participants wanted to continue growing food for people in need.
After one year of gardening in other locations, the group decided at the end of the 2015 season to establish a more permanent location and legal status as a nonprofit. As an all-volunteer grassroots effort in 2015, its brochure states, "we distributed over 19,000 pounds of fresh produce directly to individuals, families, local food pantries, and schools." By mid-September 2016, they had already distributed 11,000 pounds. Early in 2016, the use of land on Route 26 (Park Street) adjacent to and owned by Oxford Hills Law was donated. "Linda Russell and Sarah Glynn of the law office are huge supporters of our efforts, and we would not be where we are today without them," Call said, adding, "Anything we've done, we've run by the law office first."
The nonprofit status allowed the eight-member board of directors to apply for and receive grants from Hannaford, the Maine Community Foundation and the Betterment Fund. These grants helped purchase lumber for raised beds, topsoil and other materials for the new gardens. Some topsoil, compost, seeds and tools were donated, Call said. The Foundation grant allowed them to construct a combination tool shed and walk-in cooler for storing produce. They do some fundraising for specific projects.
Building the Beds
Establishing new raised beds required a lot of volunteer time, skill and effort as the land needed to be cleared of rocks and brush, poles cut and installed to support deer fencing, drip irrigation installed, and PVC pipe and Rebar established for tomato trellises. On April 16, the first of three construction days, Stuer said 25 to 30 volunteers began building and filling the 21 beds, each 3 feet wide, 25 feet long and 16 inches high, from hemlock. The whole process was photographed (see the group's website – address below – or GGHC's Facebook page). Volunteers had saved wood ashes to add to the topsoil and compost, which went into the beds over a layer of sand. A volunteer provided a tractor to help with some of the work.
"Everyone is sort of finding their own niche," Call said, "and using their own strengths. We pull weeds, squish bugs, pick tomato hornworms." They use no pesticides or herbicides. This year they used some 10-10-10 fertilizer (Ed. note: not allowed in organic production) and fish emulsion. All garden waste is composted, so they will have more compost available next year. For next year they have already built 10 more, smaller beds, each 10 feet by 3 feet by 10 inches high, to fit at the ends of existing beds.
Donations and Gleanings Appreciated
They are grateful for donated food, Call said; it makes greater variety possible on distribution nights. Peter Coleman of MOFGA-certified organic Wildfire Fellowship Farm in Buckfield regularly donates, and PieTree Orchard in Sweden lets GGHC glean apples in the fall.
"We gleaned four times last fall," Call said, and were able to distribute apples to all recipients as well as to the Maine Veterans' Home, some schools and food pantries. PieTree also donates fresh produce every week, she added. Cooper Farms is also a huge source of weekly donations.
After distribution ends in early October, opportunities still exist to glean apples, squash and pumpkins, which they distribute to churches, food pantries, child care centers and Community Concepts.
Educational Opportunities
To recruit volunteers, Murphy taught an eight-week class in spring 2016 focusing on common garden vegetables. The response was good, and GGHC hopes to provide more educational opportunities in the future.
The McKeen Center for the Common Good at Bowdoin College in Brunswick contacted them, Call said, to see if GGHC wanted to work with students learning about rural Maine communities. Ten students spent a Thursday afternoon in August working with GGHC volunteers harvesting and preparing produce and then participating in the evening distribution. They were enthusiastic, and everyone enjoyed working with them, she said, and GGHC hopes that involvement will continue.
More Gardens
In addition to these new gardens, GGHC volunteers maintain the Maine Veterans' Home garden in South Paris and the Rumford Tuesday Night garden. Veterans' Home residents and staff use the garden produce, and GGHC volunteers harvest the rest.
Bonnie Pooley of Bethel has been involved in the Rumford Tuesday Night garden for about 10 years. That garden, she said, has existed since 1999, and she has developed a friendship with the 10 or 15 long-term volunteers who have kept it going all these years.
Murphy also has a fond history with this garden and said that two founding gardeners, retired mill employees, had asked for the land from the mill, did the hard work of clearing the property and have been part of the effort ever since. Although this is a traditional garden built directly in the earth, Pooley said they have built up the beds for better drainage by digging soil from the paths. They used some money from the Betterment Fund and help from the town of Rumford to set up an irrigation system. River Valley Healthy Communities Coalition has also supported this effort for a long time, providing the site for produce distribution as well as sponsoring an annual 5K race that supports the Rumford garden.
After taking Murphy's Master Gardener course several years ago, Pooley worked in the Rumford garden to fulfill the required 30 hours of volunteer service. "For me, it was a way to garden with experienced people. The hands-on work reinforced the things I had learned and maybe forgotten – the necessity to thin carrots, weeding often, for example. I'm still learning. This year I learned how to trellis tomatoes from Peter Coleman."
About 60 people go to the River Valley Healthy Communities Coalition office on Tuesday nights for the distribution, and Pooley finds it enlightening to talk with people there about their reasons for coming. Some say they want to be healthy, to eat right. About 15.5 percent of Oxford County residents are food insecure, Pooley explained. "The most needy are usually taken care of by social services, but it's the people in between, those having trouble making ends meet, trying to feed their families well, who come every week for the distribution. And there are others with a surplus who come to donate."
Inclusive and Inspiring
"We are your neighbors," says the GGHC website (https://www.gardenersgrowinghealthycommunities.org/). "We garden, cook and spend time with friends. We believe that if communities are to become more inclusive and inspiring, we need to, at the very least, ensure that the extraordinary bounty from our gardens is shared." And GGHC is doing just that.