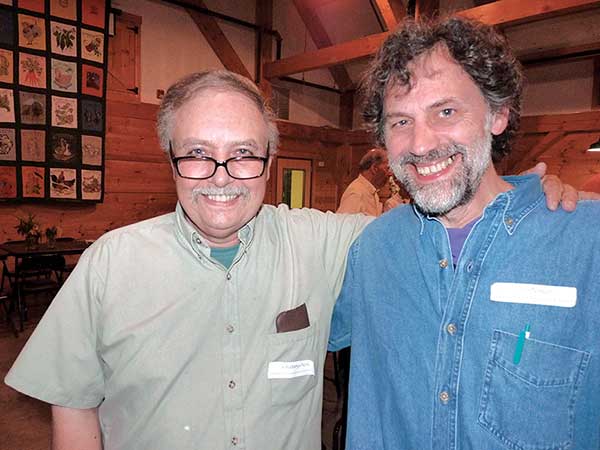 Tim Nason with Chaitanya York, MOFGA's first executive director, at a celebration for MOFGA's 40th anniversary in 2011. Jean English photo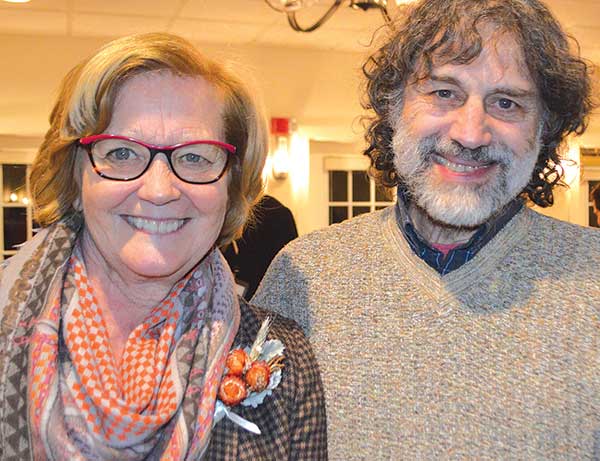 Tim with U.S. Rep. Chellie Pingree at a MOFGA dinner at Harraseeket Inn in Freeport. Jean English photo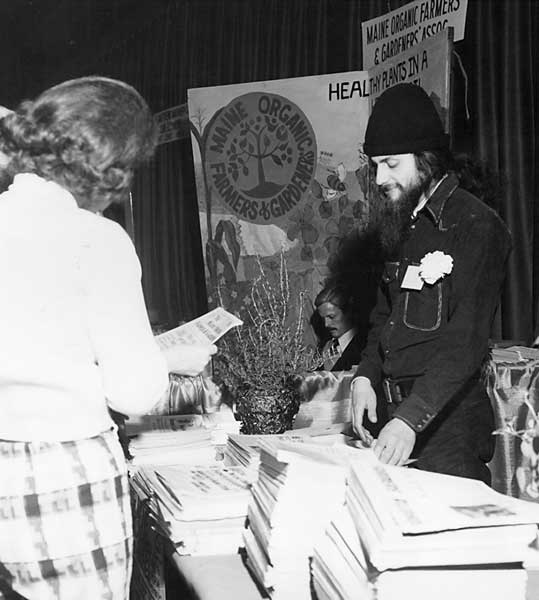 Tim is shown here at the 1975 Trades Show surrounded by The MOF&G. Eliot Coleman is seated in the background.
By Jean English
Tim Nason has been organizing bits and pieces of MOFGA information into beautiful and informative publications for almost 50 years. With his retirement this at the end of 2020, the current issue of The Maine Organic Farmer & Gardener was the last in which he sifted through a barrage of feature stories, news items, photos, ads, calendar listings and more to create such an artistic publication. This is our thank-you love note to Tim.
Tim came to Maine in 1972 to escape the cities and suburbs and to "get away from the political atmosphere of the time," he told Anu Dudley in a 2003 interview for the Maine Folklife Center. The early '70s "seemed to be very contentious and quite violent," he said. "And it just seemed that getting back to a more traditional way of life in a rural location, in an authentically old house, with actual grass growing outside and trees and a marsh, it seemed a more sane way to live. Economically, it did not make sense at all."
Tim became involved with our organization after receiving a letter in late 1973 from Charlie Gould of the University of Maine Cooperative Extension about MOFGA, "which I did not know existed," he explained. "Charlie told [Maine organic farmer] Mort Mather about my interest in helping with publications. He also told me about the Jan. 16 annual meeting at the Agricultural Trades Show, which I attended. So that's where my involvement with MOFGA began, pretty late in the game."
Not so late in retrospect, as MOFGA had just started organizing itself in 1971. By August 1974, MOFGA volunteers Abbie McMillan, Mort Mather and Tim had published The Maine Organic Farmer & Gardener, Vol. I, No. 1. Tim has been deeply involved ever since, even serving at various times as MOF&G editor, soliciting articles, writing many articles himself and selling ads – all part of his dedication to seeking that sane way of life. In a 1994 interview he told MOF&G feature writer Jane Lamb, "People don't join an organization for what they can get out of it. It's what they feel they belong to. I've always thought of MOFGA as home, that I belonged there …"
He made others feel that way, too. When CR Lawn gave a keynote speech at the Common Ground Country Fair in 2000, he recalled how, a quarter of a century earlier, he "plunked down five bucks to join MOFGA and shared my intentions to start an organic market garden. I've never forgotten the warm reply I received from Tim Nason. Tim also sent the first three issues ever produced of The Maine Organic Farmer & Gardener."
Always seeking to expand MOFGA's reach, Tim suggested that our members promote organic practices at the town level by serving on town committees, providing MOFGA publications to towns, posting information about organic practices, promoting local food production and marketing, and more. He encouraged MOFGA to connect with local libraries to spread the word about "our little movement."
Later, regarding our Unity offices, he suggested, "MOFGA should name a building in [Chaitanya York's] honor!" The indefatigable York was MOFGA's first executive director and an originator of the idea of a fair for the organization.
Beyond The MOF&G Tim worked seemingly endlessly on MOFGA's website (quite a learning process in the beginning; "Learning Mandarin might be easier, and more fun!" he said) and designed our Seasonal Food brochures, annual reports, brochures for the Common Ground Country Fair and for fundraising. He designed and laid out our Organic Maine! directory when it was one of MOFGA's annual print publications. For eight years he was the "coordinator and sender-outer" of our weekly emailed Bulletin Board. He designed and produced our 40th anniversary "Fertile Ground" book in record time, and his suggestion that we divide its contents into eras, with short essays about each, resulted in a much livelier book than a simple timeline with photos would have done.
Heather Spalding, MOFGA's deputy director, says, "Tim has provided so much support to me through the years. Whether we were working on regularly scheduled publications such as the MOFGA newspaper or the weekly email bulletin, or tackling a giant project such as the MOFGA website, or creating a commemorative document such as the "Fertile Ground" book, Tim always laid out a logical, elegant path forward. He embraced even the most daunting tasks with such grace and humor, and he always turned things around in a flash, even when I asked for help at the 11th hour. With so many programs and staff members eager to share their work with our vast network of stakeholders, MOFGA has a big challenge to ensure consistency in messaging and style. We have been so fortunate to have Tim to lovingly and humbly project MOFGA's mission and culture through our many communication channels."
Tim took well-deserved pride in the appearance of his work for MOFGA. When the summer 2010 MOF&G was at the printer, he told me, "If the printing is any good … the cover and first page should look like collector's items, suitable for framing." Every time the paper appeared in my mailbox, I would open it excitedly to take in the layout of that first feature story and immediately be delighted with that and the rest of the paper. Somehow Tim took the voluminous piles (at first physical and later digital) of text, photos and ads that came from the editor, ad rep, MOFGA program directors and others and crafted these into works of art.
After one MOF&G issue was complete, he told me, "I had fun designing the paper, even the challenge of those randomly-placed color pages. If only we could have color throughout the whole paper." Now we do, and it's more beautiful than ever – as are the pages Tim created on our website.
Tim had (and has) a life outside of MOFGA. As the typographer for Michael Mahan Graphics in the 1990s, he was involved in designing Chellie Pingree's knitting books, The Island Journal for several years, two books about Maine architecture ("John Calvin Stevens: Domestic Architecture, 1890-1930" and "A Delight to All Who Know It: The Maine Summer Architecture of William R. Emerson") and many other important projects.
Tim himself is a wonderful writer and speaker. His voice resounds in the early MOF&Gs as he implores members to participate in the organization. At MOFGA staff meetings and retreats, he has spoken passionately about his desire to see MOFGA remain true to its deep-rooted history and culture.
In addition Tim is an accomplished fiction writer and has taught writing at local Senior Colleges. His book "Days with Cedar Whitewater," with Toki Oshima's delightful illustrations, transports readers to those magical, youthful days spent meandering and exploring the woods with an imaginary friend. Tim's ability to channel a young boy's explorations in nature may have helped him find, in real life, a boy who was lost overnight in the late winter of 2012. Searching his own 95 acres of forest land that runs steeply down to the Eastern River in Dresden, he found the missing 12-year-old in a marsh. He told the Bangor Daily News, "My feeling was, he's going to go to the river … I thought if I was that kid, that's where I'd go." Tim carried the boy, with his cold, swollen, frostbitten blue feet, on his back to a berm where they were able to hail a marine patrol boat. "It was just a normal day other than that," Tim told the Bangor Daily News.
Tim and I corresponded regularly and often on those normal days, frequently about where we saw the paper and MOFGA going. "To me," he once wrote, "MOFGA should stand for seeking and promoting sustainable, earth-enhancing, community-based lifestyles (while allowing ample space for reclusives like myself), and should seek to change the world. I think this broader effort is what people are looking for when they attend the Fair and read the paper, etc., much as we also crave practical information on gardening, agriculture, forestry, cooking, wind turbines, etc., and about pesticides and food policies."
His emails often were less weighty and even humorous – as when he questioned the (erroneous) title of a Fair talk, "Why Birth Maters," or the title of a feature story, "Maine Growers Link Biodymanics, Organic." "BiodyMANics, as in manically bio!" he joked. "A new condition, imperfectly diagnosed prior to now?"
About some organizational development work: "Who or what is the SOAP group? Sounds like a slippery outfit."
About a 34 MB photo: "At that size and clarity I can almost eat the basil seedlings right off the computer screen!"
Regarding copyright rules for photos: "Weird that images are so well 'protected,' given that they fly around the internet like fruit flies."
Discussing the use of "visioning session" versus "envisioning session" in a headline: "Actually pretty funny either way! Is peyote involved?"
Asking a silly style question: "How come there is no '¨' in the word 'umlaut'?"
And requesting that I edit the statement, "Board approval of these elements of [the plan] will provide guidance to staff as they develop implementation strategies aimed at achieving organizational goals": "GAK! Major obfuscation. Get to work quickly, before we suffocate!"
More seriously, Tim told me in 2010, "Overall, I'm so glad that MOFGA exists and is such a sensible organization, giving a person genuine hope in a world that otherwise seems to be getting more and more scary and dangerous!" In 2020, that hasn't changed.
In 1983 Tim noted in The MOF&G that Scott Nearing inspired so many to "grab life with both hands." Over the decades MOFGA increasingly grabbed Tim's life with its hands. With retirement comes the chance to reclaim his own days, to enjoy the world once again with the likes of Cedar Whitewater (and with his wife, Susan). Thank you so much, Tim, and may your coming adventures fill you with joy. Or, as you once emailed me, poking fun at texters' abbreviations, "THX4VRYTNG!"