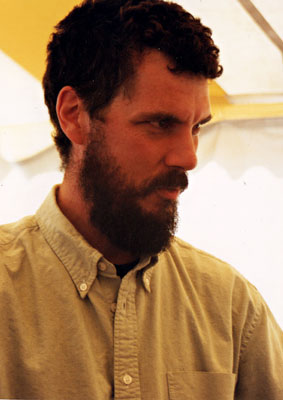 Dr. Brian Donahue. English photo.
By Jean English
Brian Donahue enjoyed the Common Ground Fair last summer. "The type of activities seen at the Fair should be part of our daily lives," he said. For many of us who live in rural Maine, they are; but Donahue goes a step further: "We should do them in the suburbs." This is his key to countering sprawl.
Dr. Donahue is an Assistant Professor of American Environmental Studies at Brandeis University in Waltham, Massachusetts. He holds a B.A., an M.A. and a Ph.D. in history from Brandeis and has taught extensively about environmental issues and sustainable agriculture. He has been Director of Education at the Land Institute in Salina, Kansas, and Director of Land's Sake, a community farm in Weston, Massachusetts, where he maintained a forestry program, market garden, maple syrup operation and a flock of sheep. Such experiences led him to write Reclaiming the Commons: Community Farms and Forests in a New England Town, and the book title describes his talk at Common Ground as well.
In the late '70s, Donahue explained, we thought we needed decentralization because of the energy crisis, "but it's happened in the worst possible way," i.e., sprawl. To counter sprawl, he believes that we need to protect our common interests by having healthy landscapes rather than numerous private lots, and that each community should have a community farm, "especially where young people in suburban areas can take part."
This is what the town of Weston began. When more and more affluent people moved there, the town put aside land for commons and for conservation. This was decades ago, and it involved many meetings, bond issues, and a "Thoreauvian impulse to have green, open space," said Donahue.
Also, in 1970, a community farm started in Weston for the purposes of growing food for people in Boston and for providing urban and suburban kids with a place to get their hands dirty, to help prevent their alienation and turning to drug abuse. Although the farm was started by a private individual, it later became part of the town. A sugar house was added, as was cider making.
Later, the nonprofit Land's Sake took over the program so that it could expand from a few acres to other public land in town and so that a more flexible and stable entity than town government could run it. Land's Sake had four goals: to take care of the town's 2,000 acres of land in a sustainable manner; to educate – especially young people; to pay its own way as much as possible rather than depending on fundraising (e.g., by selling flowers, fruits, vegetables, etc.); and to make the program's lands beautiful.
Land's Sake started raising crops – primarily strawberries and raspberries – organically at Case Estates in Weston, then part of Harvard University's Arnold Arboretum. When Harvard sold the land in the mid-1980s to boost its endowment, the town of Weston bought it.
"We kept growing," said Donahue. "We found we could make lots of money with cut flowers. On 1 acre, we grossed $25,000 a year – and it was very beautiful." In all, 25 acres were under cultivation by then, most in pick-your-own fruits and flowers. "We were absolutely overwhelmed with business. We didn't have to run a miniature golf course and a petting zoo to get customers." The project still sends 20,000 to 30,000 pounds of surplus organic produce into Boston, still employs young people, and still has many beautiful flowering trees left on its property from the Arboretum days. Over the years it has expanded to include a maple syruping operation employing 200 to 300 taps and including replanting of sugar maples in town forests; and a forestry program that includes some timber harvesting as well as cutting and selling 150 or so cords of firewood per year. One of the young people who was involved in these forestry operations ended up going to the Yale School of Forestry and, for his thesis, planning a long-term (120- to 150-year) rotation for the forest that would grow the trees out to their highest value in an ecological, diverse, beautiful setting.
The project now has three full-time staff and hires dozens of kids over the course of a year. Its objectives include making farming and forestry a vital part of the community; building an alternative vision of what suburbs are all about; showing that the objective of agriculture is not just to produce cheap commodities, but to maintain a healthy, ecological landscape that produces the highest quality products and provides for a rich and satisfying community life in a beautiful setting. The program now costs $250,000 per year to run, of which some 60% is earned from sales; 10% comes from donations; and the rest comes from the town. It has also trained farmers and foresters who have then gone to other Massachusetts communities to work on similar programs.
This is not how things usually go in suburbs. "The problem is, as people arrive in the suburbs, they turn those things [that they valued] into commodities and consume them," said Donahue. To counter this trend, communities need to protect their common interest in the land; buy local products; and create and support community farms in their own areas.
Land can be protected through land banks, land trusts, conservation easements, buying of development rights, commonly owned land (owned at the local level, rather than by distant bureaucracies) and so on. "You need to set a very high goal" regarding how much land to protect, said Donahue, "and not just a few scraps of open space within suburban sprawl. The majority of the land must be that way – so the settlement must be more compact." Cluster housing can help ensure that the rest of the land remains open and working, for instance. Large lot zoning, on the other hand, works against such protections. "I would love to see every New England town have at least a thousand-acre town forest," said Donahue, or "better: half the town." Such land does not have to be wild, said Donahue, "although there can be wild land within it." Such tracts can be purchased using money raised from real estate transfer fees, or by instilling a sense of obligation among wealthy people who want to live in the town.
When asked how a town could do the above and still remain affordable for those with less money, Donahue said that he didn't have "the magic answer, but that's a problem no matter how the land is developed or used." He reiterated: "We should be asking wealthy environmentalists to buy local, to protect rural areas."
What if an area is already heavily suburbanized? asked a Fairgoer. "Just find a scrap of land and grow flowers," said Donahue.
Brian Donahue's book, Reclaiming the Commons: Community Farms and Forests in a New England Town, was published in 1999 by Yale University Press, PO Box 209040, New Haven, CT 06520-9040.