By Holli Cederholm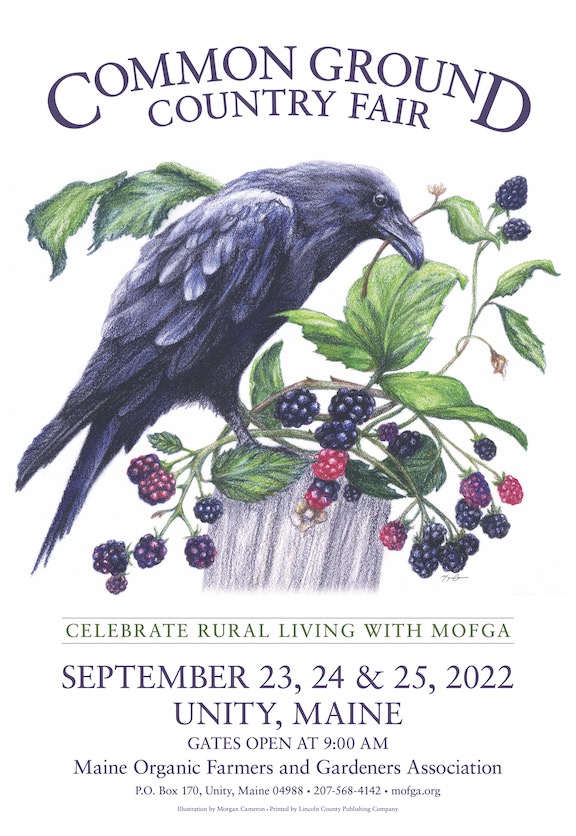 Morgan Cameron paints animal portraits in oil, and has a special love for horses.
As a child, Cameron, now 30, spent her summers and afternoons on her grandparents' 100-acre farm in Dover-Foxcroft getting to know an array of animals that became inspiration for her artwork, including dogs, cats, cows, rabbits and her beloved equines. "I just drew horses all the time," says Cameron, adding that she's always adored animals. "I found them a lot more interesting than people growing up."
Her grandfather taught her to ride horses on the farm, and she would take her pony out and ride trails through the woods. At age 11, Cameron attended a dressage and theatre farm, where she performed in adaptations of "Pirates of the Caribbean" and "Phantom of the Opera" — on horseback. "It was a great way to combine horses with artistic things," says Cameron.
"For me, it was horses everything," she says. Cameron considered a career as a horse trainer before deciding to pursue art full time.
After high school, she attended the University of Maine Orono as a painting major for one year and studied at the Lyme Academy of Fine Art for another. She then moved to a Navy base in New Orleans with her husband who played in the Navy band. Cameron sold paintings and watercolor "animal cards" at a local art market, and not long after was accepted into her first fine art gallery, just outside the city in Covington, Louisiana. When she and her husband moved to New Jersey, Cameron started vending at the juried Rose Squared Art Show. "It was a great exposure for me and great experience," says Cameron.
These entry points into the fine art world gave her the confidence to contact a gallery in Denver, Colorado, that featured several artists which she admired. After reaching out, they told her to keep working — and to keep in touch.
She painted for another year, while employed as a certified dog trainer, before connecting with Abend Gallery again. She has been working with them ever since, and they hosted her first solo show in September 2021.
Cameron describes her style of painting as "disrupted realism" or "abstract realism." She says, "I paint a subject, like an animal, in a realistic way, and then abstract the forms and the backgrounds together."
As a student, she was inspired by the multilayered portraits of artist Alex Kanevsky, who uses abstraction to capture movement and create a sense of lapsed time. "I'd never seen anything like it," says Cameron. "It was so captivating to me. It really did have a sense of movement to it, which I find really lends itself to animals."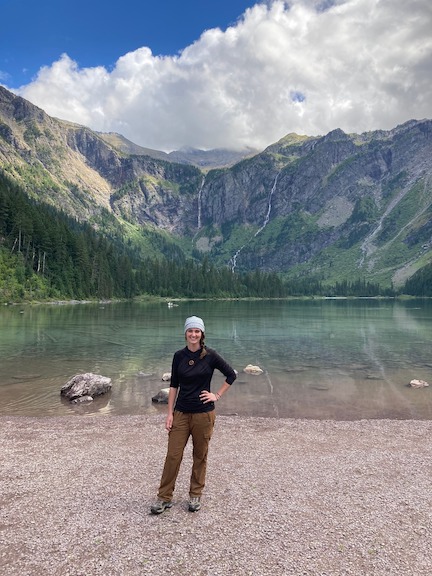 Animals are always moving, says Cameron, and abstraction allows her to capture their nature. A sense of wildness shines through Cameron's work. Her breathtaking collection of paintings, available for viewing on her website, showcases a menagerie of animals — all of which appear animated. Take, for instance, a portrait of a mouse scurrying down a cluster of ripening blackberries. The green-blue background blends into the mouse's chestnut-brown fur, lending a quality of mid-action — like a freeze-frame of a sporting event, in which the background is blurred.
Cameron achieves this sense of fluidity through "a lot of loose mark-making around a more tight realistic subject." In her studio in Gray, Maine, the artist drags still-wet paint from the background into the subject, or vice versa, using various scrapers, including rubber stamps and ink rollers. She says this technique yields a "pixelated" look. Critical to its success is her medium: Cameron favors oil on gessoed-covered wood panels, rather than canvas, because it accepts this kind of abstraction more easily.
She paints from reference photos and often photoshops different images together to create the composition she is looking for, such as the time she merged two wolves, a blue sky and a snow-capped mountain from four separate images.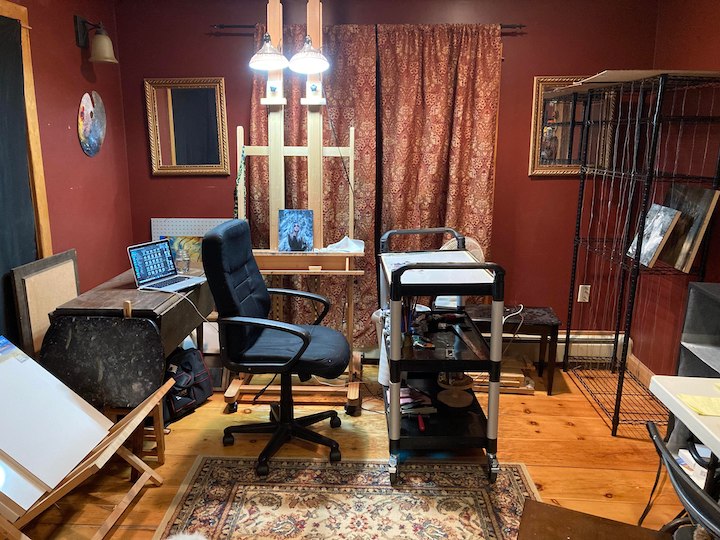 After establishing the reference, which can take days, Cameron sketches the portrait on the panel. Then she either underpaints the background with burnt sienna, adding layers of paint on top, or starts blocking in the subject matter with no background colors added, beginning to incorporate the background once a solid figure is established.
Each painting takes about a week, or maybe two, but the total time stretches to a month when accounting for drying and varnishing, and drying again.
Painting every day is her goal, and she often blocks out hours in the evenings, creating into the early morning when her husband, a professional pianist, returns home from gigs.
"I basically paint what I want to paint," says Cameron, acknowledging this, in part, is possible due to the encouragement of Abend Gallery's owner. "The lady who owns it just says, 'You go do your Morgan thing.'"
She will restock the gallery as needed, often sending a few pieces in advance of specific shows. Once a year or so, she will send a large batch of paintings.
In addition to painting for the Colorado-based gallery and Equis Art Gallery in Red Hook, New York, which keep her "pretty busy," Cameron accepts commissions. This includes portraits of people's pets, and is a collaborative visioning effort with her clients. On request, she once painted a 44-by-64-inch portrait — her largest yet — of three black horses running at the viewer.
Cameron, who moved back to Maine in 2019 with her husband and their rescue dog, a border collie named Alpine, had been wanting to submit artwork to the Common Ground Country Fair poster contest for years. In 2021, a friend reminded her to submit two weeks before the deadline. She purchased colored pencils, a medium she usually doesn't sketch in, and "whipped" out a design, rushing to the post office on the afternoon of the last day for submissions. The office "closed the barriers behind me because I was the last person in," says Cameron. "I was working until the last second to get it done, and to do as much detail as I possibly could."
Her submission, titled "Raven with Blackberries," depicts a corvid atop a fencepost with brambles winding around its feet and a green sprig protruding from its beak. Crows and ravens are familiar subjects for the artist, who counts them among her favorite birds. "I love Halloween," says Cameron. She looks forward to decorating her house each October and also works at "haunts." She adds, "I love the kind of dark spooky stuff."
Though the winning artwork is less reminiscent of trick or treating than it is of a familiar Maine landscape in fall. That was intentional. Cameron picked wild blackberries every year on her grandparents' farm. "I thought about several different subject matters that would be best for the Common Ground Fair and then I decided to pick something that feels like Maine and feels like me, and see if it works," says Cameron.
To see Cameron's artwork, visit her website at morgancameronart.com. Learn more about the Common Ground Country Fair.
This article was originally published in the summer 2022 issue of The Maine Organic Farmer & Gardener.