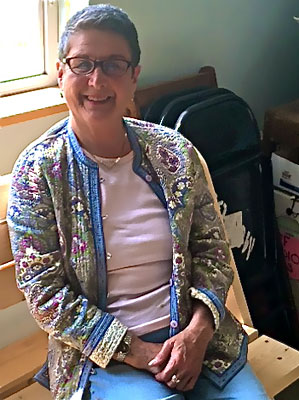 Joan Federman. Photo by Emily Horton.
By Hannah Kreitzer
Joan Federman attended her first Common Ground Country Fair in 1996, when she had just moved to Maine. She spent all three days soaking up information from presenters' panels and workshops, nourishing a growing passion for sustainable, responsible local and global citizenry. Listening to people she describes as "unpretentious, interested, experimenting," and deeply attuned to natural forces, Federman recognized a parallel between organic practices and the values she sought to live by, and soon became a regular MOFGA volunteer. She fondly recalls helping to build the livestock barn on the Unity grounds with MOFGA's executive director, Russell Libby, whom she describes as patient, kind and happy to work with eager volunteers who "hadn't the foggiest idea of what we were doing."
Facing recent physical limitations, Federman now channels her passion for MOFGA into administrative and clerical tasks – the sort of things that always need to be done, but people are rarely eager to do them. Federman cheerfully tackles this work, likening it to the meditative pace of garden chores.
Says MOFGA administrative assistant Emily Horton, "I can't count the number of times Joan has come in at the last minute to help us send out a mailing or finish a project. She really is an amazing human being."
Federman returns her colleague's praise, saying, "I selfishly love coming in because I get to spend a few hours with staff who embody the values that MOFGA embraces."
Federman has returned to every Fair following her first, save the year her granddaughter was born, and is constantly seeking new ways to support MOFGA's mission. She is currently training to coordinate the Fair membership booth and continues to be an invaluable part of the MOFGA office team.
Says Horton, Federman "really believes in the work MOFGA does, and is here to help us do our jobs better."