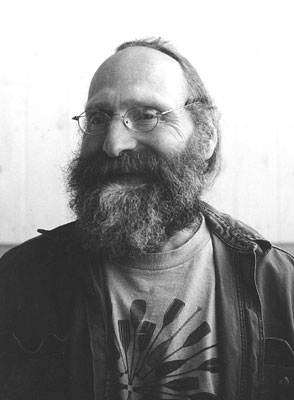 Tom Opper. English photo.
Tom Opper came to Maine in 1970 intending to be self-sufficient, but he was so drawn to the small town of Liberty in Waldo County that he changed his plans. "Instead of living off on a dirt road as so many other people did," he says, "I found myself immersed in the organically-established community of the place. I became integrated into the community, and I found myself working away from home." He worked at a variety of jobs – carpentry, farmwork, grave-digging ("It was a sideline."). At about the same time he was loading boats as a longshoreman, he was asked to organize a craft fair for Liberty's 1977 sesquicentennial. The celebration needed T-shirts but he couldn't find a printer, so he started making his own. "The entrepreneurial logic struck home," he says, and Liberty Graphics was born.
Liberty Graphics is a thriving business now, with national and international sales, and Tom is a successful businessman, although he protests, "I never intended to be a business person – honest – but I've taken to it like a pig takes to mud." He and his business remain rooted in Liberty, where Liberty Graphics is the largest employer in town and where the outlet store is located on Route 173. The company uses only water-based, rather than petroleum-based, inks, which make for a better work environment and much less pollution. "Benjamin Franklin would freak out that we run a print shop," Tom says. "It doesn't smell, and traditional print shops are dirty." More and more of their shirts, including most of those sold in Europe and all the adult-sized Common Ground Fair shirts, are made from organically-grown cotton. "I'm pleased with the business we've developed here," he states. "I'm pleased with the product and the process, and I very much enjoy the community of people."
This year marks the 21st year that Liberty Graphics has been a vendor at the Common Ground Fair and printed the Fair's own T-shirts. "We encouraged the Fair many years ago to try to get the best quality art possible," he says, and he thinks the Fair has "published a bunch of good people on the shirts." Although he admits he has never been much of a gardener, ("To really garden successfully, one must be devoted, don't you think?"), he has always found MOFGA "to be an attractive organization, given its goals." Last winter he started serving on MOFGA's Board of Directors. As a director, he would like to see that "all T-shirts being sold at the Fair be organic," since one-quarter of the world's pesticides go into growing cotton.
Being a MOFGA director and a resident of a small town, Tom sees change – good, bad, and bittersweet – occurring all around him. "I still live in Liberty," he says, "I still spend most of my time in the village. It is different, though. How do you replace that highly disciplined generation that was living here [in 1970], that generation that reached back into the nineteenth century, before things were motorized, before things were paved? Things are different." But he welcomes the changes now in progress at MOFGA, particularly the permanent site "and the excitement that goes with it – and the hopefully positive effects it will have on the Fair and [during] the other 362 days of the year." He has no plans to shake things up: "There's enough changing right now. If the changes that are going on right now are smoothly implemented, I think MOFGA will be very pleased."
– Ann Cox Halkett